Those of you who follow me on Instagram have been so sweet about our gift wrapping this year, that I thought I'd just write up a post for you guys.  Especially those of us who still have gifts on the way and left to wrap.
I'm NO expert gift wrapper, but I do enjoy it, and I find my taste changes just a bit every year.  Using simple ideas, you can have a pile of prettily wrapped packages in no time, and on a dime, too.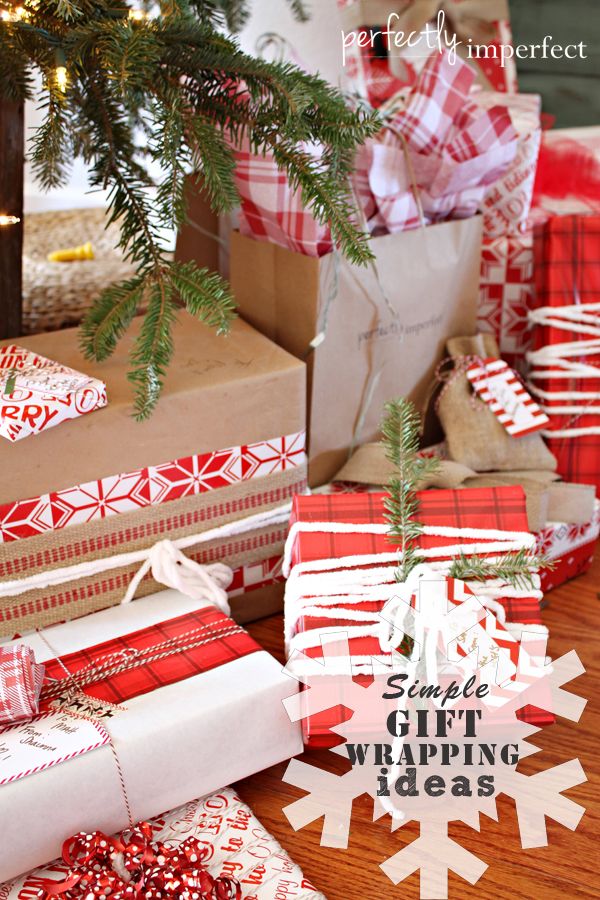 1.  If you want to make the most graphic punch, choose a couple of inexpensive solids and a few prints.  It truly does make a difference.  I confess–It's hard for me to stick to one theme or color scheme because I appreciate color so very much.  But…it also pleases me to no end to see such a display of color, pattern, and texture under the tree.
It's like art and design, really.
We prefer to keep brown and white Kraft paper around (especially for year-round gift giving), and build on those basics each year.  Anything coordinates with them and you can buy a HUGE amount for very little.  We usually stock up at Amazon and Sams.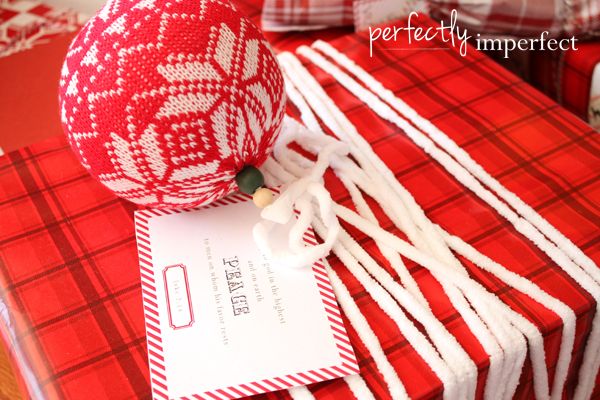 2.  Choose coordinating embellishments.  Pick up a few clearance ornaments and download free or inexpensive tags you print on card stock and cut out yourself.  We subscribe to Jones Design Company Monthly, and our scripture and blank candy stripes tags came from the December printables collection. Emily also usually creates a free download every year, too.
We also love Ashley's free version…she has several designs that can be used year round, too.  And hey, I even regularly update a Pinterest board for free downloads and printables.  You can also search for more–you'll have all the choices you need for any color scheme.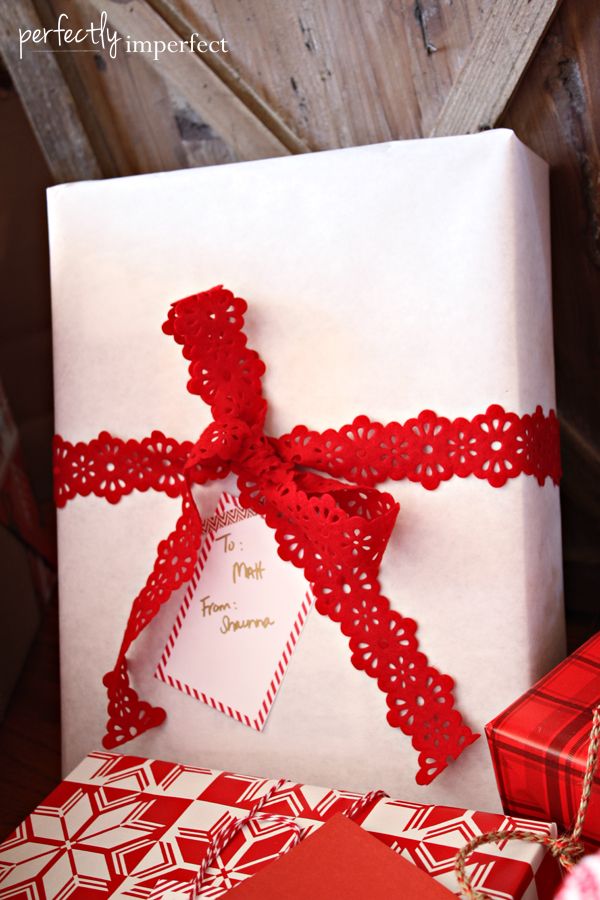 3.  Purchase ribbon on sale–it can be one of the most expensive bits for wrapping gifts.  When you find one you love, buy a lot of it!  I'm kicking myself for only grabbing one spool of this lacy red felt from Michael's.  I love how that simple tied bow pops off the white paper!
3.  It's all about texture.  Layer, layer, layer.  Have you ever been to someone's house or flipped through a magazine and stared at their beautifully wrapped packages and wondered what the difference in theirs/yours was?  It's much like design…it's all in the details, darling.  Layers create interest and texture and make very simply wrapped gifts seem extra special.  Use your coorinating patterns to layer over solids, layer prints, and even layer your ribbons.  I love keeping red and natural jute webbing around for this.  Tulle ribbon also works well as a base ribbon layer.
Use printed paper as a "ribbon" layer and top it off with baker's twine or thinner ribbon choices.
4.  Wrap the entire package in strands of ribbon or twine.  This is one of my very favorite simple tricks…you can see it done on many of our packages.  It immediately dresses up the box and it's SUPER simple!  Simply tape one end of the ribbon/twine to the back of your wrapped gift, and wrap the spool around and around, criss-crossing sometimes for a little asymmetry.  My favorites to use this year were baker's twine in red and cocoa and some white fluffy yarn I found at Michael's.
5.  Invest in some neutral burlap or linen ribbon.  There are so many varieties and so many price points…look around and stock up.  It will coordinate with any paper, any season.  We actually carry faux burlap ribbon (and some of it's sparkly, too!) in our shop and will be listing it online…it's a bit more elegant than real burlap, and has wired edges, too.
At the end of the day, you don't need big, fancy skills–a simply tied bow and a pretty tag will take your packages a long way.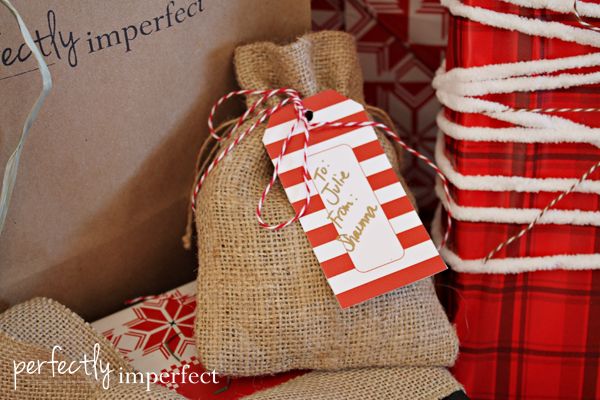 6.  Search for some interesting and unique gift bags.  I actually LOVE any bag that resembles Santa's sack, so I tend to wrap large gifts in old grain sacks and tie a bow at the top.  I'm so into finding unique packaging, I couldn't help but have a whole mercantile section in my shop…it can be hard to find at the right price.
Tucking gifts into little pouches of lavender are a nice touch, and make the smallest of presents special.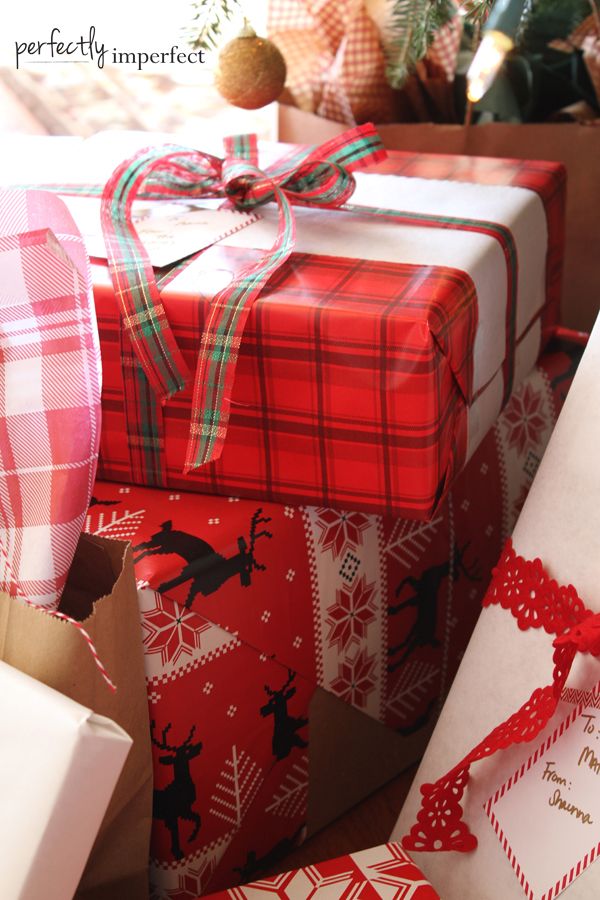 7.  Layer papers on large gifts.  First of all, wrapping those monster gifts is just easier this way.  Secondly, it ties all of your paper together…and it's simply pretty.
P.S.  I love keeping our kraft papers on an industrial paper dispenser so I can get really sharp, clean edges for layering papers.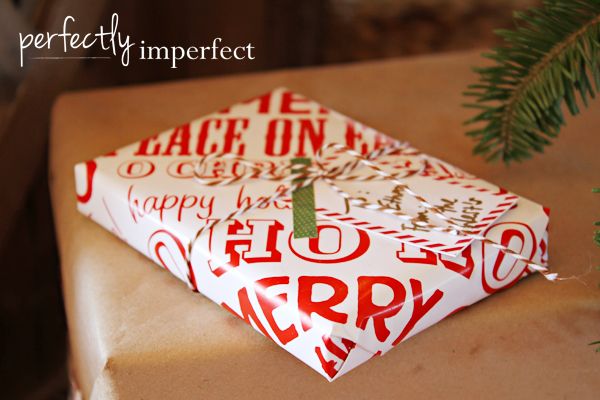 8.  Use printed paper/washi tape.  It's perfect for small packages and tags.  Dress up plain paper with the tape you'll be using anyway!
The best part about using a few simple tricks to dress up some of your packages?  You can go super simple half the time.  Small packages are perfect for a simple ribbon and printed tape.  The packages with extra detail dress up the simple bow-ties.  It's kind of like your house…mix detail with simple, ornate with casual, elegant with relaxed.
Mostly, have fun with it–there are a million ways to dress up a box, but remember to enjoy it–we purpose in our hearts that this, too, just like the laundry and dishes, is one of the daily tasks serving our families.
And speaking of, I must go paint a handmade lego table–and wrap a few more presents.
Have a Merry day, y'all!