Ah, the list.
We are beginning to make progress inside the shop, as well as tackling our to-do's on the business front.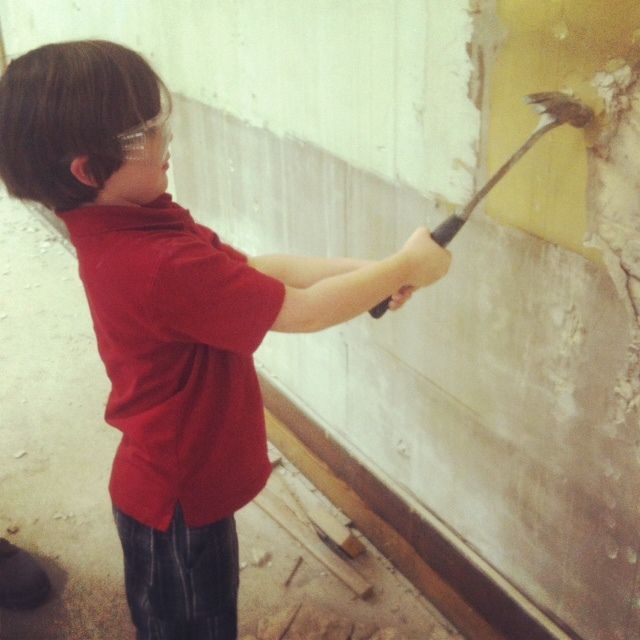 Gray removing the plaster wall to expose our original brick!
Turns out Grayson loves demo as much as the next guy.  Don't worry, this was all supervised by dad & the kid did well & loved every minute.
Even though I had a few minor heart palpitations.
For lack of being too wordy, we're going straight to it–what we hope to accomplish in the next 29 days…
Renovation/Construction:
Move large built ins to back to create wall for our shipping and storage area
Remove basboards on right wall
Remove paneling on right wall
Knock down plaster to expose original brick
Rip up carpet in middle of floor and in window spaces
Remove iron trellis in window spaces
Paint floor in window spaces?
Paint built ins
Wax outside of built ins
Paint walls and baseboards
add trim above brick wall where it meets with paneling
new floor (laminate)
Move out old display pieces
Paint kept display pieces
Set up shipping area in back
Paint the ceiling tiles?
Hang new lighting  in a few places
Whitewash the brick on outside
Paint the exterior of building?
Hang new awnings
Order/Place new signage
Add vinyl window lettering
Build 2 Workshop tables
Build (awesome!) shop counter
Spruce up the chalkboard wall with a fresh coat of paint
Admin/Business:
Confirm 2 orders
Find a checkout system that works with our current bookkeeping system
Order scanner/2 desktop computers
Get a Business appraisal
Enter all items into inventory
Finish pricing markups
Tag each item
Aaahhh! Order hardware & Dear Lillie Christmas pillows…forgot that!
Extras/Fun Stuff:
Paint a new set of sample boards for Chalk Paint™
Paint a set of MMS Milk Paint samples
Chalkboard Illustration for behind the counter
Paint can art (more on that soon 🙂 )
Create a kid corner (there must be a fun place for children to be in our shop)
Set up our coffee/drink bar (what shop of mine would be complete without fresh coffee all day??)
Style the windows!
Stage/Style the shop!!
Is anyone else sweating?