I'm actually so thrilled that I had a change of heart on my 31 days topic.  This is all so fresh on my mind now, and I know one day, I'll be thrilled to look back to recount these days leading up to the opening of our studio/shop.
It's pretty funny, you know.  How God chooses to prepare you for what you were meant to do.
I graduated Magna Cum Laude with a bachelor's degree in Business Admin, with a minor in English.  Immediately after school, I began teaching English & Business while working on my Masters (which I never finished, by the way–best decision of my life).  After taking time off to be home with my first little one, I began working in direct sales with a home decor company….and I fell in love with running my own business & helping other women do the same or decorate their home.
After a while, though, I was just gone too much.  I traveled a few hundred miles every week, and it was too much for this mama to continue enjoying.  After taking time off during my pregnancy with Ava, I could feel myself getting antsy.  I needed to create, to work, but I needed it to fit my new life.
And on Christmas day in 2009, I wrote my first blog post.  A VERY random decision, by the way.  I was sitting on the couch, surrounded by crumpled wrapping paper, and I had to write.  
Fast forward a couple of years, and I have this beautiful place to call home–you guys to thank for it.  I never, ever imagined what opportunities would come.
And in March, we became stockists for the wonderful Chalk Paint™.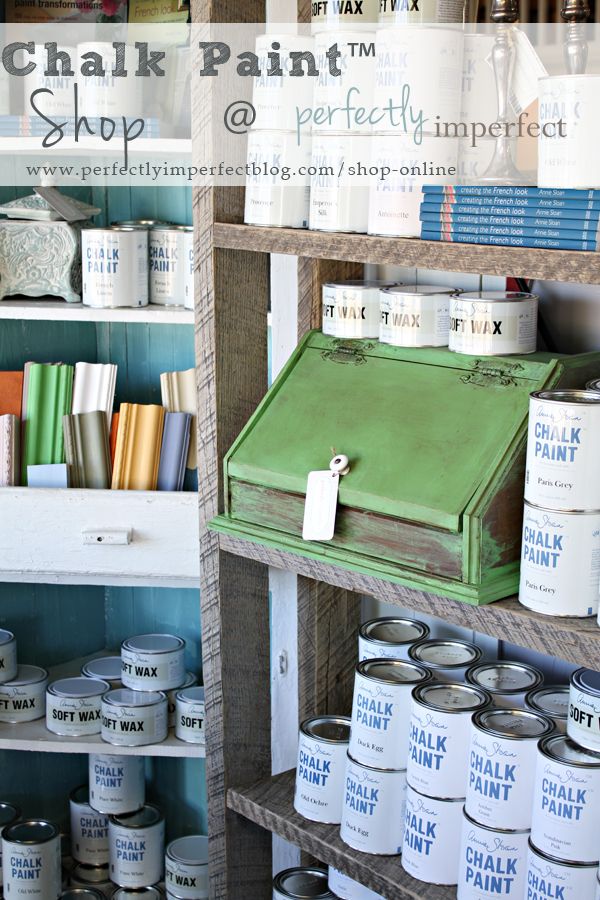 It's just all so funny…how each opportunity and experience all led me to writing this blog, and running my own business.  I don't typically talk about the business side of the blog, but oh buddy, it's there.
It's not always wrapped up in a three-piece suit, but I'm setting goals & crossing them off almost daily.  Even if I am in my pajamas.
Running a multi-faceted online business has been amazing….the blog (good content, advertisers, sponsors, sponsored posts, paid challenges), selling our paint online, eBooks, etc.  It certainly has kept me BUSY.
As we were thinking about whether or not to open our own place, we went back and forth sooo many times.  We had a great thing going with very little expense.
Now, though, it seems time to have a place to work.  There are several reasons that make up our WHY:
1.   it seems time to push this thing to the limits and see what happens.  It's time to go for it in a new way.
2.   we need a place to work on projects and furniture.  I can't have 5 dressers in my foyer at all times anymore.  It just doesn't work for our family.  While I love being able to "go to work" in my pj's, it's just time to have a place that is all work and inspiration.  It's also time to be able to keep up with our normal messes at home, minus all the work messes.
3.   it's time to keep our inventory in one place.  Carrying Chalk Paint is quite busy.  And we'll be carrying MMS milk paint, soon, too!  With just one line, it was already getting pretty chaotic and unorganized to keep shipping inventory and local inventory separate.  Very easy to make mistakes with numbers & very hard to keep shelves stocked at the antique store.
4.  I want a place to write my next book in.  It's really exciting to know that I could be writing a whole new book, project by project…and be able to leave it all out, and take my time working on it, because it's not keeping me from parking my car in the garage.
5.  Most importantly, it seems part of my dream.  My sole dream isn't to run a retail business, but to help other moms/families/couples decorate with a purpose, and create a haven for themselves and their families….to write this blog & follow the opportunities that (prayerfully) feel right.  So, opening this shop/studio is part of my dream.  I cannot wait to have a whole space that looks like this blog.  Won't that be crazy neat??
I think a lot of people open brick & mortar businesses because it sounds fun…it's just what creative people do.  I also believe fully that they aren't all guaranteed to be profitable.  Now, we'll talk about that in one whole post, so I better not get ahead of myself.  Profit is a part of success…but not all of it.
At the end of the day, our WHY was too strong and poked at my heart (and my side that likes a challenge) long enough for me to give in.  We'll give this a try.
Tomorrow we'll talk about the WHAT….what do I want this place to look like?  What are we going to be carrying?  What is going in all of those shelves??
See you then…