Well, we've taken the plunge and decided on a space (in Troy, Alabama), and we've braved the trip to market.
There's goodness on its way already headed to our house (ahhh! where will we put it??), but in the meantime, we're about to begin renovations on this place.
Get ready.  These photos are rough.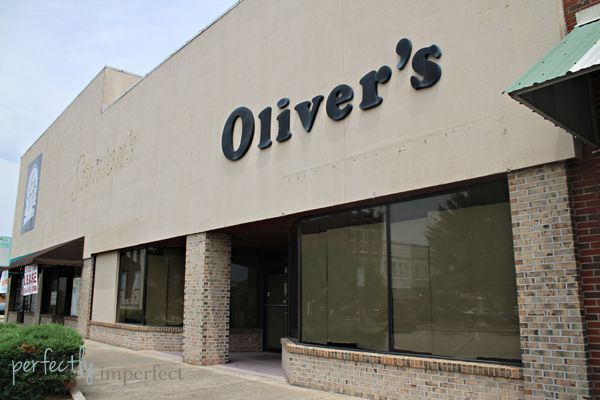 So here's the outside of our little spot on the square.  Our landlord, Tim, is super helpful and easygoing…he's having the outside painted and allowing us to pick out the colors (um, yay!).  I'll be whitewashing the brick a little, and we'll be adding awnings (eventually). I'm, of course, adding a new sign…and we've already been sketching that up.  I've been dreaming of striped awnings and a pale gray paint.
We'll see.
And how about those window spaces??  I'm thrilled to create something artful out of them every month or so.
Okay, here goes.  Scary before…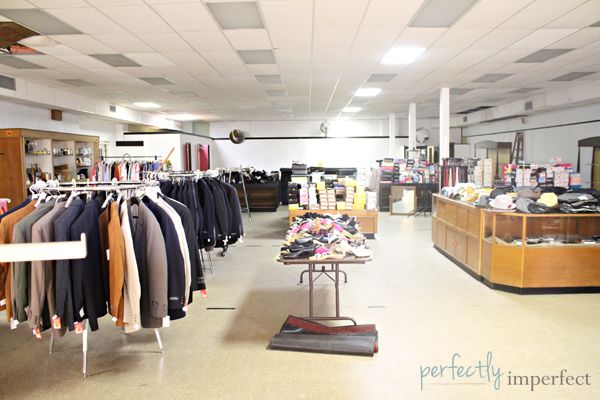 Yep.
It's big, bigger than we planned.  But for the price and the location–and knowing we needed something big enough for our workshop tables to stay set up.  Clearly, it was a clothing and shoe store, so there's a lot to clean out, but the potential??
Amazing.
We're replacing the floor, and of course, painting.  The huge wall on the right will be taken down to the original brick.  The floor will stop somewhere around the second beam back there…and the back will be used for storage and our shipping area.
There's already this great chalkboard inset, so we'll work with that.  I'm seeing the shop counter in front of this.  We also get to keep/paint all the built ins!!  I'm quite pumped about this, as I didn't have to buy any display pieces for paint, accessories, etc.
Speaking of built-ins, this massive one is staying and will house most of our paint and coordinating lines.  If we can manage, we're trying to move this huge piece to the back to create a wall to cover our shipping area.  We'll flank it with drop cloth drapes, I'm thinking.
Anyway, I didn't want to give too much away (or overwhelm you with scary pictures), but I did want to show you what we're working with!  It'll be amazing, I hope!!
Now, if we can only get it all done and open before the holidays.  Whew.