After painting with the famous Chalk Paint for a year and a half, we decided it was time to carry it our antiques space and online.  I confess:  I thought it would be fun and a great way to expand our business and brand, but I had no idea how wonderful it would be to help my readers and customers in person.  
After much prayer (MUCH) and thought, we've decided to open our own studio & shop.  Having the paint both in our garage and at the antique store isn't as practical and efficient as it needs to be.  The ladies (and gents) there have worked so hard to help us & for that, we'll be forever grateful to them!
I also can't describe how good it will feel to clean out all of the projects out of our home!  While I love working here, I know it will be wonderful to have an "in-progress" drop zone that doesn't include my dining room table.
Plus, Natalie and Anna Lauson will be there day to day, and I'll be able to continue blogging and writing the new eBook, etc.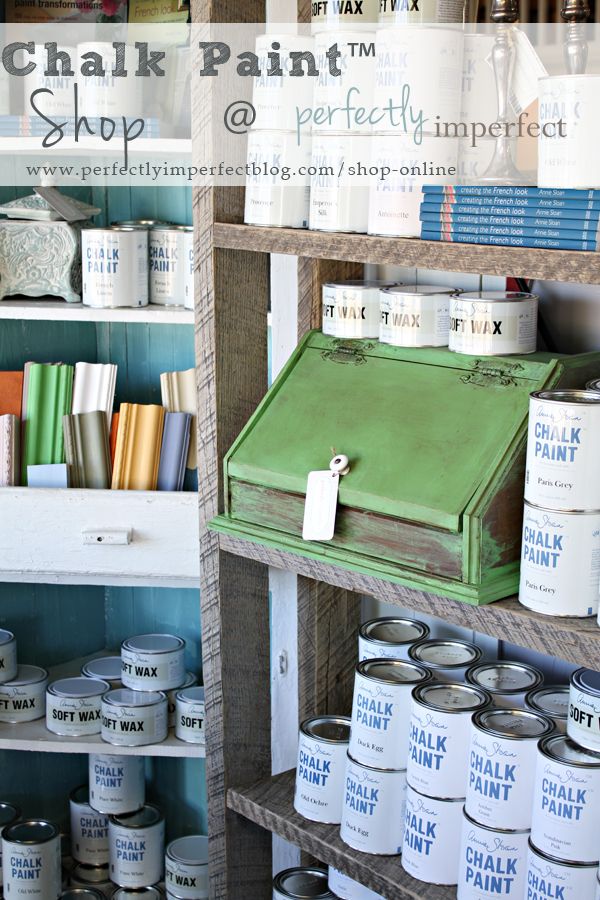 I'm thrilled to have a place for my beloved paint, to teach workshops, and guess what?  We'll be carrying my sweet friend, Miss Mustard Seed's, new paint, too!
More than anything, we want our shop to be a destination, an experience.
I want it to be a physical representation of our style and of this blog.  A place to carry out our mission statement…
Perfectly Imperfect began as an imperfect girl's hobby.  Somewhere along the way, it became a mission.  To provide real families with real inspiration for real homes.  To share easy DIY projects, room redo's, & furniture painting tutorials, but it will never stop there.  Perfectly Imperfect is all about the home, not the house…the life behind all the stuff.   We want you to grasp that you have the ability to have the home you want…now.  We aim to inspire you to pick up a paint brush, nail some boards to your (perfect) walls (if you so desire), to celebrate life's imperfections and create amidst them anyway.  To go for it…in your homes & in your life.  Whether it's the blog, or the online shop, one of us shipping paint, or the new studio adventure…we know that you are what this is all about.  Your homes, your families, your lives and the imperfect beauty that lies within all of them.
source
I cannot wait to share this journey with you guys, and to be able to hang out with so many of you in the studio.
We've settled on a space, and it needs some work, so until it's time to show you where we're heading, I thought we'd take a look at some of the inspiration for the space.  I'm praying we make our holiday deadline…but there's a LOT of work to do.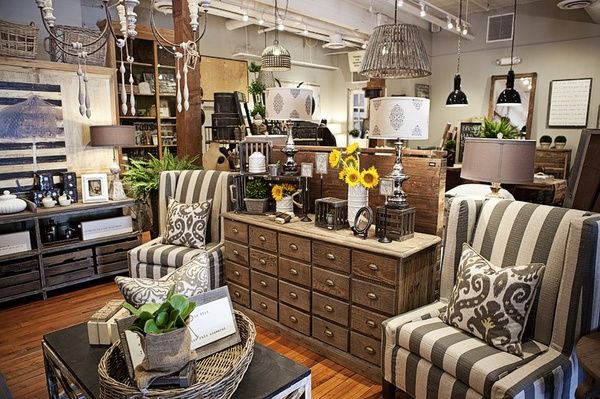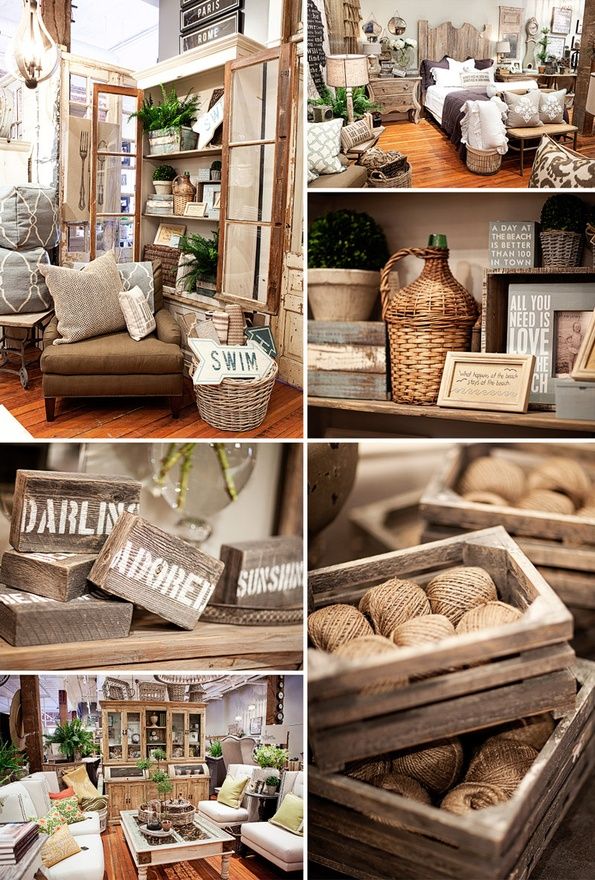 My greatest inspiration comes from places that mix neutrals beautifully.  Found by domestic bliss certainly has this down.
In addition to our paint, wax, books, and brushes, we'll be carrying home decor and accessories.  I really want to carefully choose each line we bring into the shop.  Mixing old and new is really important to me, as it's what I do in our home.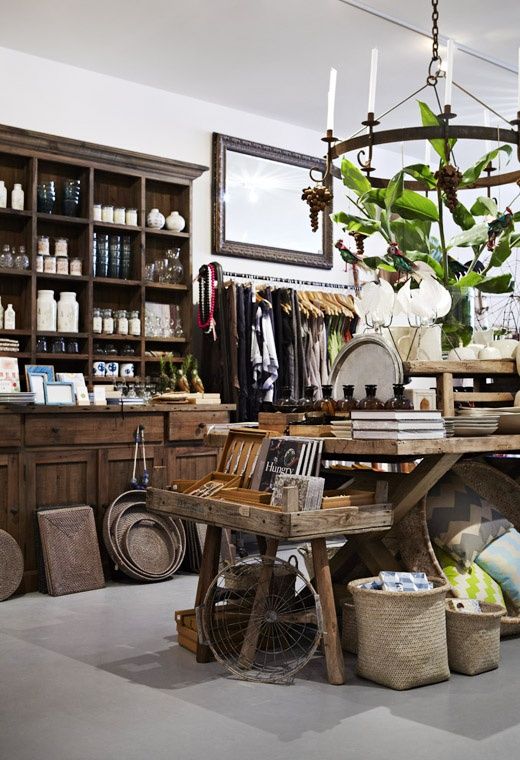 Another great thing:  the space has tons of existing built-ins and display…that I can paint however I'd like!  Um, yes.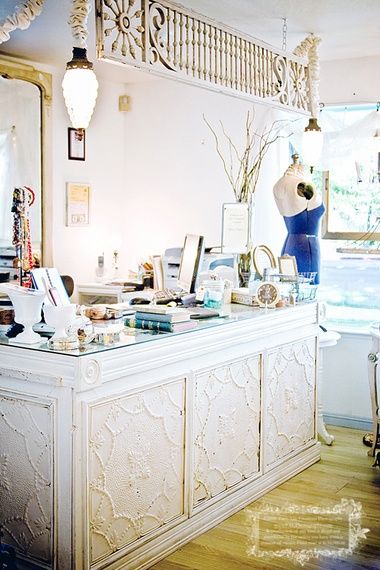 Matt will be building us a massive shop counter of my design, and I'll show you the sketches soon!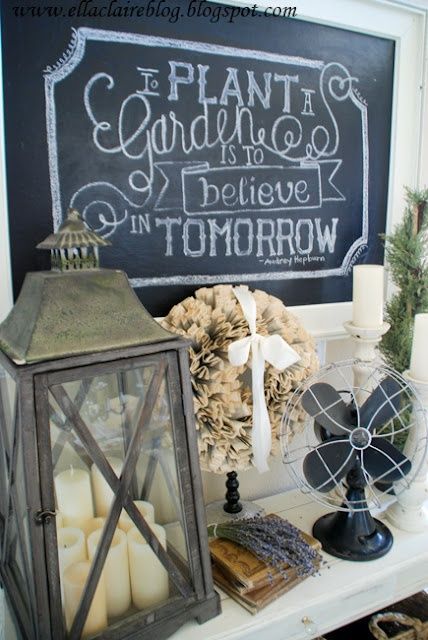 We must have chalkboards everywhere!
And no shop of mine would be complete without a fabulous coffee station
*Stay tuned for all of our studio-opening adventures.  All of these posts will be tagged under "shop talk" so you can easily find them all!  We're headed to market in Atlanta this weekend, so I'll try to snap some pics if I have time to think about it.