Good morning, lovelies!
Gray and I are enjoying our first week of school together, and I'm excited to share more about it with you tomorrow!  We're also gearing up for a workshop on Saturday (here, at our house), and we're filling orders from the shop, too.  It's been a busy few weeks, but somehow, I was able to work on some furniture for the antique store & for display for our workshop.
I love this little desk/table.  It came to me a little beaten up and painted black…which didn't show off its cuteness.
When I saw it, I knew it needed to get an American cottage makeover.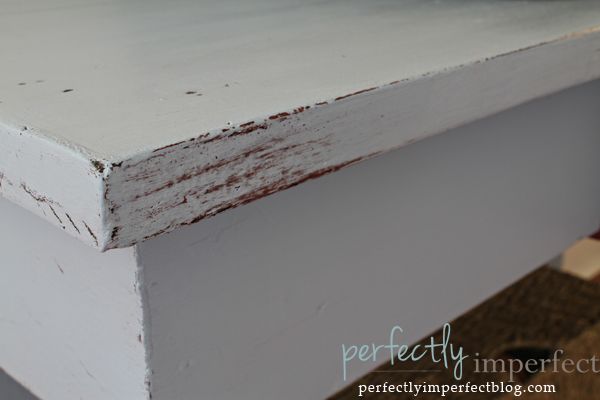 I've really enjoyed playing with paint lately…mixing colors, using a lot of 2 color distressed techniques, and mixing colored waxes.  I have this huge art workbook that I keep adding recipes to.  Maybe I'll show it to you sometime soon!
The piece was already so perfectly handmade, I really wanted to subtly distress it to highlight those details…no need for major sanding on this one.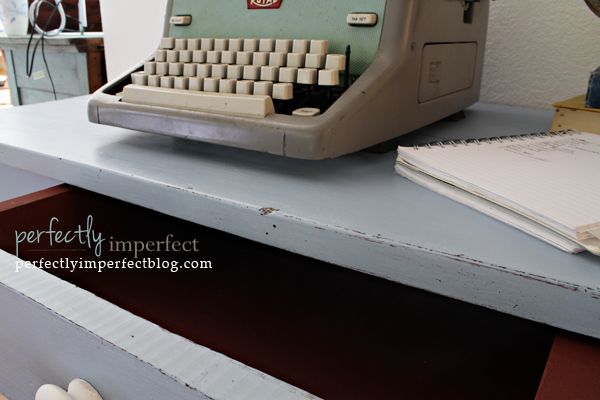 I'm loving painting the insides of my pieces and this combo is great–Louis Blue & Primer Red.  The drawer had no hardware, so I added a large wooden knob painted in Pure White.
I pictured this desk sitting in a little one's room someday, but Anna Lauson asked if I was interested in paying her in furniture.
It's now (adorably) sitting in her kitchen, and they're adding casters to create a moving island.  I love that I get to see it in its new home!  P.S.  Anna Lauson also bravely painted her kitchen table and chairs in Scandinavian Pink & the wall in Aubusson.  I LOVE it when people go for it like that!!  We'll be showing you that makeover soon…promise.
Have an inspired day & paint something bright and happy…if you dare.
P.S. The House of Belonging Giveaway winner is Heather from Living the Gill Life!  Email me, Heather, to claim your gorgeous wall art from Tiffini!