Good Monday morning, guys and gals!
I'm SO excited about today's post, probably because I am so happy to have met these two cutie-pies…
They're the gals behind East Coast Creative (formerly Real Housewives of Bucks County), and they could not be any cuter.  We were on the Nate Show on the same day & didn't even meet!  Monica and Jess are as cool as they come, and I'm thrilled I got to meet them amidst my Haven debacle.
Did I mention they're crazy talented??
This pallet wall in Monica's home makes my heart skip a beat.  And could the reading nook be any cuter?!?
Jess has been in the middle of kitchen reno central and you've GOT to go see the before and (more) after's!
Which brings me to today's post.
Jess asked if I'd take a look at her dining room furniture and bounce some ideas around about how to switch it up a bit.  I was thrilled to and begged her to let me share it with you guys today.
Here's the dining room peeking around her kitchen.  The wall color is Benjamin Moore Sea Glass and it's staying (awesome color!).  She's ready for a new lighter and brighter look all the way around.
When I'm thinking about painting furniture, I really have to sit on it a while.  I've told y'all how each piece has a story to tell, and if we're smart, we wait a bit and listen.  I also have to think about the room in context.  What's the wall color?  What do we want the room to feel like?
So, because I got excited about the furniture & couldn't stop surfing the www for inspiration, I kind of maybe went overboard, and drew up a whole inspiration board for Jess.
I'm sorry, Jess, for the many opinions that follow.  Ahem.
Okay, there you have it.  My first thought is this: If Jess is going for lighter and brighter and a little coastal, we want the wall color to stand out and while we might accent with color, the furniture needs to ground the space as neutrals.
I threw in a sisal rug (one with a tight weave to contrast the shag of the carpet) to anchor the room.  For the furniture, the top of Jess's table looks perfect for stripping, so I say go for it!  That's why I chose the reclaimed PB table…strip the table top and maybe wash it with a coat of Pure White Chalk Paint™.
Kind of like this…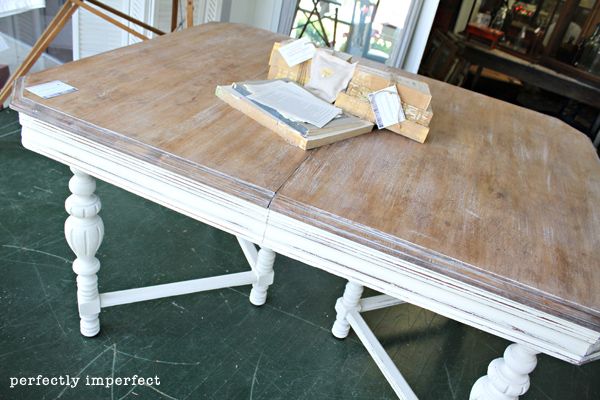 I love a bleached natural table top!!
The easiest way to lighten a room is with paint–so I would coat either the table legs and chairs in Pure White or Old White.  If Jess wanted more of a layered treatment, I would paint the base coat Pure White and do a wash with French Linen.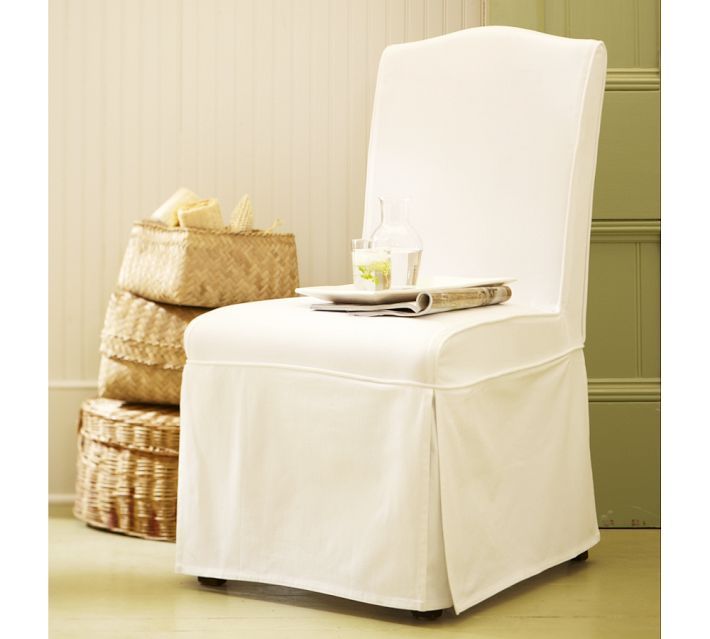 I'd soften the look of the room by covering a couple of her existing chairs with slipcovers or with using some chair cushions like these.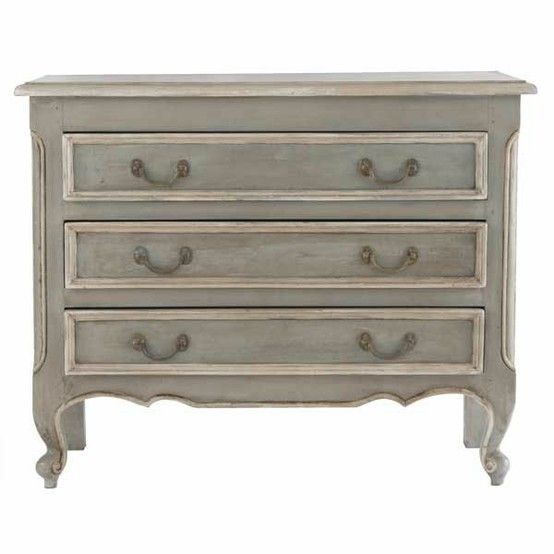 For the buffet, I'd definitely layer a treatment, especially if Jess wants a mostly neutral palette.  For this look, she would paint a base coat of French Linen and do a wash of Pure White, and she can always accent the details with Old White.  We'd finish with some clear and dark wax to create depth.
Jess mentioned framing some art prints, so I threw an option for that in the inspiration board, but I also think it would be fun to use a statement piece of artwork framed by some sconces above the buffet.  Jess might keep her coral chandelier  (I suggested adding some burlap or seagrass shades), and also wanted to use some blue and green accents.
Using a large piece of artwork could tie in the blues and greens, naturals, and coral.  (P.S. the one I used for the inspiration board was currently on sale at Joss and Main, but Jess could easily create her own version with her mad DIY skills.)
Or, if she wants to frame several subtle prints, then there are plenty of affordable options on Etsy…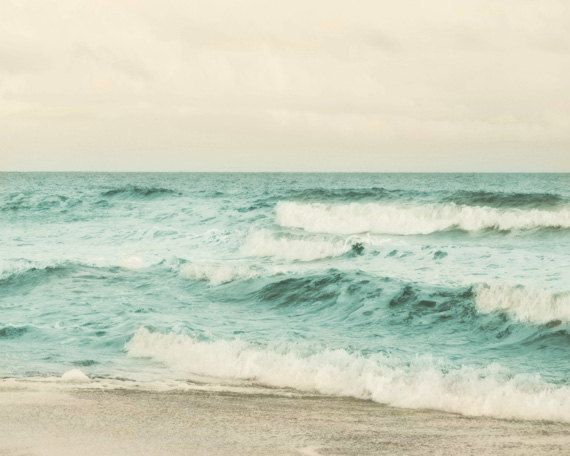 Or, because apparently I like sharing all options,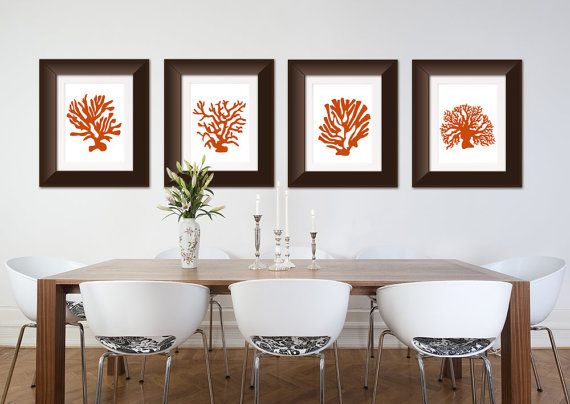 These coral prints are pretty fab, too!
Luckily, blue and green glass accents are easy scores from flea markets, antique malls, and budget stores like Home Goods & Target.  We definitely have scored most of ours at local flea markets…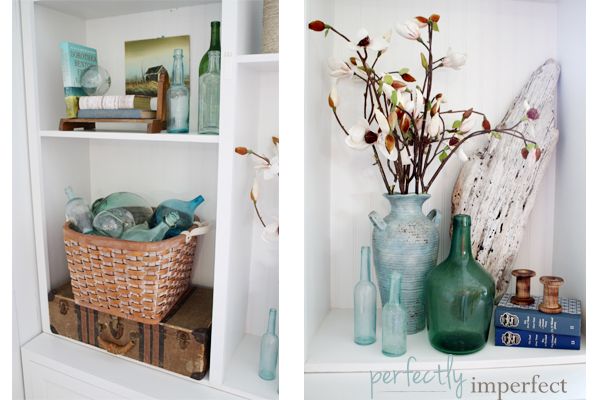 And, along with shopping her home, they'll bring in a touch of coastal without being too themed.
And because I can't stop, I think flanking this window with some wall to wall (affordable) drop cloth or burlap drapes and adding a DIY bench seat (underneath) would be perfection.  Framing the window would suddenly create a huge focal point and add major drama and elegance to the space.
There you have it.  That's what you get when you ask my opinion.  I. am. addicted. to. design.
I'll be chatting with Jess as she works some magic on her furniture with Chalk Paint, and maybe she'll show us some progress along the way.  Be sure to subscribe to Jess and Monica's blog to stay up to speed with ALL of their fab makeovers!
Now, go paint something!