I'm sure the mister and I are enjoying our trip 'round the Mediterranean.  I'm probably eating way too much cheese & writing like a madwoman.
Europe = major inspiration for a writer/designer.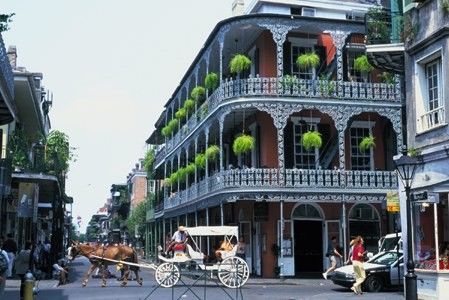 I'll still be popping in a few times a week while we're gone, and I wanted to tell you guys about my trip to New Orleans a couple of weeks ago.  I was headed there for my Chalk Paint (TM) training workshop with Lisa from Annie Sloan Unfolded.
That's the cutie there on the right.  Lisa's the gal who started it all for Chalk Paint here in the U.S. & I was thrilled to train with her!
The office was BEAUTIFUL & I'm kicking myself for not snapping more pics while I was there.  Annnd, I wanted to take pics of her house, but I just couldn't bring myself to ask such a stalker-like question since it was my first visit.
Um, and P.S., while we were having dinner with Lisa, my daughter totally peed on her floor.
Yep.  We're here from Alabama & we're leaving pee on your floor.  You're welcome for that.  Oh, and we're going to eat approximately 32 packages of fruit snacks/crunchies while were here.  And we'll pull out 4 baskets of toys.  Oh, yeah, and we're sort of going to have one of our most bratty days ever while we're here.
Yeah, that's all.
In all seriousness, the kids were terrible, Ava did pee on the floor, and they both did eat half of Lisa's kids' snacks, but Lisa & (her husband) Scott were awesome about it.  They couldn't have been more generous hosts–both at their office and in their home.
I'll owe her forever, I think.
On the morning we began our training, Lisa had the room all set up with lots of paint colors & brushes–my kind of day, I tell you.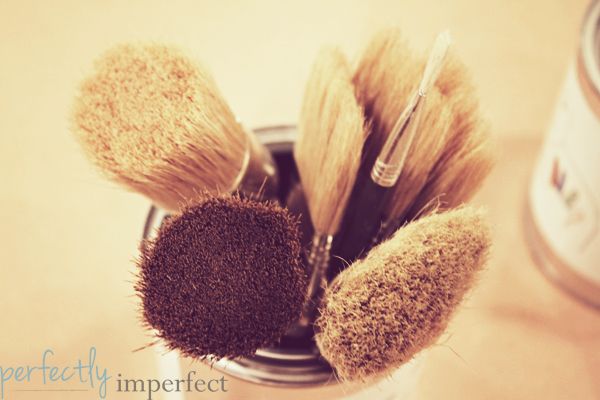 Oh, this shot.  I just can't take ENOUGH paint brush shots.  That oval shaped one on this side is one of the new Annie Sloan brushes & let me tell you–they are wonderful!
They are so dense, which lends perfectly to holding lots of paint.  They work really well for a more textured finish since you can use so much paint at one time.  Brushing with them is cutting my paint time, no doubt.  (I do have these available in my store now and they'll be available online soon!)
The kids were at the office for a while, until the leap pad & painting all over Lisa's floor wan't entertaining enough.  Matt graciously took them to the mall & back to our hotel room for naps.
Thank the Lord for Daddy.
We covered most of our material that day, not moving from the conference table minus washing our brushes, etc.  It was lovely–who doesn't want to sit and play with paint all day???
Oh, is that just me?
The next morning we branched out of the conference room & Lisa took me on a mini-tour of New Orleans.  We (luckily!) got to stop in one of the local stockist's shops, Creative Finishes Studio.  Jane was sweet enough to meet us there and it was a pleasure to meet her & her daughter!  Plus, her wall of Chalk Paint colors was swoon-worthy!
Her pieces were beautifully painted and seeing these stacks of sample boards always get me going.
Jane has a workshop coming soon–if you're local to New Orleans, you should look her up and go!  I can't wait to host my first workshop & teach some of you gals some fun tips & finishes.
After we stopped by Jane's shop, Lisa drove me to The Bank, an archictectural salvage stop of New Orleans.  Cypress everywhere–I scored a great window that I cannot wait to use!
The trip was a ton of fun & so informative.
Even if my daughter did pee on Lisa's floor.