It's about time to start working on the guest bathroom., so I've, of course, been pinning all of my ideas.  The guest room's blue/green walls are accented with tons of natural texture, dry brushed furniture, and metallics.
This is also the bathroom that company uses as the powder room, so I want it to tie in both with the guest room & the rest of our home.
With a little pop.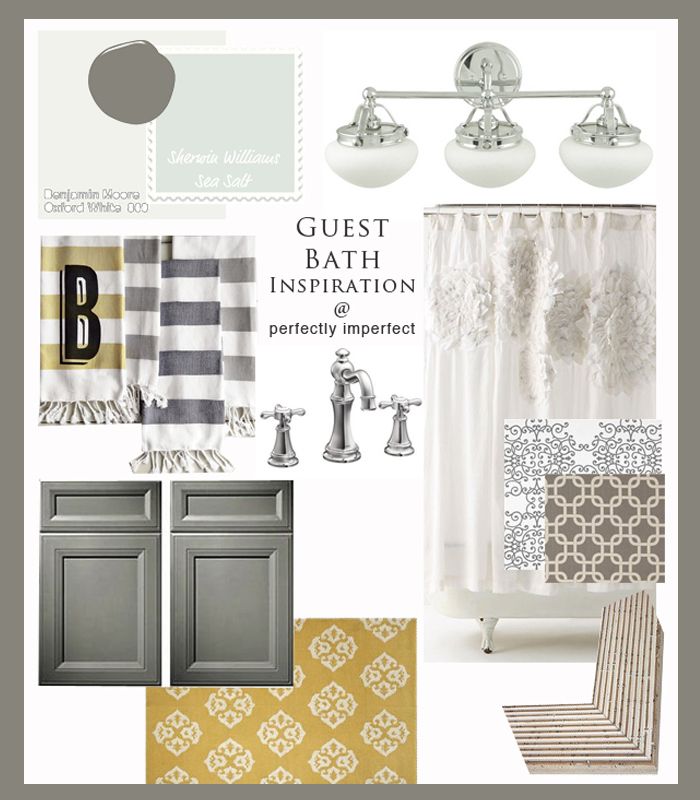 I'm quite inspired by gray lately, and I've known for a while I wanted to bring a decent dose of it into our bathroom.
Painting the cabinets is the first step, & to make things simple, I think I'll use chalk paint in Graphite to keep from using oil-based products, sanding, or spraying.
Plus, I think it'll look pretty.
When I saw this color palette at design seeds, I decided to toy around with the idea of throwing some yellow into the mix.
I'm kind of anti-trend sometimes, but I figure one rug/drop of sunshine won't break my bank of a neutral palette.
I already have a white shower curtain, much more simple that this one, but I think I'll dress it up with some graphic fabric…
Once I paint my cabinets, I'll be able to decide how much yellow I want in the small space.  I can always go with a more subtle rug than the yellow one featured on the design board.
I can always throw in a yellow turkish towel along with the gray ones I've been pining for.
Sea Salt may make its way into the room, but again, we'll have to see how it evolves.
And…we'll have to see how in tact our budget stays because I would sure love to have one of those schoolhouse-inspired fixtures.