Things have been NUTS around here this week.
Always, it is the story of me, the blog, the babies, the man, the house….it's always nutty, but this week has been extra C-c-crazy.
This arrived for me yesterday…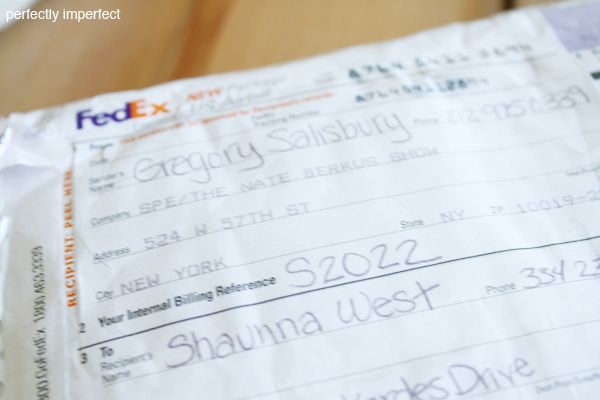 Do you see that fine print?
Let me start by saying the fact I'm even writing a post that contains his name floors me.  I was first contacted back in May, and the awesome folks wanted me to come out within a few weeks.  Remember May for me?  It was time for us to head to Honduras for our mission work-building houses- there.
So, no Nate in May.
But…we kept in touch (not Nate and me…one of his awesome producers, Emily :), and the time has come to have the house featured in one of his House Proud segments.  I'm humbled, honored, overwhelmed, and overjoyed.
And busy.  We've been cleaning and organizing all week, and plan to shoot the living room, dining room, guest room, kitchen, playroom, theater, and writing room.
Whoa.
I'll walk through and chat it up about different things in the house, and we'll also shoot the rooms empty, sans Shaunna.
It's going to be a blast, and a lot of work.  And…almost an impossible feat since Ava has officially turned into the terrible Taz of toddlers.
Knocking things over is her favorite.
Kissing her is mine.
I believe the episode will air sometime in October, but I'll keep you guys posted!  I hope you'll watch and see if I'm a total spaz.  Maybe I'll have an "on" week.
🙂
If that's not enough design tv, we're headed out Monday morning to meet these guys…
image via The Lettered Cottage
Recognize this pic?
It's our big buddies, Kev and Layla, and filming for the pilot of their possible design tv show begins next week.
Yours truly and the hubs have been asked to come along and help.  I'm sure we'll do a little of everything, but Matt will be doing some building, and I'll be shooting pics of all the behind-the-scenes.
And I'm praying I get to paint something.
All joking aside, it's an incredible opportunity and we're honored our friends want us there, and we are looking forward to helping any way we can.
It's a week of design tv, and I may or may not be about to pass out from all the excitement.
And possibly buy some artichokes for no other reason than to style the kitchen.
*this also means I'll be taking a little blog-vacay, so if you would like to be featured next week, shoot me an email on what you'd like to guest post, and I'll let you know if it'll work out!  Email me at shaunna@perfectlyimperfectblog.com with subject September 2011 Guest Post.