We're off by now to hang with the fabulous Lettered Cottage duo, and I hope to stop in while we're there to show you some of the progress from filming for the Nate Show, a furniture makeover, etc.
But anytime I leave the children for any length of time, I cannot help but do my thing.
My thing is pondering.
After a day like yesterday, where memories of the past float around in my head, I feel heavy.  Heavy for those who lost so much, for those who still cope with grief.  I am filled with only prayer to lift them up, being too human and bumbling to offer much more.
I am equally filled with hope.  Hope that despite our shortcomings, we all want deeply to be there for each other.  To sustain, to encourage, to help.
And in that, I feel some comfort.  Some solace that there will be days of no hurting or turmoil.
For those days I wait.
But until those days come, I do pray.  I pray for any of you who were touched by the day of September 11.  And if you can know this one thing…know that I only wish I could step through the cold screen and have a cup of coffee with you.  To hear your stories, to be there.  
I'd love to hear anything you'd like to share, and spend some time praying for your families on our drive today.  If you'd like, feel free to talk with me in the comments…you'll be heard, I promise.
As I think of each of you, of life and it's uncertainty, my heart falls to my own little family.
And the prayer that always, we are building a home, and not just a house.  Always a home.
That our children find comfort in their daddy's hands and warmth in their mama's smile.  That we, those entrusted with so much, hold each delicate moment so very carefully in the corners of our hearts.
And that we remember to laugh.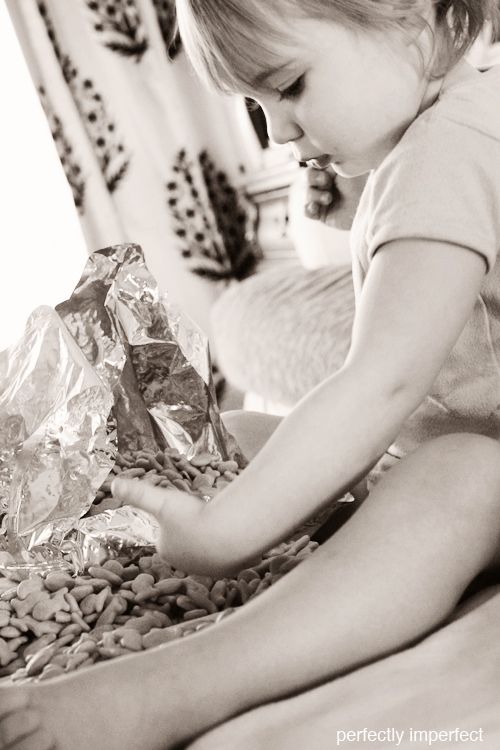 Because the tender moments will always be infused with the goldfish moments.  The ones where they dump the whole tub on your freshly washed slipcovers.
Frustrating?  Sure.  Annoying?  Sometimes.  (Ok, more than sometimes.)
But the thing is this.
Those goldfish moments are the ones that get you through the days like yesterday.
Praying God dumps a whole bucket of goldfish on your head today.  And praying it lightens your mood.
See you soon, friends.
🙂