You guys are always so patient with me with my big home makeovers….the attic renovation took literally 6 months, and honestly, it's not quite finished.  The dining room was talked about a few months ago, began a few weeks ago, and is still going on strong.
Because let me be clear…this one is not an update or a fluff…it is a makeover.  Big time.  The built ins Matt are building are HUGE, the bench seat fairly complex, and painting the panelling is time consuming.  Matt has traveled for work, we've vacationed, and of course, our little ones are always present.
This makes for a long time makeover.  It's coming, though, I promise.
This weekend we HOPE beyond all hope to finish the built ins, have everything painted, and the room cleared out for us to begin building the table.
We originally wanted to use reclaimed wood for the table top, but it may get too pricey, and we may just have to age the wood ourselves.  No barn wood coming down around here right now.  🙂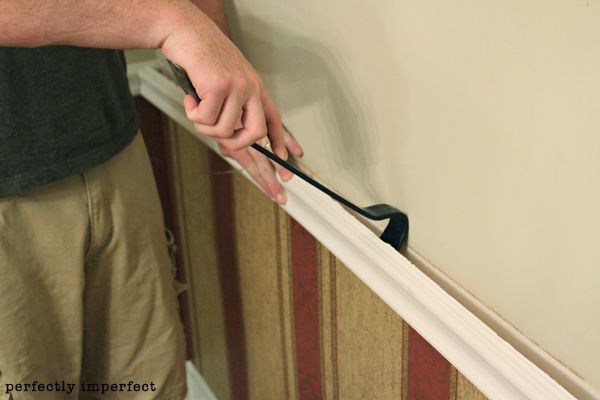 In the hopes I can post our How To Install/ Paint Wall Panelling Post on Monday, I wanted to let you see a few shots I snapped the night this makeover began a couple of weeks ago.
Removing the chair moulding was much easier than I thought it would be.  All you need is a really strong crowbar and a steady hand.
Remove in sections and pry off the moulding slowly…you'll have a paint-ready surface!  And if you're lazy like us, don't worry about removing the wallpaper if you're going to cover it with panelling.
It will still end up looking like this in the end.  I realize there's trash and sippy cups…this is a work zone, after all.  And a kid zone.
I am going to commit and say that you'll get to see this wall painted early next week!  Here's to getting stuff done this holiday weekend!!
And a little video for you….we were trying to figure out how we were going to cut the 4 x 8 sheets and where to put the trim piece you see above.  You get to meet my best friend, Jenny, too.  And…I remember we trying so hard to work that night and the phones kept ringing off the hook…so please forgive my obvious annoyance at its ringing.  Cranky Shaunna…new side for you.  🙂