We're in major project mode here, and loving every second, but I had to take a little break this weekend to pull some summer into our living spaces.
The foyer has seen some Christmas whimsy and a book inspired look, but it was feeling a little heavy for summer.  A couple of fun finds and pulling lighter decor from the rest of the house brought a little summer into my life.
Here it is now, and I must say, it's me singing Summer Lovin'.  I'm not sure why I said that, but I do love Grease…big time.
Simply changing out a few pillows, the vignette, and the wall display lightened things up drastically.  The aqua chest still gets comments from you guys…she appreciates it very much.  It was actually a present to me from Matt 2 years ago for Christmas…I have no idea what color it's painted.
A couple of you have asked what kind of treatment is on it, and from the best I can tell, it was painted with a heavy dry-brush method (no primer), and sanded down in a circular motion, to reveal the dark wood underneath.  It is actually not sealed with anything…I should probably get on that, huh?
The best part about styling our homes is that simple, inexpensive tweaks are sometimes the most effective.
Let's break down what went into this summer-lovin'-look.
I knew I was going to use my favorite piece of driftwood (my friend Lauren snagged it from the beaches of Alabama for me!), and I was in luck to find this vintage inspired bottle basket at TJ Maxx for 12 bucks…bottles included!  I was so excited to find it, and it's got a beautiful patina as if it's 70 years old.
The grain sack inspired pillow came from TJ Maxx as well, and I bought another one too.  They sit on the couch most of the time, but I pulled it over for this splash of summer.  Nothing says summer like stripes.
The little sack of rice?  TJ Maxx.  Yep, I told you it was a good trip.  The guy at the counter asked me how I was going to use it…I shamelessly smiled, replying, "Oh, I'm not going to use it.  I'm going to decorate with it."
He did not understand.  Or smile.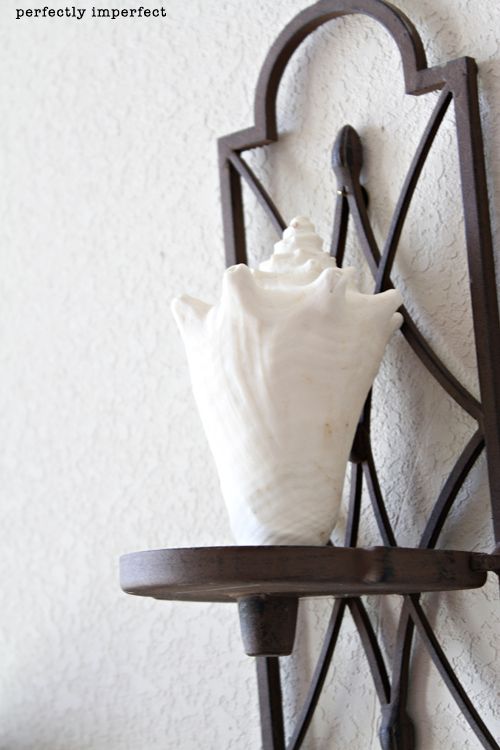 I like to forgo traditional candles on my sconces sometimes, and what better way to bring summer in than to plop a big conch shell on one?  This may or may not have come from Roatan, the island in Honduras where we ended our trip this year.  Don't tell.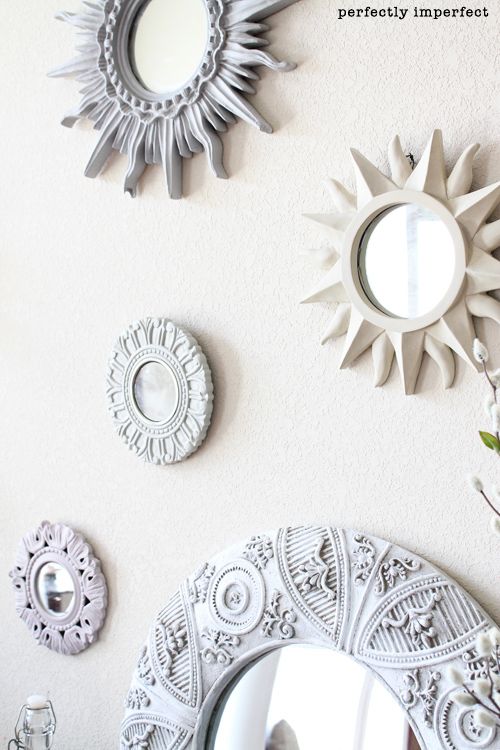 I've been wanting a wall of mirrors for a while now, but wanted something a little more neutral and monotoned…and again, I've got white walls in the back of my mind.  (and yes, we're going to get to that soon…there's just quite a bit to do around here.)
These were a good friend of mine (minus the large propped on the chest).  Can you remember where you may have seen them?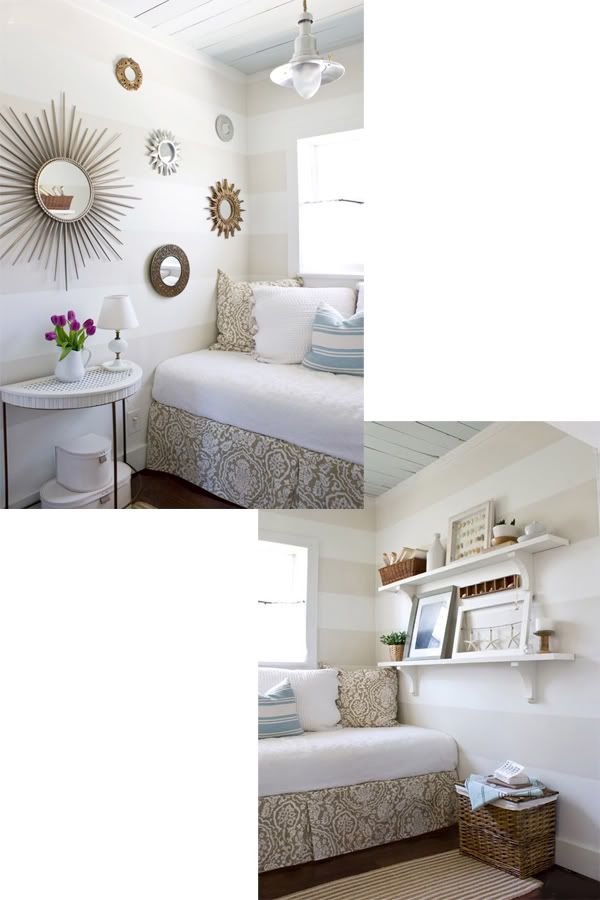 images theletteredcottage.net
Yep.  These were in Layla's reading room for the longest time, but when she and Kevin got the hankering to redo, they came my way.  Thanks guys!!
To keep the mirrors more muted and matte, I painted them with chalk paint….in Paris Gray (large sunburst), Country Gray (small sunburst), and Paloma (the small round on the bottom).
Taking down the one large mirror and exchanging it for these totally changed the look of the space…much more airy.
That's that.  Our summer-inspired entry….have you added any summer decor to your home lately??
I think I'll go sit down a while now.  I need to prepare myself.  We've got more swimming lessons this afternoon.
And Ava hasn't let up a bit.
🙂
*linking to Tips & Tutorials at Home Stories A to Z,  Wow Us Wednesdays at Savvy Southern Style, and Transformation Thursdays at The Shabby Chic Cottage!