**UPDATE: We now are proud to carry Chalk Paint™!  Visit our online shop here!
Thanks to all your questions on Annie Sloan's Chalk Paint, we're going to have a mighty big q and a today!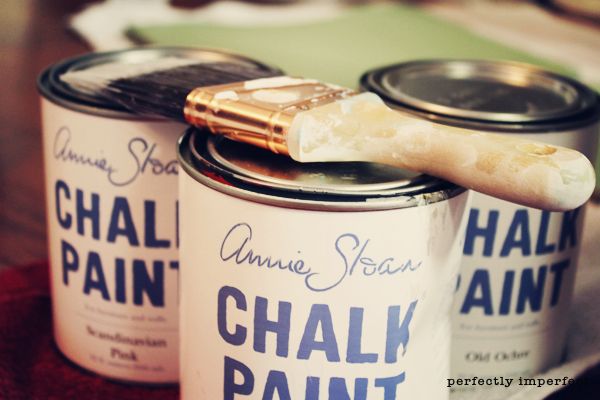 We'll cover quite a bit of topics, so try to stay with me, okay?  🙂
First, let's talk about the product.  Annie Sloan created chalk paint to meet the need of finding a paint made specifically for furniture painting, one that could be treated as a wash, and one that could be manipulated by the artist using it.  It was designed to create time-worn finishes.
Which, by the way, is why I love it.  Some things to know:
-Chalk paint has quite a matte (chalky) finish, but you receive luster by buffing.  Still, the sheen would equate to a satin finish…or maybe even somewhere in between satin and semi-gloss.
-It is best sealed with furniture wax, although you can seal it with other protectants.
-brush strokes will appear in the first coat, and as it dries, but it will dry to a smooth finish.  every now and then, I'll have some dry with faint strokes in it, but nothing that doesn't look natural and again, time-worn.
I created 2 video tutorials for you….one on general information and distressing and one on waxing.  The videos are quite detailed, as I'm random and I'll throw in extra information all throughout.
Let me also start by saying that I'm no official chalk paint spokesperson…I would love to have my good friend, Patty, over here sometime so we could get her opinions and expertise!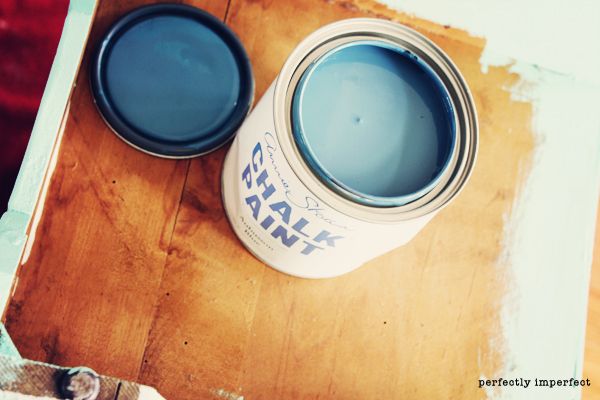 aubusson blue chalk paint
Where do you buy it?
–I buy all of my chalk paint from Classic Wall Finishes from a wonderful stockist named Patty.  She and her sister are committed to excellent customer service…she is just wonderful and I know you'll love working with her!
How much can one can cover…is it worth the expense?
—The quart size cans cover around 140 square feet….and let me tell you, it lasts.  And lasts.  For instance, with my one can of Old White, I've painted: two large signs, trim on the french dresser, a farmhouse dining table-2 coats, a large waterfall buffet-2 coats, a mirror, some small frames…and I can't even remember what else.  I've just now gotten to under half a can.  And with saving the cost of primer, lots of sanding supplies, and using less sanding blocks to distress, the cost is completely worth it for me.  It will be different for everyone, but the quality is incredible, the look is so beautiful, and it does go such a long way.
Can you use it in a sprayer??
—I honestly don't know.  I haven't tried, but I'm imagining you can.  Again, the beauty of the paint to me is the hand-applied finish…but I'll give it a whirl sometime to see how it goes.
Can you use it on kitchen cabinets and dining tables?  How durable is it?
–You can use chalk paint on any surface.  It adheres to almost anything, and I've painted laminate, particle board, solid wood, leather, old and new furniture alike.  It's held up beautifully.  I will tell you this…and please see the waxing video at the end…if you wax improperly, that's where you'll have more trouble.  This is covered in the video, but wait until your wax is no longer tacky before you buff it.  This will stop any paint "rolling" off.  So, yes, as long as it's sealed it's very durable.  And go for the cabinets!  Here's some tips from Annie Sloan herself….find her tips here.
For high traffic tabletops, I would paint 2 coats and do at least 2 coats of wax…maybe 3.  If you use a Poly, go with 4 coats.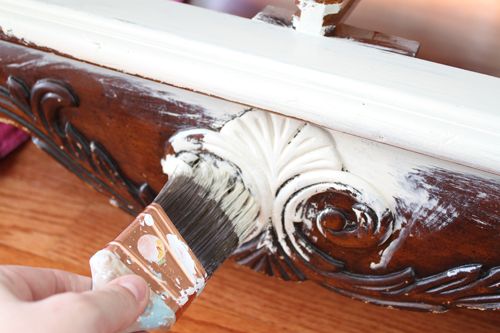 painting Old White onto a varnished table
Can you seal it with anything other than wax?
–Sure you can.  However, Annie Sloan recommends using the Hannant's Wax (or a comparable soft wax), so that's what I've done.  Again, see the video at the bottom for a tutorial and some tips.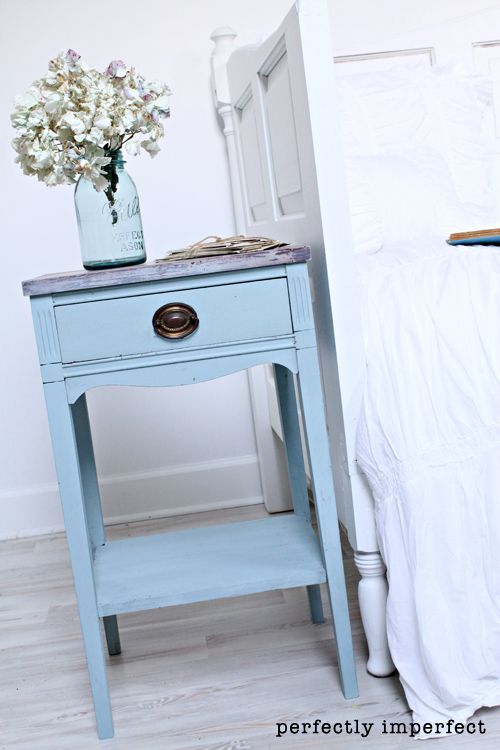 3 parts old white, 1 part aubusson blue/lime washed top/clear wax
Is this paint only for heavily distressed finishes?
–No, absolutely not…here's an example.  I didn't distress this table at all…and I love how it turned out!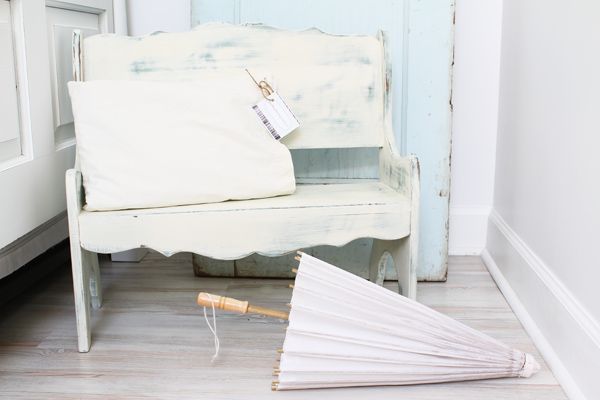 base coat:duck egg blue, top coat: old white/clear wax
Do you have to wax in between layers if you're using 2 colors?
–You can, but don't have to.  Simply paint your base color, then top, and distress with a fine sanding block or sandpaper.  Only rub down to the base color.  Or you can use wax….see Annie's tips here.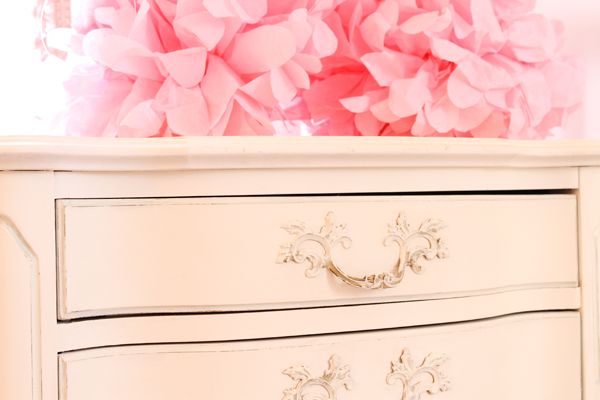 2 coats of old white/clear wax
I've had some trouble with bleed through?  How do you fix this or what approach should I take?
—I address this in the video, but I'll say briefly…there are just pieces of furniture out there that are stubborn.  They have water stains under the original stain…and painting it pulls it out, especially if you paint with a lighter color.  I've had small bleed through with one piece (and have painted 25 with chalk paint), and it disappeared after the 2nd coat.
I discuss some options for you in the video if this is a problem for you.  Just realize that some pieces would do that, even if you used a stain-blocking primer…I've had to paint 2 coats of primer before…simply put, some pieces will give you trouble and you'll have to adjust the plan, no matter which products you're using.
aubusson blue, clear wax, lightly dark waxed
Overall, I have to say that this product is my new love…I just got in a bunch of new colors and I cannot wait to give them a try!  I hope this answered lots of questions, and believe me,
1 coat of duck egg blue on a new, varnished table/ clear wax
2 coats of old ochre/clear and dark wax
there's a lot more covered in the videos.  Like a WHOLE BUNCH.
🙂
Excuse the random giggles I get in the first video and the random weird jokes in the second.
I blame it on the permanent lack of sleep in this house.
I highly recommend you purchasing Quick and Easy Paint Transformations by Annie Sloan and watching Miss Mustard Seed's Waxing Tutorial Video.  Don't forget to visit Patty and tell her I said HI!!
**NOTE: The opinions and techniques used in this tutorial were my own, and what works for me, as I am still learning how to use this great product to its fullest advantages.