It's been a down couple of days for us in this house…we are resting as much as possible and Matt (poor thing) has some kind of bites all over him and is quite miserable.  The kids are literally hanging on us, and little has gotten done.
I wouldn't have it any other way.  (speaking of busy, I received hundreds of emails while away, and I promise, I'll get to those, but it's going to take a little time…thanks for being patient with me!)
I promised a detailed report of our trip to Honduras, and detailed is what you'll get.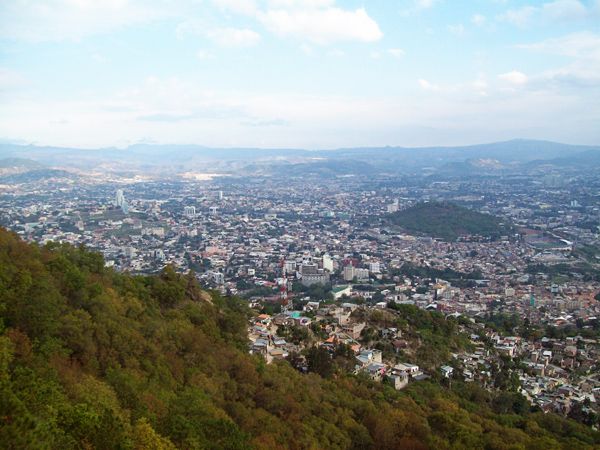 I love this country so very much.  It is breathtakingly beautiful in some spots, lush and green,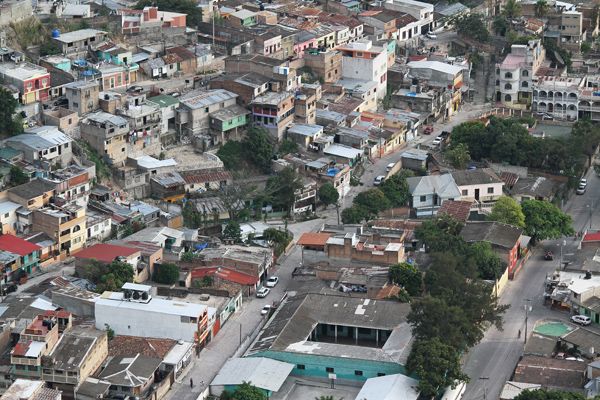 and incredibly crowded and bustling in others.
I first visited Honduras in 2005, and fell in love immediately.  Matt and I had actually planned to move there for a year and a half, and found out we were expecting…which was not part of the plan.  We stayed here in the states and have been taking groups ever since.  As you can tell, I'm about as happy as a pig in the sunshine when I'm there.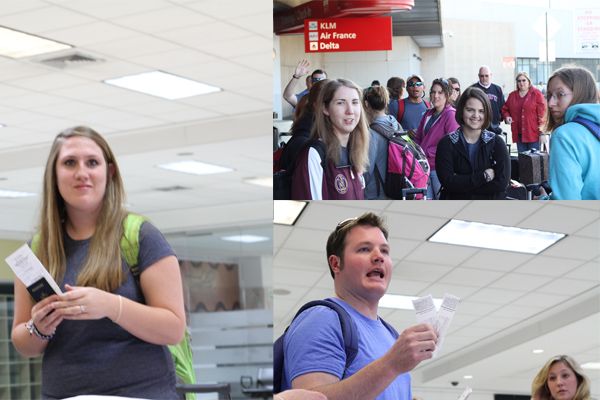 We left from Atlanta on Thursday, May 5, and took 26 other folks with us.  Let me just tell you…everything takes a long time when you travel in a group of 28.  Just fine by me…more time I got to look at their cute faces and spend time in what feels like another home for me.
We were missing 9 bags, which is nothing compared to the 30 we lost the last time we were there, but 4 or 5 of  those bags were full of tools to separate into our 3 teams.  It took quite some time at the airport, but we got rolling soon and Matt, Parks, and J.T., our team leaders, worked out what tools to disperse to the 3 teams.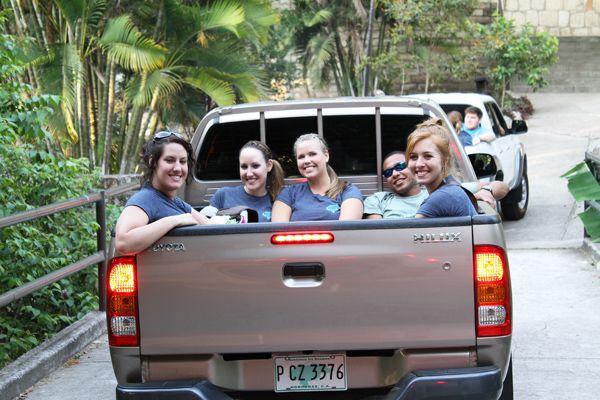 We rent trucks when we're there, so our groups are able to make it up the mountain and into places a bus couldn't reach.  For the 28 of us, we rented 3…and spent just as much time riding around in the back as we do in the cab.  The only law there?  You can't sit on the side.  I'm not sure why my fear of a car accident suddenly dissipates when I land in Tegucigalpa, but it does….the driving there is quite mad…nothing like here in the states anywhere.
Crazy with a capital C…and I love it.
As previously mentioned, there is no feasible way for me to cover the entire trip in one post, so we'll check out some of the houses we built while there.  Some sites are spread out like this one (one of the best I've worked since I began going), but most are on the side of a mountain or wedged between 5 other small houses…it's kind of become a challenge we look forward to.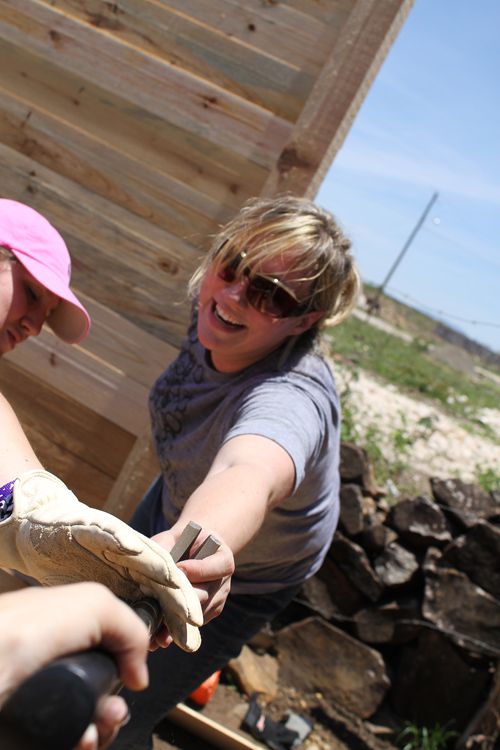 The houses we build are roughly 16 x 16, with one window and one door.  Many here would consider it a shed, but those beautiful people live simply and honestly, I think it makes them love more simply, too.  They know from Who the houses come, and that we are simply there to be used…and like my friend, Lauren, said, "it's a powerful and beautiful thing to watch the walls go up in a few hours and know that family not only has a place to live, but a place where they'll make memories…enjoy each other."
Over the years, we replaced carrying all hammers for 1 or 2 nail guns…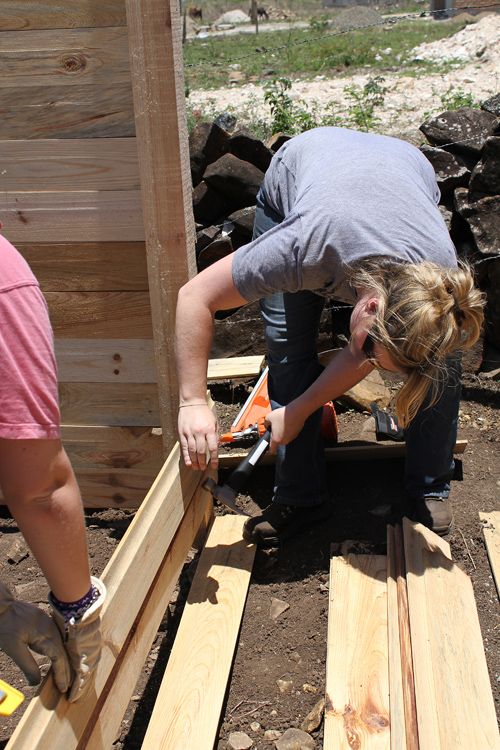 the nail gun makes me happy.
And if they're used to replace a few people hammering, it helps us build 2 houses in a day as opposed to one.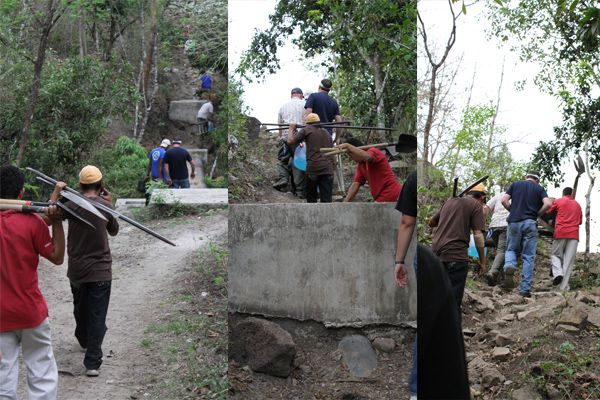 Sometimes getting to the site is even too difficult for the trucks, like the time we had to cross a water pipe (see left pic) and hike into the mountain to get there.  I thought we weren't making it out after.  On the right, you can see the guys made somewhat of an ark of the covenant for the tool box…they carried it on a ladder to be able to lift it out.
The wood may or may not be at the site when we arrive.  And even if it is, we usually do some passing up or down a mountain to get it in the right places.
Sometimes the post holes are dug for us when we arrive.  Sometimes not…and sometimes they're off by just an inch or so and we have to re-dig.
Some of us even almost break our toe with that steel monster while packing a post hole…on the first day.
🙂
No matter what conditions we are building in, there are always little ones and families to meet and spend time with throughout the day.  It has to be one of my favorite parts…the little guy on the left was my little buddy.  He wouldn't smile the whole first half of the day, but by the end, we had him giggling like any toddler.
We typically don't pour the cement floor for them…they apparently told Matt that they do a better job.  I'm sure they do.  Most of the time, the family will work with us on and off throughout the day, and it's a humbling thing to watch and to work beside them.
Part of our roofing crew…Becca, and Matt…it's a hard job, and I was fairly thankful I escaped that task this time…this ole girl doesn't have great balance due to my half metal foot.
🙂
At the end of the day, though, it seems simple to push through, to work through obstacles…we aren't leaving that site without having finished a house.  It seems as if God continues to shape and shift the plan, tug at our muscles and energy, making it all possible for a random bunch of gringos.
And at the end of those days, it's these families who touch me, who almost always move me to tears.  They are not poor, and never were.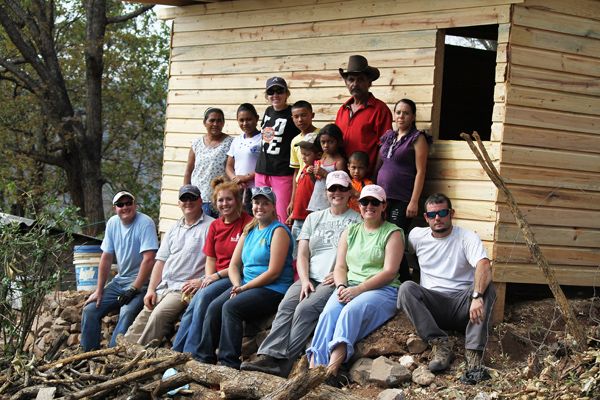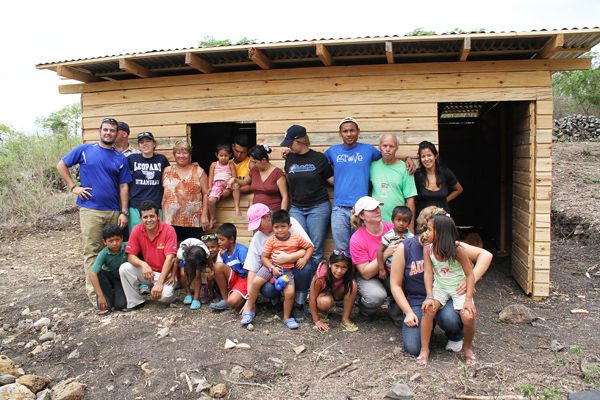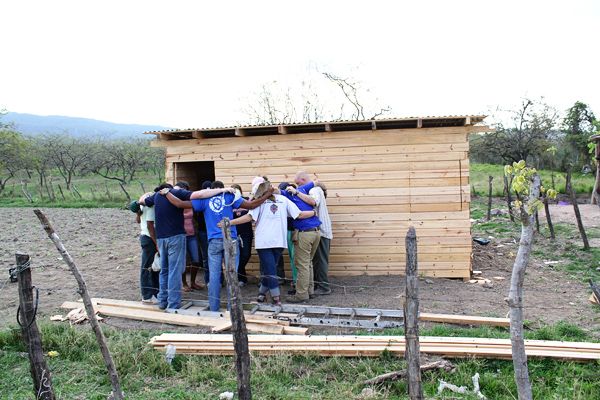 They are filled beyond measure.
I want to be like them when I grow up.
🙂
*for those that wish to know, through God's provision, we were able to build 16 houses in four days, and we couldn't be more thrilled to have been a part of it!