Sometimes we are called to step completely out of our comfort zones.
Sometimes we're called to stay there, and in staying, amazing things take place.
You'll probably remember I mentioned that while in Honduras, we would be working with Breaking Chains Homeless Ministry.
And this lovely lady is the one who started it all.  She's one of the stayers.
Amber has become a dear friend of ours over the years, and this trip only made me more amazed with her.  She moved to Tegucigalpa 7 years ago, and has served the people there in ways most of us cannot comprehend.
She works with groups (like us) that come through Baxter Institute, but she recently began Breaking Chains, a ministry to feed and love the homeless in the downtown area.
Let me tell you something right now.  She is absolutely one of the most selfless and sincerely loving people I've ever known.  And the best part?  She doesn't think so…she doesn't even know how rare a gem she is.
And it makes me love her fiercely.  Like kinda would move down there just to be supportive of her….if for no other reason.
And this cutie's name is Rosie.  Amber took Rosie in when she was about 15 months old (her mom became involved in the homeless ministry and is now a good friend of Amber's).  She just turned 2 and is, without a doubt, the cutest thing (other than my two, of course) in the world.  She is loving and friendly…and we were fast friends.  She helped me miss my two a little less.
It's amazing to see Amber with her daughter, to know that she was meant for Rosie, and Rosie for her.  I love that Rosie's mom is involved in her life and knowing Amber continues to reach out to their family.
Rosie certainly wasn't the only little one we all fell in love with on the trip to Breaking Chains.  This is the little one you saw me with in this post.
And if he could have, I think Kenny would have packed Jonathan in his backpack.
We decided to have a pizza party for the ministry on one of the nights Amber normally feeds them…and I think they were pumped about the pizza.  We were also able to purchase 130 pairs of shoes and give each of them a new pair while the party was happening.  I had the honor of literally putting the shoes on their feet, and honestly, I've never been so moved or so humbled.
This is where I'll admit some hesitancies.  Most of the people we saw and hung out with struggled with addictions of different kinds, and many had HIV or AIDS.  It was something Matt and I prayed long and hard about exposing a group we were leading to.  In the end, we felt utterly called to go, and of course, gave everyone the option of staying on campus if they wanted.
No one stayed.
So we all loaded up our Americanized selves, fed pizza and touched their feet…loved on them.  Something Amber said a while back truly struck me at my core…. "I can somewhat imagine waking up in a world where I was poor, I can imagine maybe being homeless, I can imagine being sick.  But…I cannot imagine waking up in a world where no one cared about me."
Most of these folks call Amber "mom" now, and I can certainly see why.  So many of them just need someone to reach out, to express they are loved without having to say a word, without having to understand their language.
Many of the people I helped find shoes didn't want me to touch their feet or didn't want to put their shoes on (because their feet were a little dirty), but I convinced them that's what I was there for…that I didn't mind, and that their shoes would be fine.  🙂
One sweet girl sat and wept so softly while I took her sandals off and replaced them with the white tennis shoes.  She didn't ask for another size or color, and she didn't push me away.  She simply cried and said over and over again, "Gloria a Dios."
Glory to God.
I could hardly stop hugging her.
They rocked my world, these people.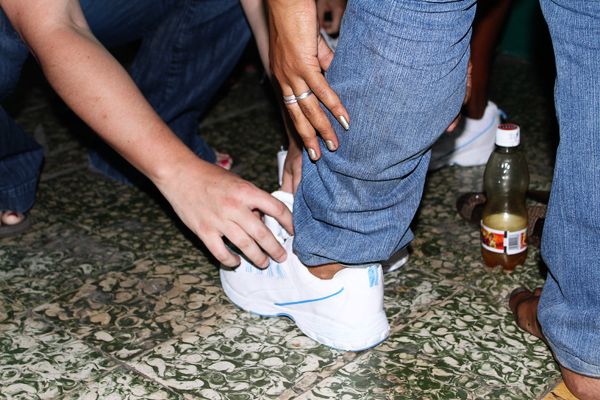 And showed me that while I have heart for so much, it's past time to live all that out here, at home.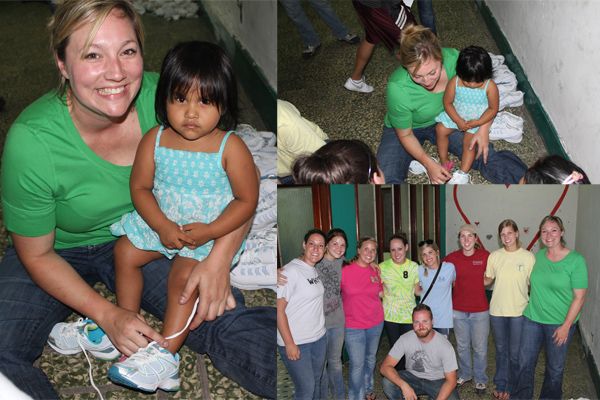 To love some people around here that may not be used to it.
To be about the business of healing.
I think most of the 28 of us were shaken to the core, and yet, felt completely at home and blessed to have met them all.  Most of us will probably never be the same.
And for that, I have to thank Amber.  I have to thank her for her work, for relying on Strength not of her own, and for allowing us to meet her family.  I realize now what a precious treat it was.
Since we were able to build all 16 houses in four days, we had some money and time left over.  We were able to go back to Breaking Chains on our last day.  We spent time with those who live there now, built some shelves for Amber's storage, sort through suitcases of toys and clothes for her, make necklaces and bracelets with them,  paint a couple of rooms, and sort of at the last minute, decided we would build some beds.
Matt and I (and the hearts of the people we take) kind of have this philosophy that while we're there, we're there to work.  We can rest in Roatan.  We can rest at home.
So on that last day, a group of us stayed til 2 a.m. and built 21 bunk beds (which made 42 beds) for the building.
I have to say that very early in the night, I got so giggly I was almost useless.  I kept going, but those around me got a lot of laughs watching me not yield my DeWalt.
These guys (and all the rest) didn't do much giggling, though.  They worked and worked and worked.
And I saw Jesus in them.
Spending time at the men, women, and children at Breaking Chains will certainly go down in my top 5 experiences of all time.
And from now on, I think it's time I search for beauty in the most unlikely places.