I told you I'd been painting like mad.  Getting the vault ready in a little over a week's time was CRAZY and I. am. tired.  But…the plus is I'm also thrilled to be painting again.  The ebook was so much fun to create, but it's kinda nice to have paint all over my hands again.
I stumbled across this old girl when I was thrifting in Birmingham back in January.  I couldn't wait to get started on it, thinking the whole time I would create a new version of my Wisteria Chest.
After sanding the top and sides, I realized it was going to take way too much time to get this thing down to bare wood, so I chose to use my new love, chalk paint.
The body is painted in Paris Grey and the trim and details were done in Old White.  The sides and trim were waxed with clear and dark Fiddes wax, and I left the drawers waxed in clear.  I kept all the original hardware except the two small pulls that were missing.  I replaced those with two oval knobs from Hobby Lobby and think they fit in just fine.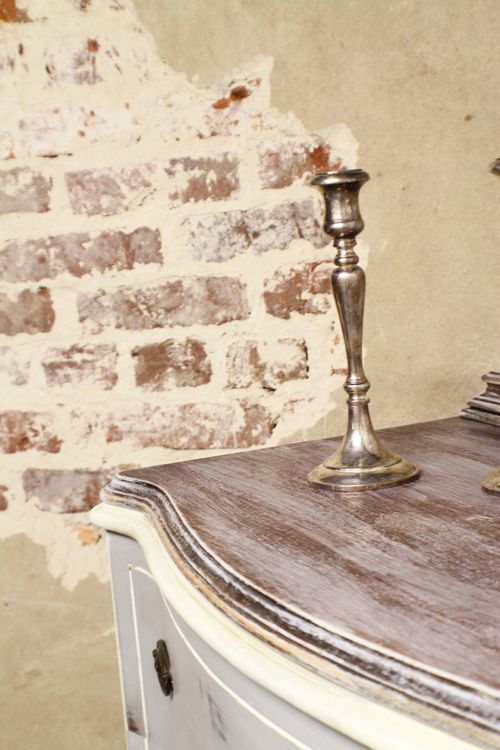 I wanted the piece to still feel like me, so I made sure to distress it in some obvious places (something I only enjoy doing with chalk paint) like the drawer fronts.  I also did choose to dry brush the top in Paris Grey and leave some of the original wood peeking through.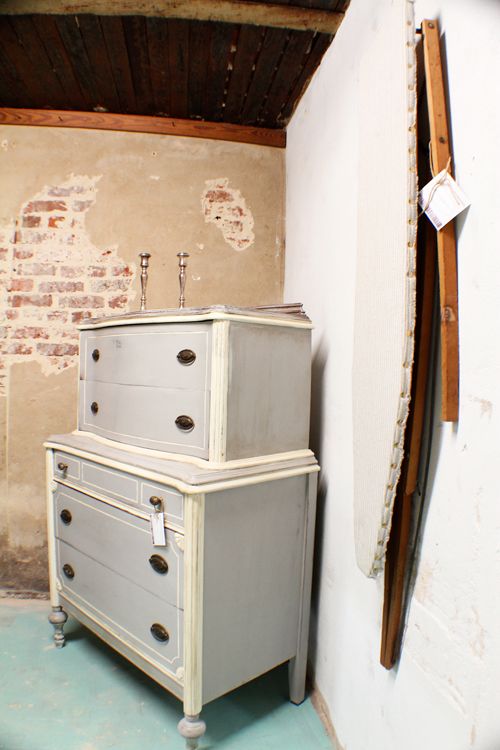 Not such an old girl anymore.  🙂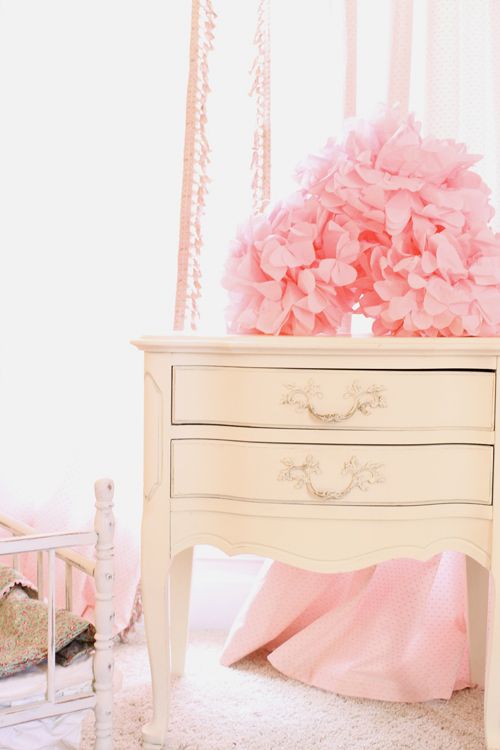 I don't have a before of this little French nightstand, but you have probably seen the set a million times.  Very gold trim, yellowed ivory paint…laminate top!  And this one was dirty.  Really dirty.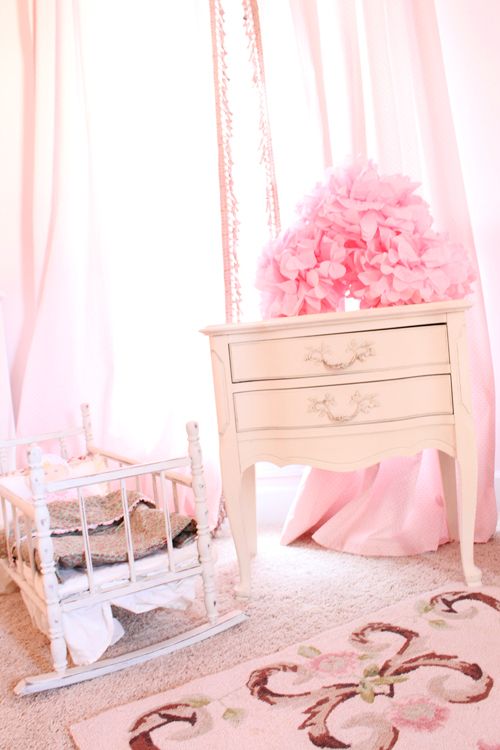 I painted it with two coats of Old White, keeping it simple, sweetie.  Speaking of sweetie, you're getting some glimpses of little Ava's room.  It won't stay this pink forever, but it's sure been fun.  And pink…and I've loved every cuddly second.
I chose to subtly distress the piece and paint right over the original hardware, distressing it down to the gold here and there.   Sometimes curvy, French pieces seem to tell me, "keep me simple…calm me down a bit."  That's what I did and I'm really happy with it.
I'll try to stop in once more tomorrow before I leave to show you another thing or two…but our trip to Honduras is fast approaching (we leave Wednesday night!!), and I. am. scrambling.
The good news:  you'll get to read some awesome guest posts along the way and I'm oh-so-hoping I'll get to stop in from time to time to show you our progress.  We have raised enough funds to build 15-18 houses!!  We'll also be working with the homeless ministry there and have planned a surprise pizza party for them and were able to purchase each of the 100 men, women, and children a new pair of tennis shoes.  The craft we'll do with them is simple and planned out…and we are hoping to build a floor to their second story in their new ministry building.   I'm looking forward to visiting the orphanage, and playing with all the children…and am blown away by God's grace to send us off with such support.
That's where the request comes in…could you do me this favor?  Could you say a prayer for me…for us?  That we are safe, that our energy and rest would be multiplied,  that we are not of ourselves.  That we would, first and foremost, be His hands and feet…that we would be love.
That would be the bees knees if you could.
And I'm starting to shed some tears.
Probably time for me to go.
🙂
*I included this video we made of the last trip we took…in case you missed it or want to see it again.