There is more than one nook in my home that is screaming for attention.  For some style.  For my style.  But life…peanut butter & jelly sandwiches, dirty diapers, and rooms needing more help get more my notice.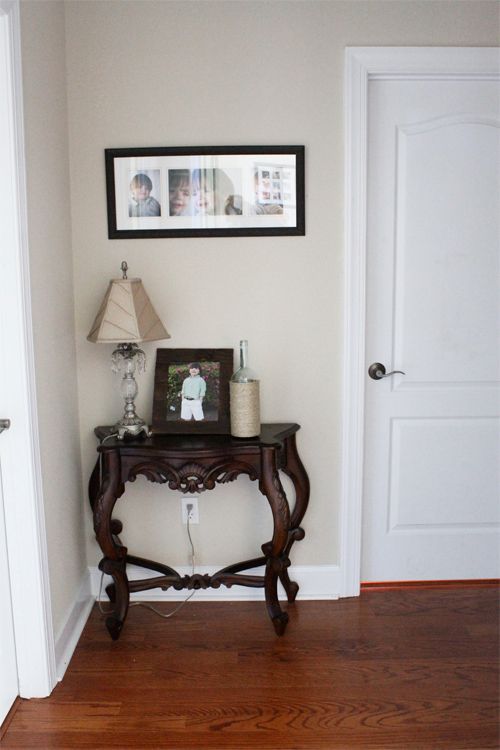 But yesterday, this little nook in my hallway seemed to be hollering, "Get up.  Paint the table, paint the wall, change the art, just do something."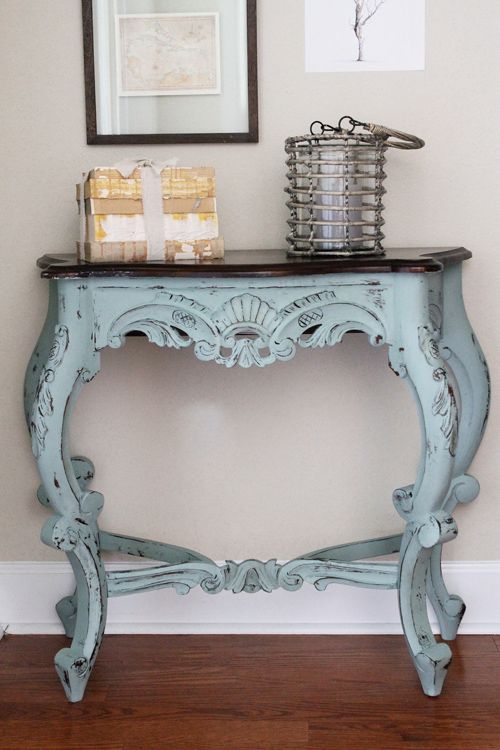 So I did.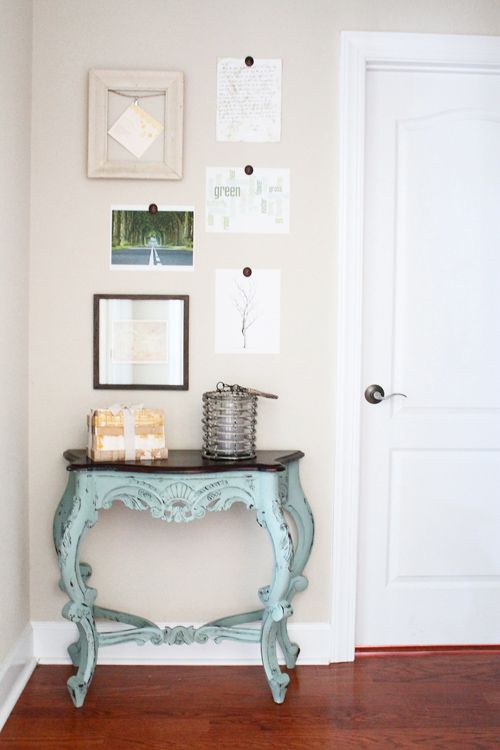 I painted the half-moon reproduction table with my beloved chalk paint….in duck egg blue.
I'm telling you…you MUST try this stuff.  I painted the glossy veneer with one coat.  It distresses so beautifully, too.  I've got a chalk paint video coming for you this week, too.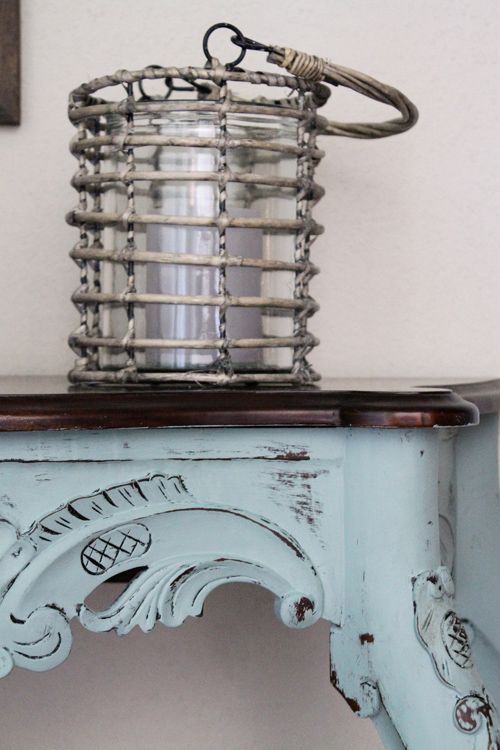 After painting the bottom with one coat and distressing with a medium grade sanding block, I waxed it once with Hannant's Clear Wax and Fiddes Dark Wax in Jacobean in just a few places.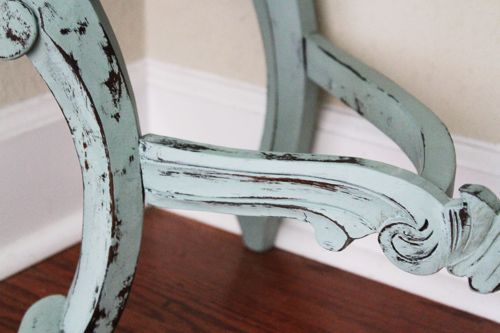 I'm normally not inclined to heavily distress my own pieces, but it just fits this one.  The treatment of a colorful paint and the heavy distressing contrast well with the formal lines of the table.
For now, I'm leaving the top stained, but am still going back and forth on painting it.
Just by painting the little half-moon table, I packed a punch of color and personality into the hall nook.
I also freshened up the art work by hanging prints from Fotolia directly to the wall with a cameo push pin.  I was inspired by this after reading Sibella Court's Etcetera.  You also MUST try that.  It is a beautifully unique and inspiring design book….design in a book…well, it's almost too much for me.
I threw in an antique frame holding my cousin's beautiful wedding invite and a glass frame from Walmart holds a postcard map of the Caribbean.
Speaking of fresh and things I adore…how do you like that hurricane??  Target.  Like a moth to a flame, I all but sprinted down the aisle to pick up two of these babies.
I'm looking for the perfect something(s) to hang on the other nook wall, and I'm sure I'll eventually frame the prints.
Just another pick-me-up for the casa de imperfect.  But this table was sooo perfectly imperfect that as much I know I'll never sell it, I can't help but want other folks to see it. See it somewhere in particular…
In SUPER exciting news for me…this week I'm opening a space in my favorite local antique shop.  EEEKKK!!!  Well, it's more like a nook, a vault really.  Literally.  The shop is in an old bank building, and yours truly will be designing the tiny vault space and selling repurposed and found goodness.  I have gotten started on pieces that will be available first, and already shopping for other found and handmade things to carry.  I have big plans for the itty-bitty bright spot in my day, and I can't wait to share it all with you.
I'm seeing a wall of vintage book pages, for starters.  And a coat of white paint in the dark corner will give me a fresh background to work with.  I'm hoping to move in by the end of the week, and you'll get to see it all, I promise.  It's such an exciting venture for me, and I can hardly wait for it to begin.
*Linking to Primitive and Proper, Miss Mustard Seed, Centsational Girl's All Things Paint