After working on my spring mantel, it was time to lighten up the entire living room.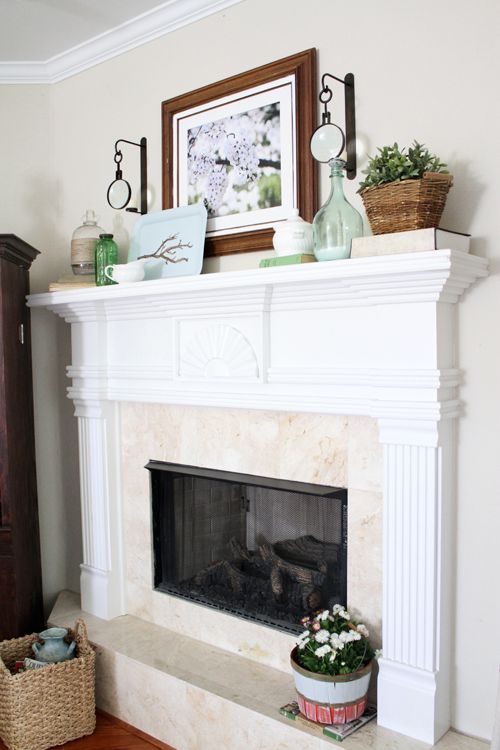 For me, that meant cleaning off LOTS of surfaces, and letting go of some of the heavy accessories.
I added some pops of blue and green into by pulling throw pillows from other rooms.
Fewer accessories stand out, calling attention to each piece and what it says about the style in the room.
In addition to the mantel, I MADE myself pair down the stuff inside the entertainment center Matt built.  Over the winter, it was filled with books and doo dads (yep, that's a word), causing it to feel too weighed down for springtime.
My plan was simple:  a pitcher on each side up top, a planter with flowers or greenery on bottom, with a couple of my favorite design books and a little starfish thrown in.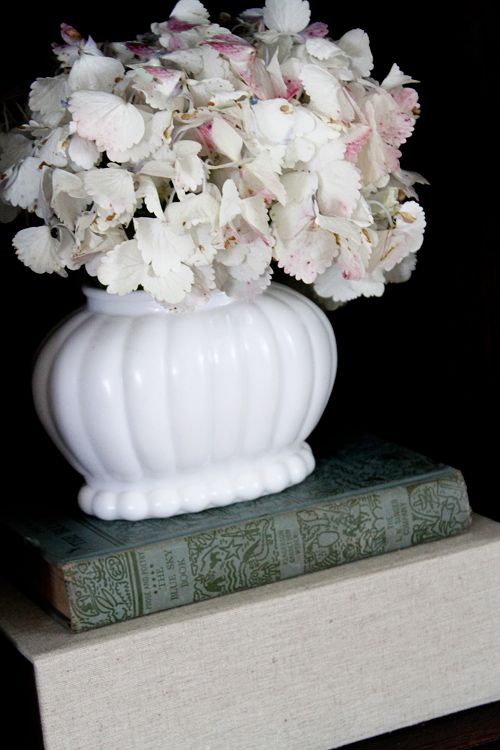 I got this cute planter at Troy Antiques (some news coming soon on that adorable place!!) for $2!  It's such a cute shape, and when I saw these beautiful hydrangeas, I had to plop them in it.
And speaking of starfish, I love placing them here and there, especially in the warmer months.  They're just a 5 point ray of sunshine in my book.  I made the green plaque to use as a coaster/sit-about.  I painted a larger wooden square from the craft section, and two smaller ones.  The dates are special to our family…March 5 is my brother's birthday and May 24 is mine and Matt's anniversary.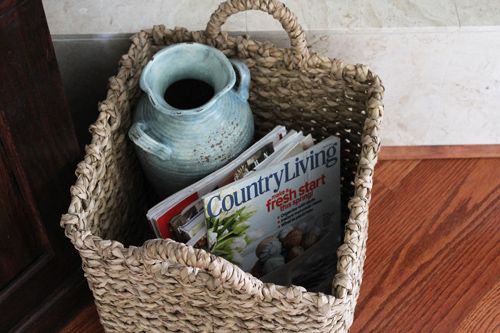 Shifting things around the house is always a free and easy way to freshen up your home…this basket was tucked away somewhere else, but for now, it's holding magazines and pretty blue urn.  It's visible to me everyday now, and because of that, it feels brand new.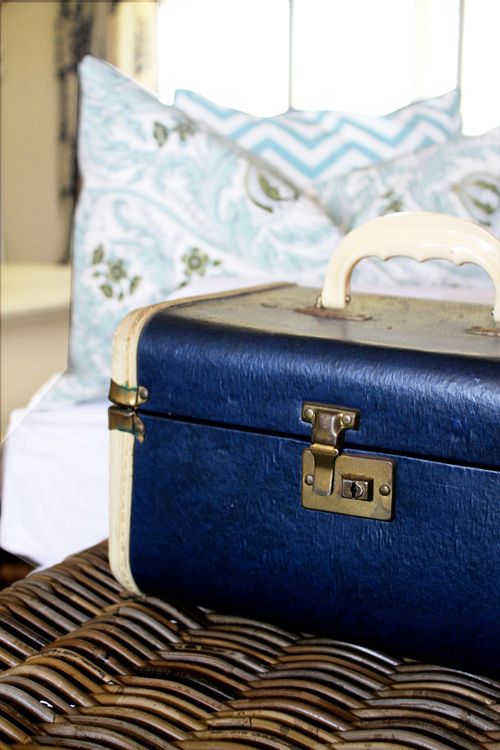 Speaking of new, love this little guy I got with Layla at the flea market a couple of weeks ago.  He keeps floating around; I'm sure I'll leave him in one place sooner or later.
Now, all I need is a group of volunteer college students to come help me paint these walls.
Before you all combust, it's time to announce the winner of the Chalk Paint Giveaway.  Man, you all wanted that stuff!  And rightly so; it's amazing.  I only wish I had way more to give away!
Without any more delay, the random.org winner is………………….
#525,  Julie from My Less than Perfect Life of Bliss!!!!!
Send me an email, Julie, at shaunna@harristire.com and I'll put you in touch with Patty so you can choose your paint color!
Hope you guys have a great weekend…going to try to catch an auction tomorrow.  Follow me on Twitter if you want to come along for the ride.
Come back tomorrow for some news on getting yourself featured at this old blog!
🙂