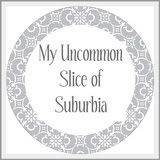 Sweet Kristin from My Uncommon Slice Of Suburbia featured me today!! It was so very kind of her; head over there to check out her beautiful home and creativity!
I'm especially enjoying this week's Style Feature Saturday, and hopefully, you'll get a post of my favorites sometime on Sunday!
Off to enjoy a birthday weekend; hope yours is wonderful too!!