It's no secret that I love simple fall and halloween decorating. When it comes to seasonal decor, I just can't make myself spend days and days on it. The idea of adding a few simple touches to compliment our home as it is works for me. Taking it down quickly is also a HUGE perk.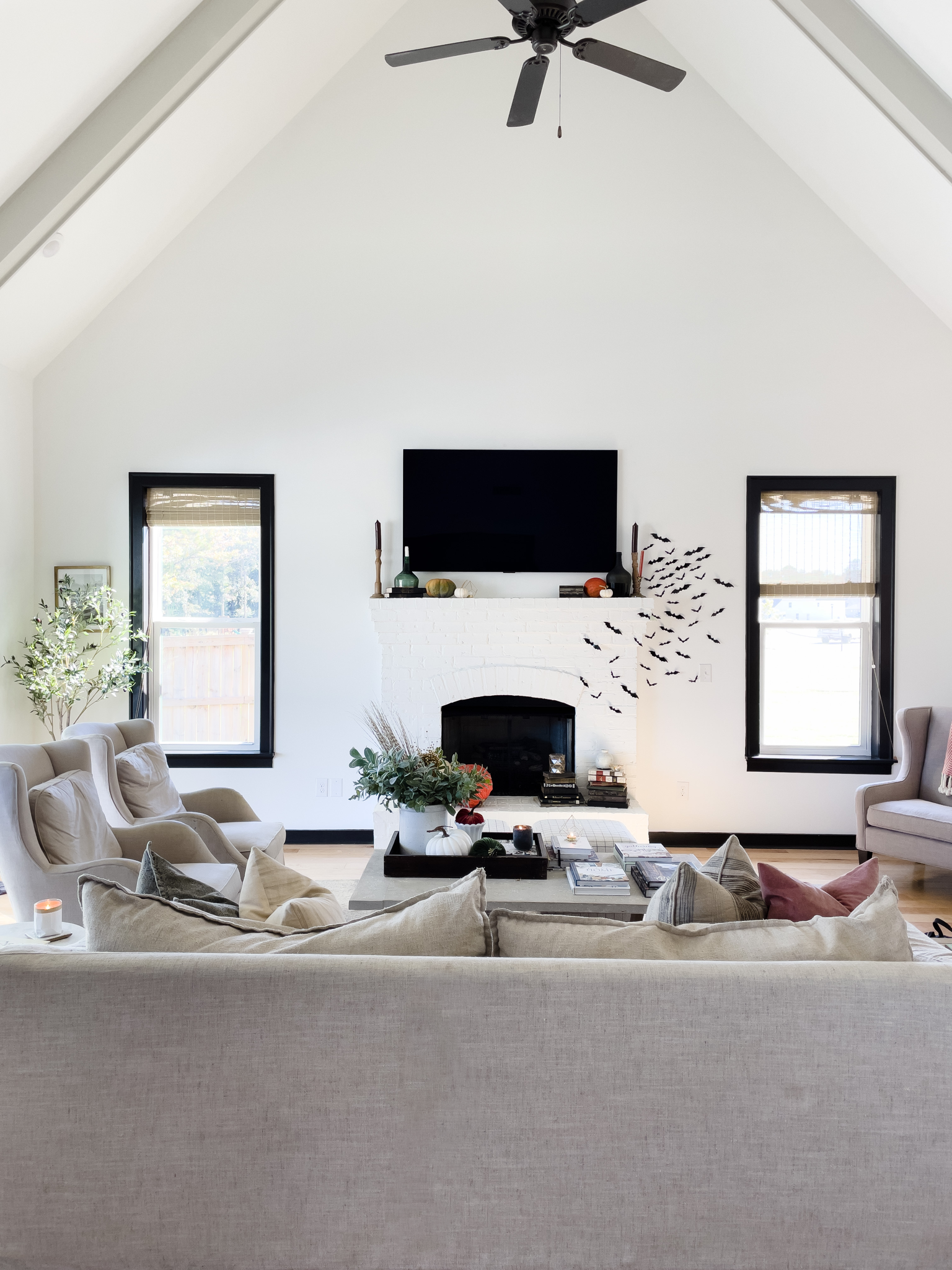 Christmas, sometimes, can be a different story. I always add little touches of fall in the main areas, but since Halloween is Andrew's favorite holiday, adding some spooky nods felt right this year. I haven't shared too much of our new home here on the blog, but I'm looking forward to sharing bits and pieces along the way.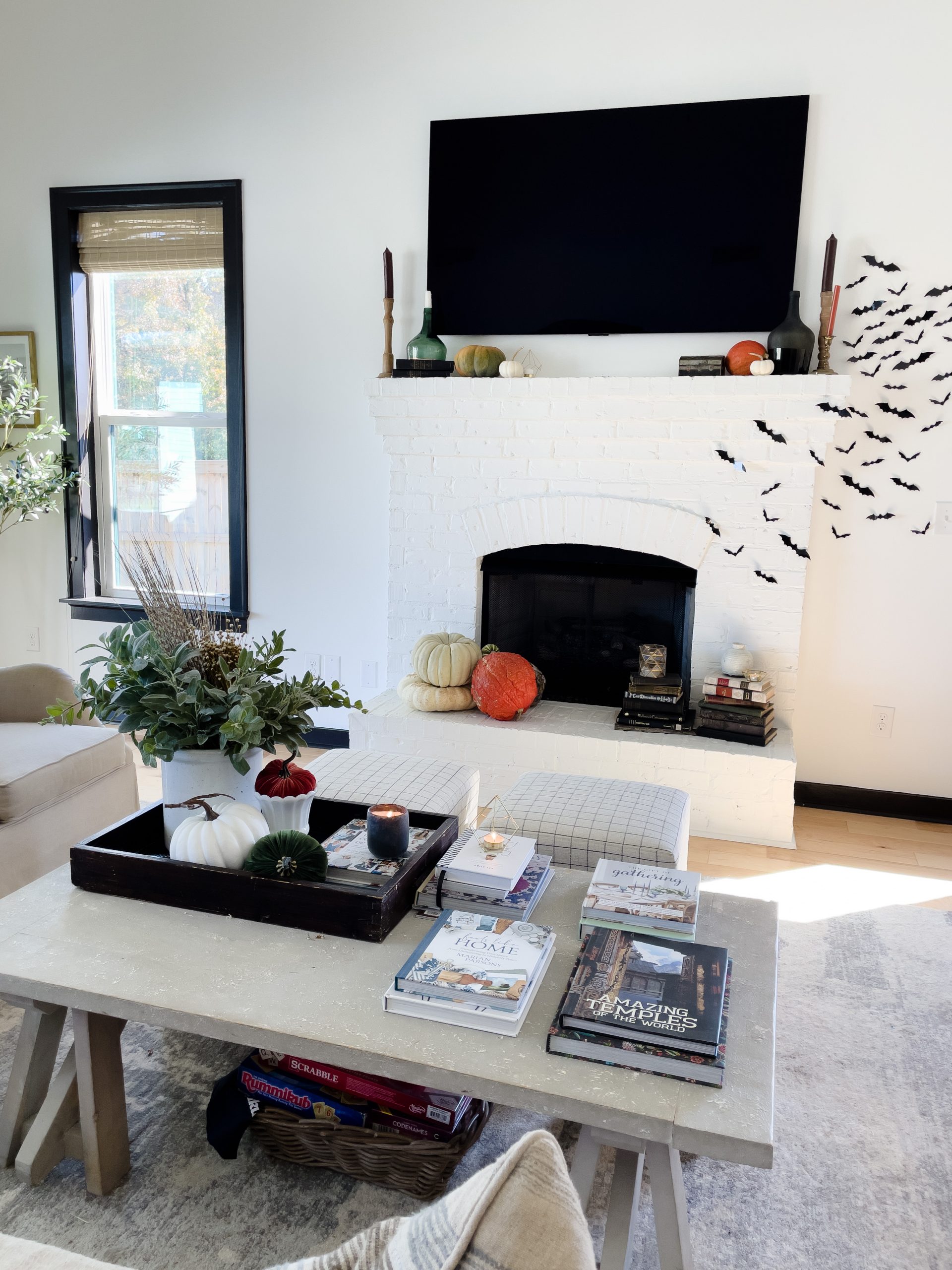 Use What You've Got
We now keep our mantel decor pretty simple as this TV is just Andrew's fifth child. I'm okay with it. He's sexy and wonderful, so the TV can stay. I can add art to the screen whenever I want, but I just left it as is to snap these photos.
P.S. You'll see we also keep a slanted stack of games right under the coffee table, too. And I left one blind hanging down further than the other. Real life.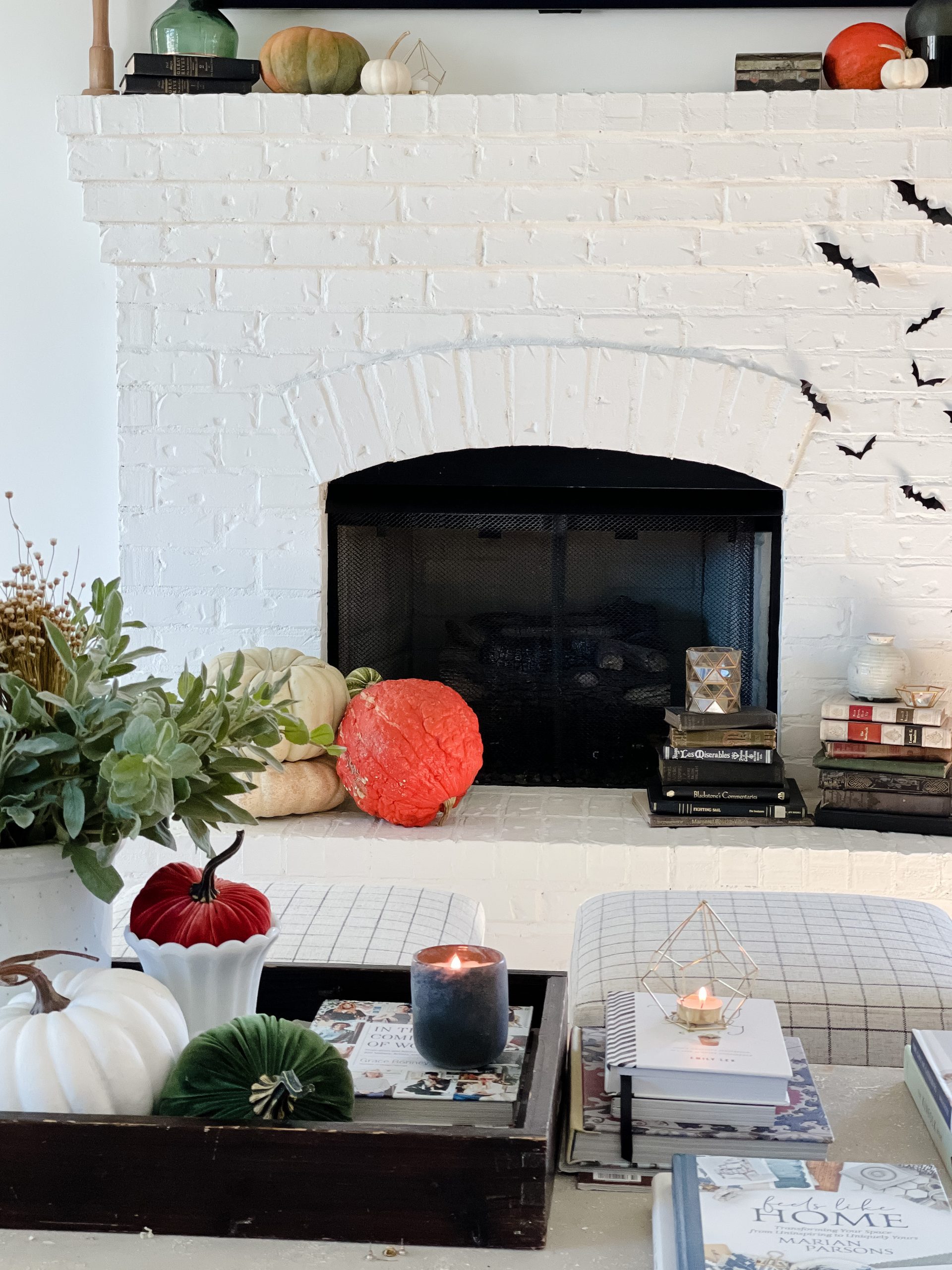 It is amazing to me how simply adding a few pumpkins and some quirky bats, dripping candles, and dried fall florals can do for a space. We don't have to go all out. One afternoon and you've got a truly festive space.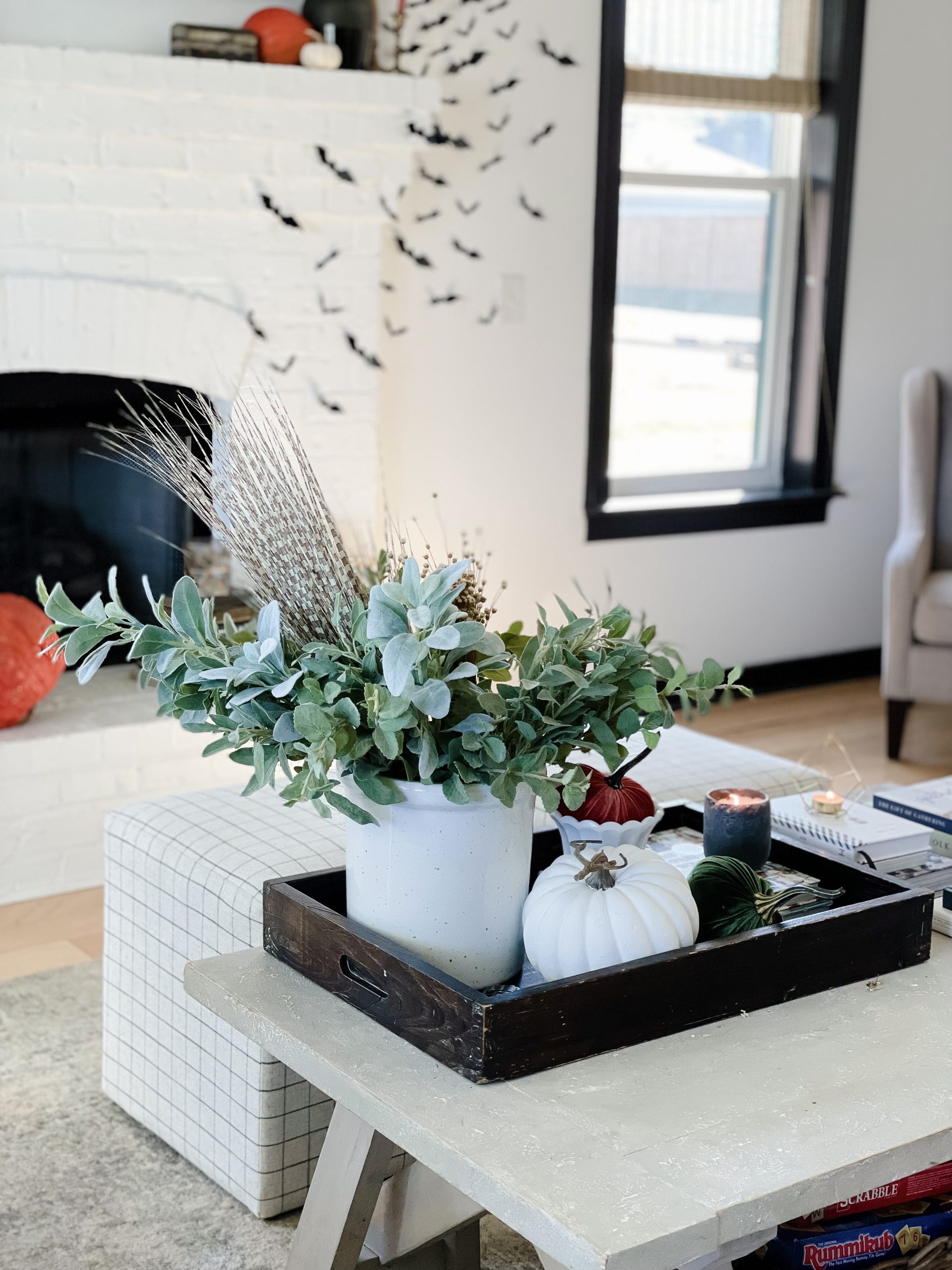 Mix in Year-Round Artificial Stems with Seasonal Stems
I keep this artificial eucalyptus and sage (it looks so lovely and real) out all year, and add to it during seasonal decorating. This time, just a sprig of artificials I took to our creative retreat. Here are some similar stems to the sage I love so much (from back when I owned the shops).
It should be noted I'm getting ready to paint this coffee table and I cannot wait to get it done. It's going green/black and I think the contrast is so needed in the space.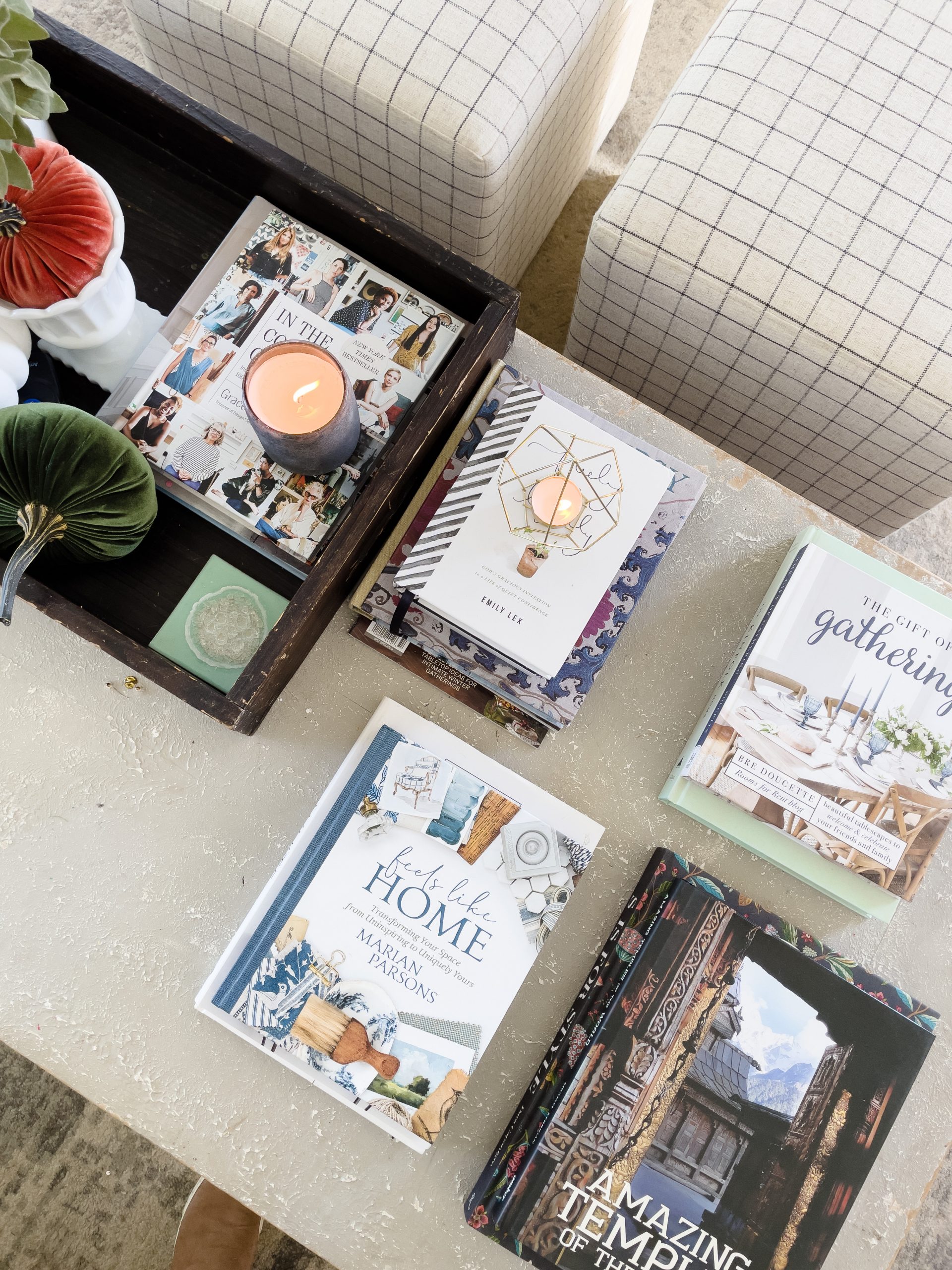 Celebrate Books as Decor that Match Your Color Scheme
I can't help but celebrate some of my friends' books on my coffee table right now, but in the fall I typically add some moody colors. Adding in darks, and warms really makes the space feel cozy and celebrates the feel of the season.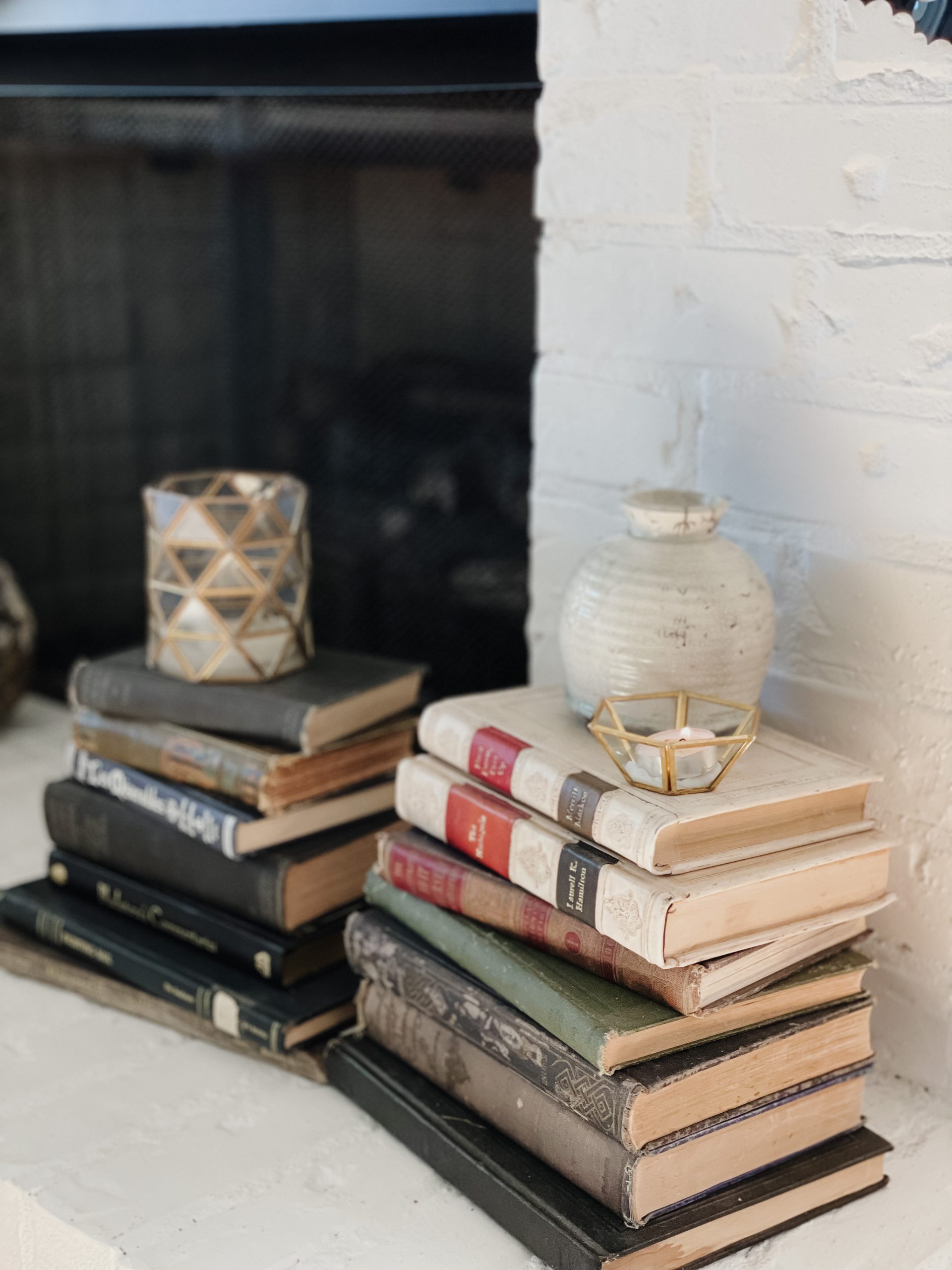 My son actually helped with the hearth. We wanted stacks and stacks of black and dark books, but even after searching high and low at our local thrifts and flea markets, we just didn't add too much to our current stack. We liked the idea of making it look messy and tumbling, but maybe next year. 😉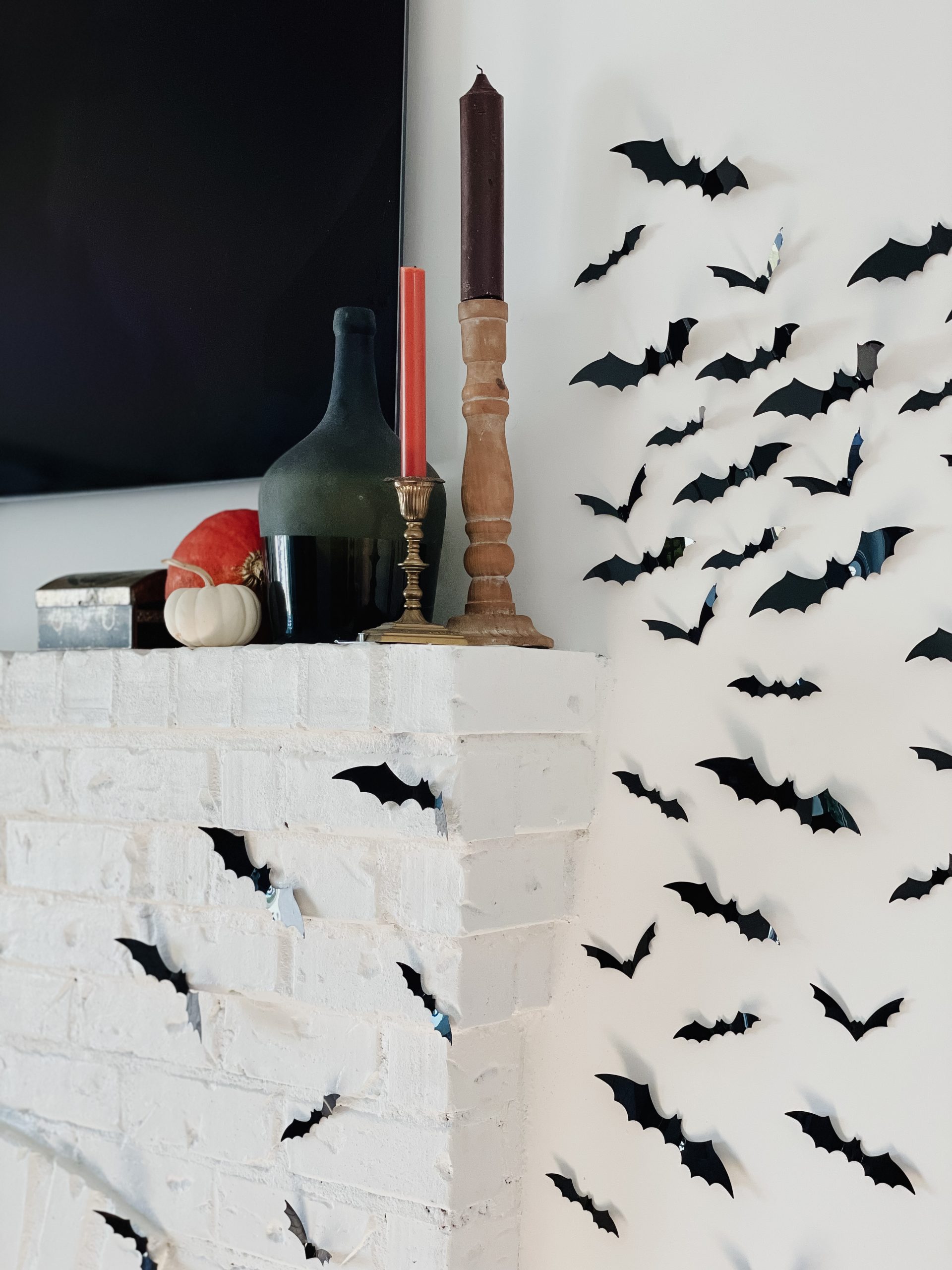 In full disclosure, I'm not to light the candles too closely to the TV too often, which makes me cackle, but since these were daytime shots, I conceded. The bats…y'all. I can't even describe how much happiness these little, cheap bats have brought into our living room lives this month. If you have kids or grandkids, go for them. Stick them everywhere. They're a great alternative to a million decorations and they really make a big impact climbing up a wall or flying out of a fireplace. We also ordered the larger set for the outside of the house, although I'll admit, we just haven't gotten around to them this year.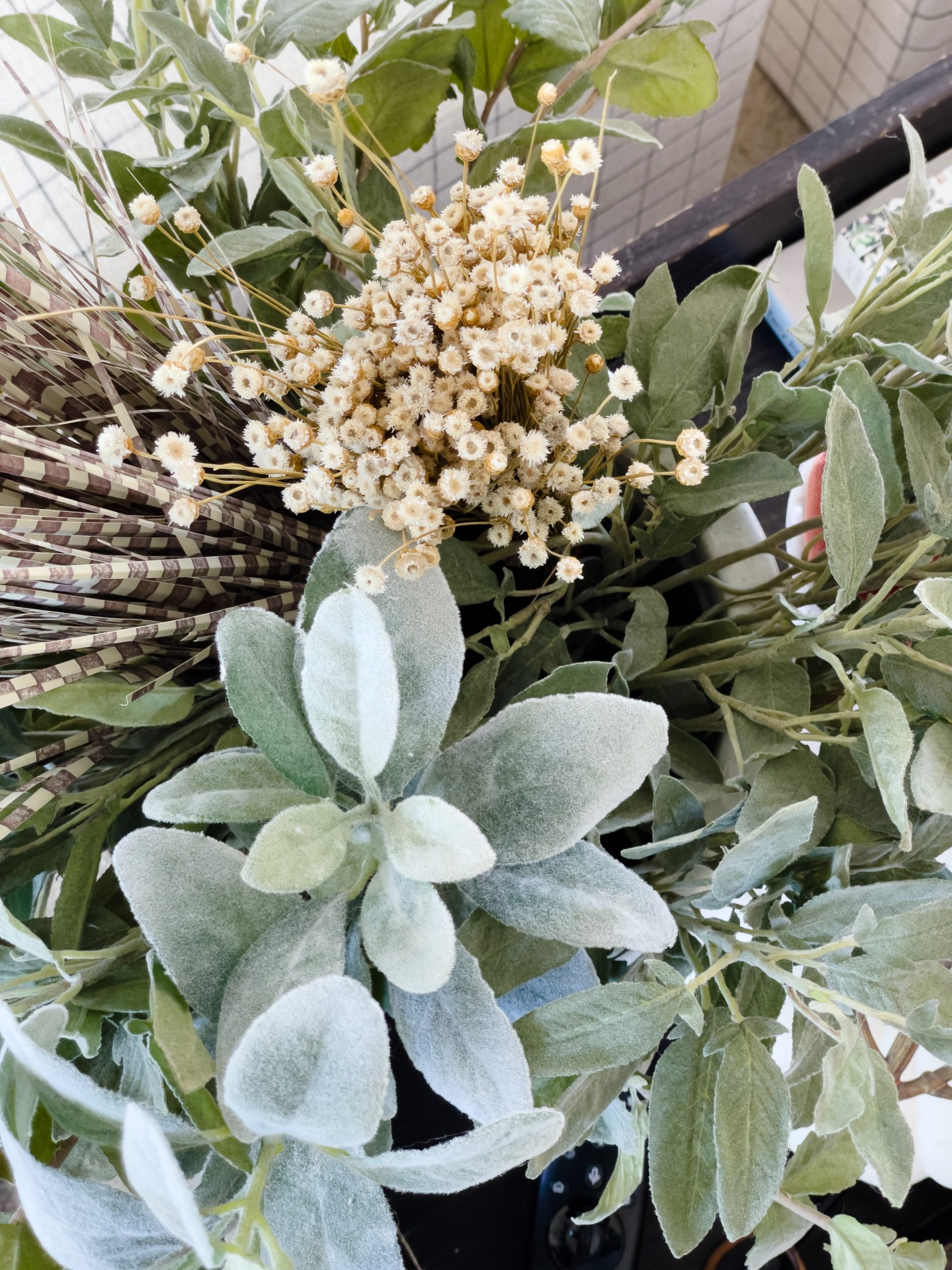 See? Beautiful artificials or dried branches can be our friends. Especially if you're like me and really wish you had the green thumb while watching the appendage turn more and more black.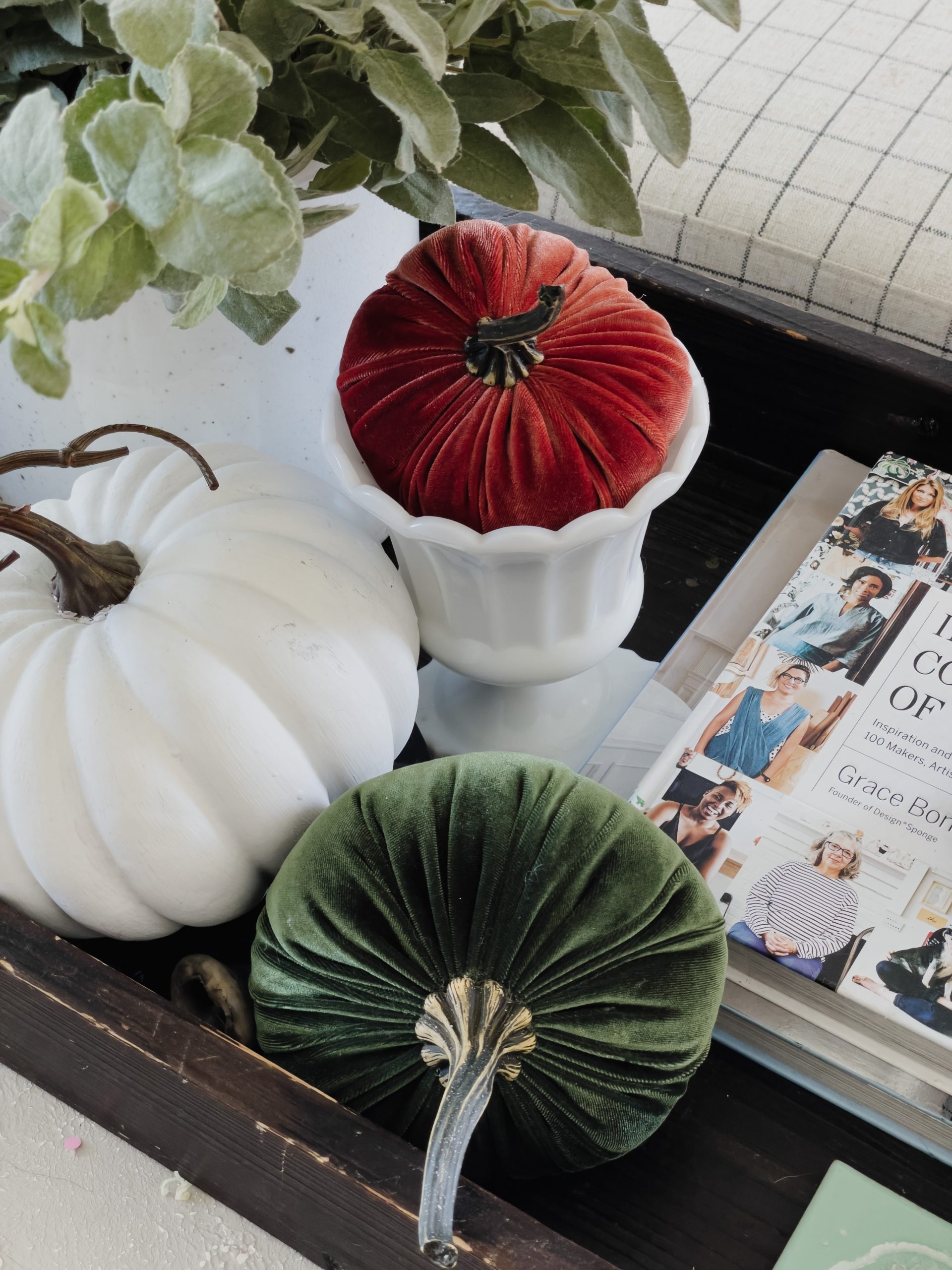 I usually mix in some artificial pumpkins with our picked lot of the year. Some are from my painted pumpkin projects, and I ordered the velvet ones through Jenn and Co. I love the textures, the colors, and how just three make a bold statement inside the tray that sits atop our coffee table.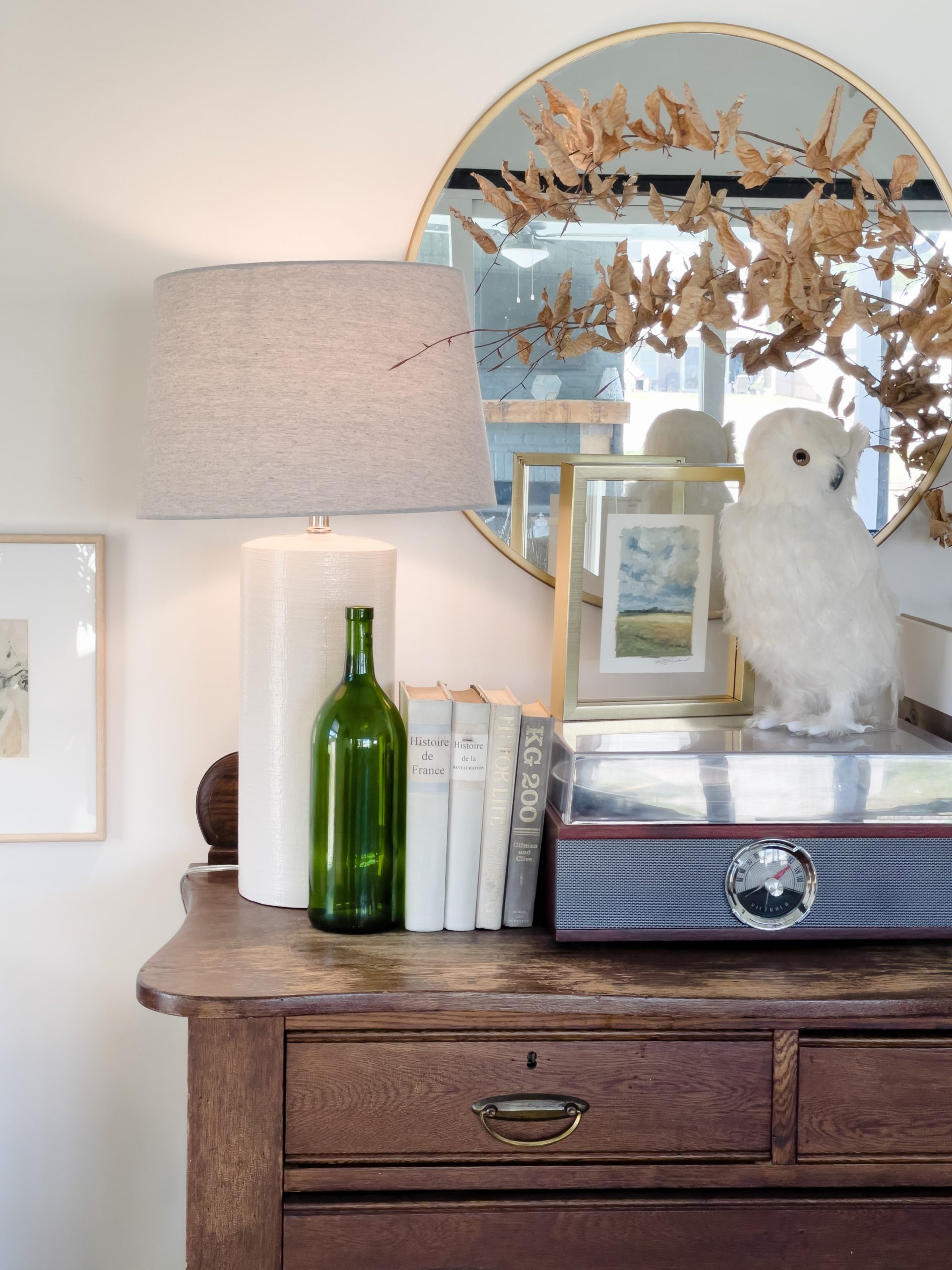 Add Something Quirky & Totally You
Speaking of dried branches and quirkiness, this corner is making me ridiculously happy these days. To date, this is my favorite piece of furniture still. I never touched it, and left it as I found it, and I believe it will travel with me wherever I go.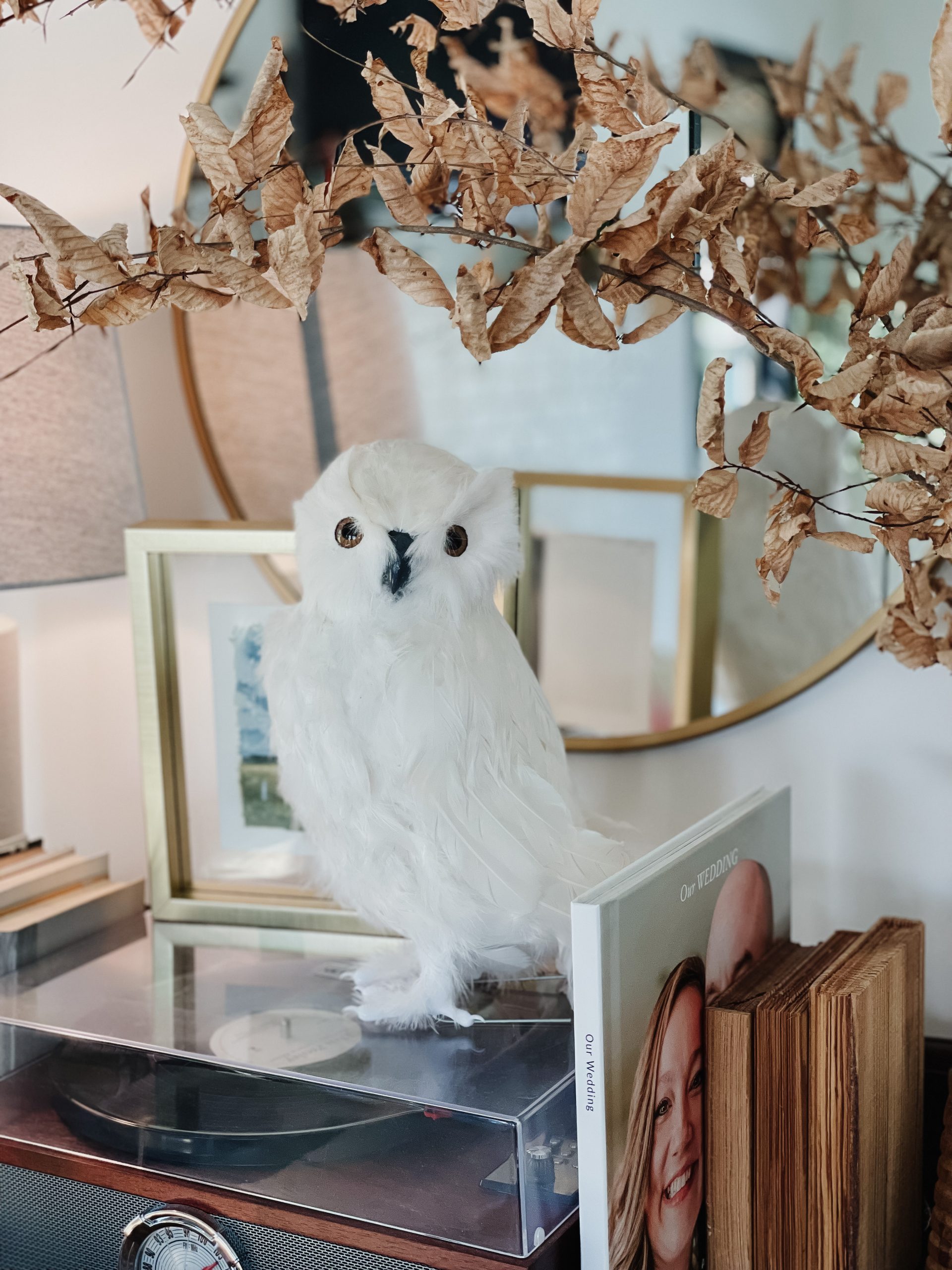 Andrew helped me pick some dried birch branches last winter, and they are everywhere here…they have the most beautiful tawny blush/nude leaves. They have hung on STRONG and have lived in this spot all year. They're just my color scheme, and I love how wild they feel, yet, it's almost as if I picked them up at a local Pottery Barn.
As for the cute/slightly creepy owl a.k.a. Hedwig, she was my grandmother's. We didn't take very much from her belongings, but my boy always wanted her to sit on his Harry Potter display shelves. We have her now, and he graciously let us borrow her for our sublte Halloween vibes.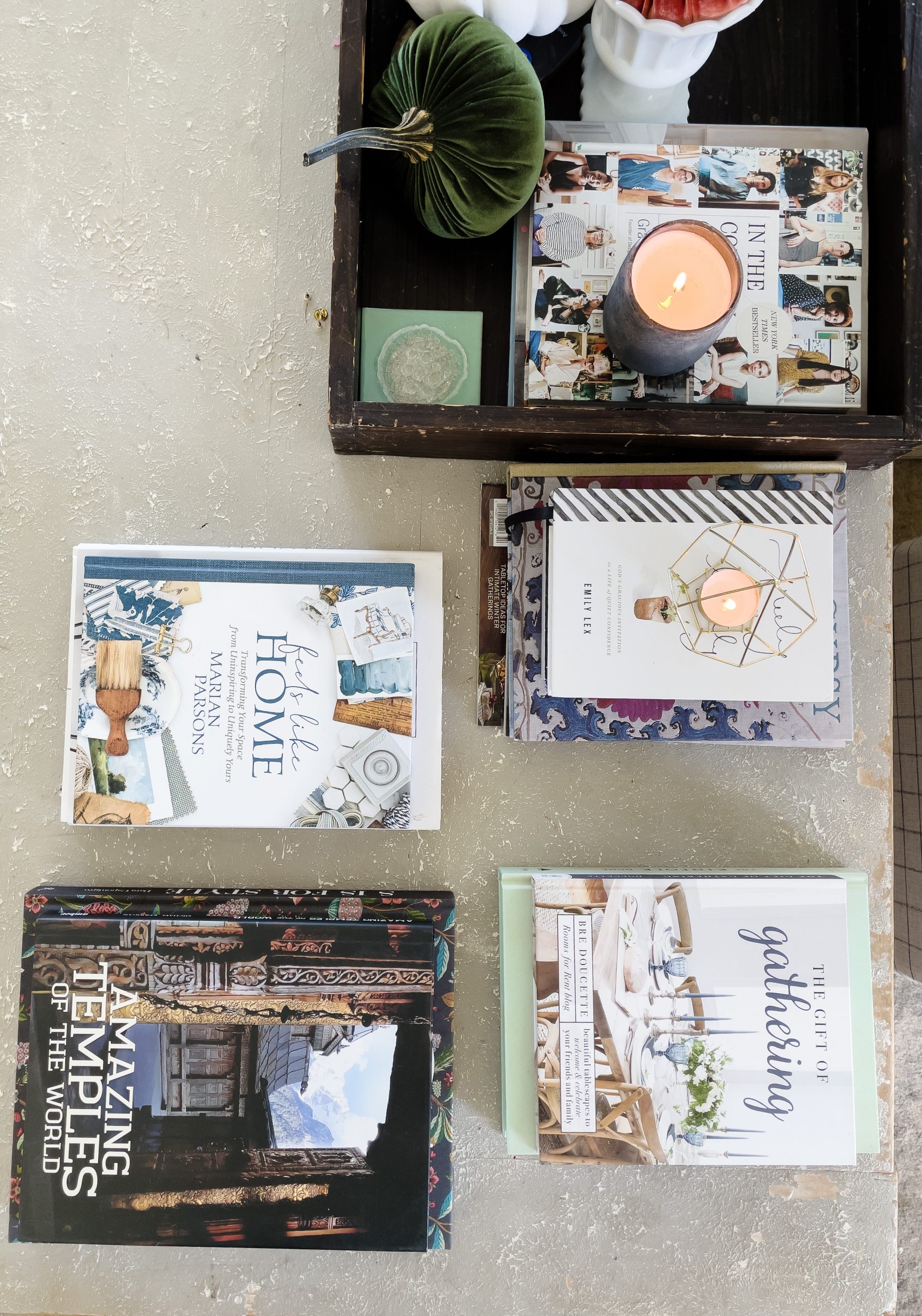 I made this table over a few years ago, using salt wash to give it texture, but it needs some love. I'll rough it up a little and paint it so it almost appears like stone. If you've never played with Salt Wash before, it's a fun product for adding texture. You can add it to any paint, and you'll get as much texture as you'd like as you keep adding.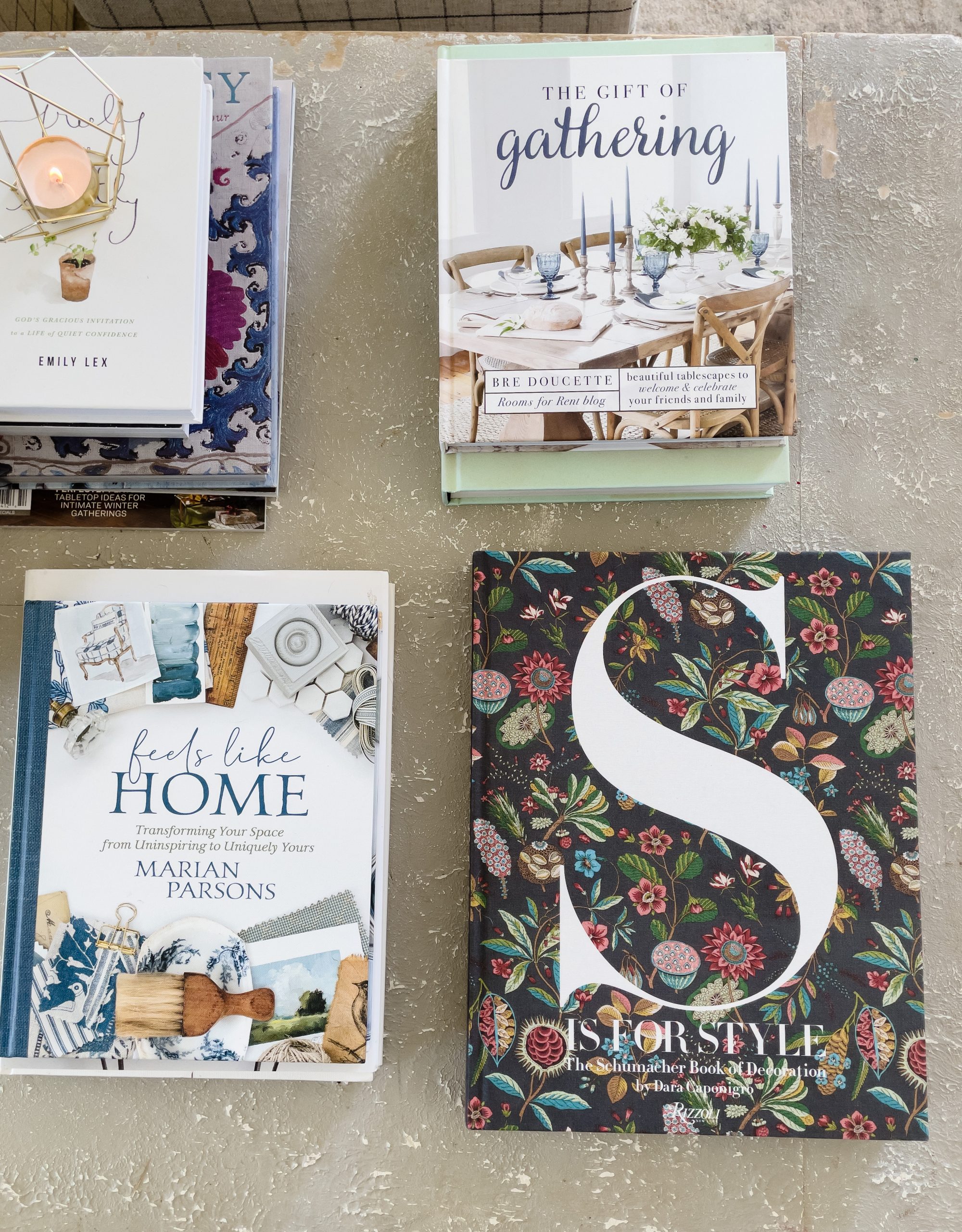 I showed this book on my stories last week, and it was after pining for it for a couple of years that I finally took the plunge. It is as gorgeous inside as it is out. I may devote an entire post to it alone.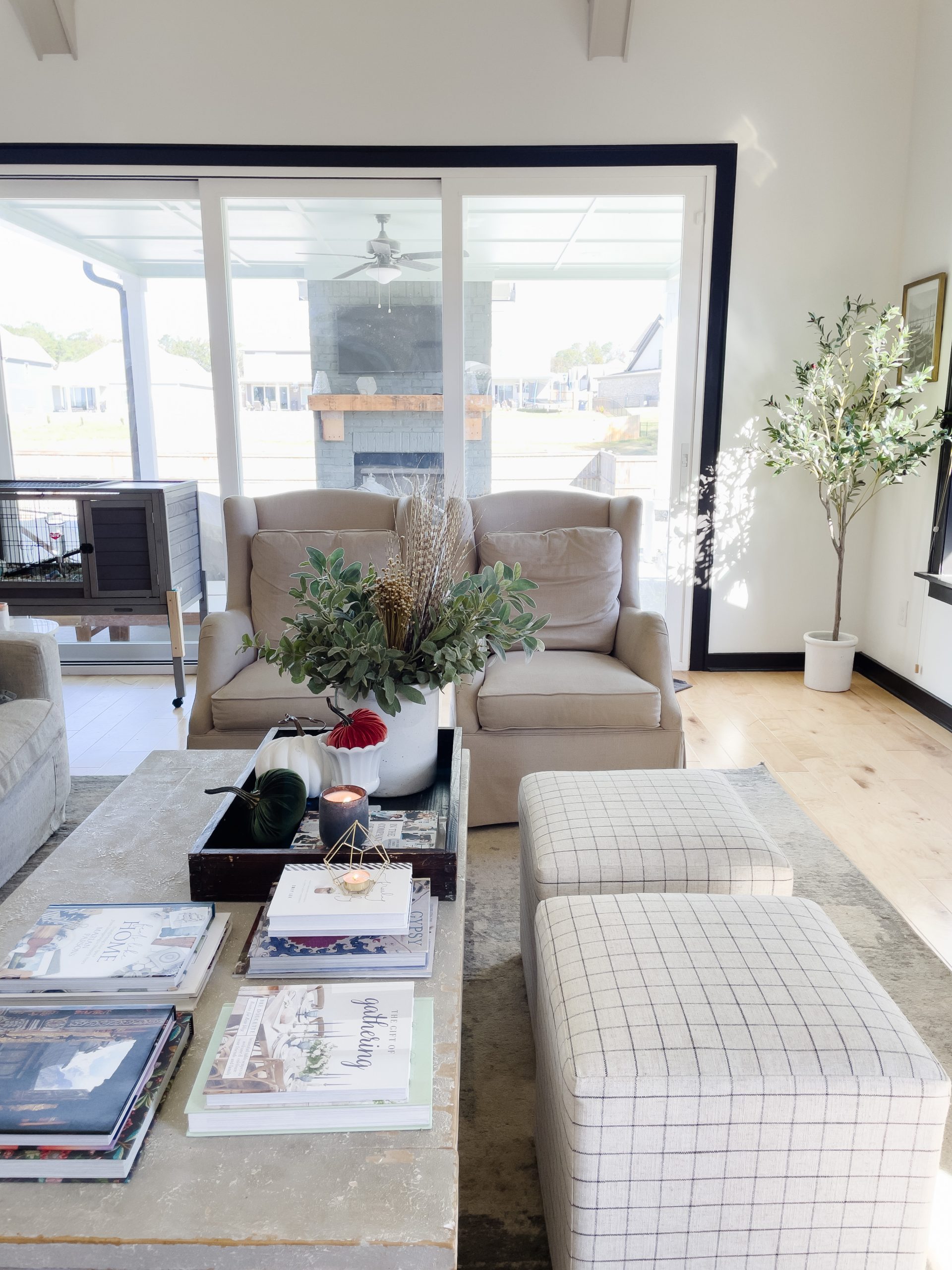 And just to keep it real, on the other side of all this pretty are windows that need washing, pillows that need re-stuffing, and a guinea pig habitat with one leg in makeshift. Just to be clear.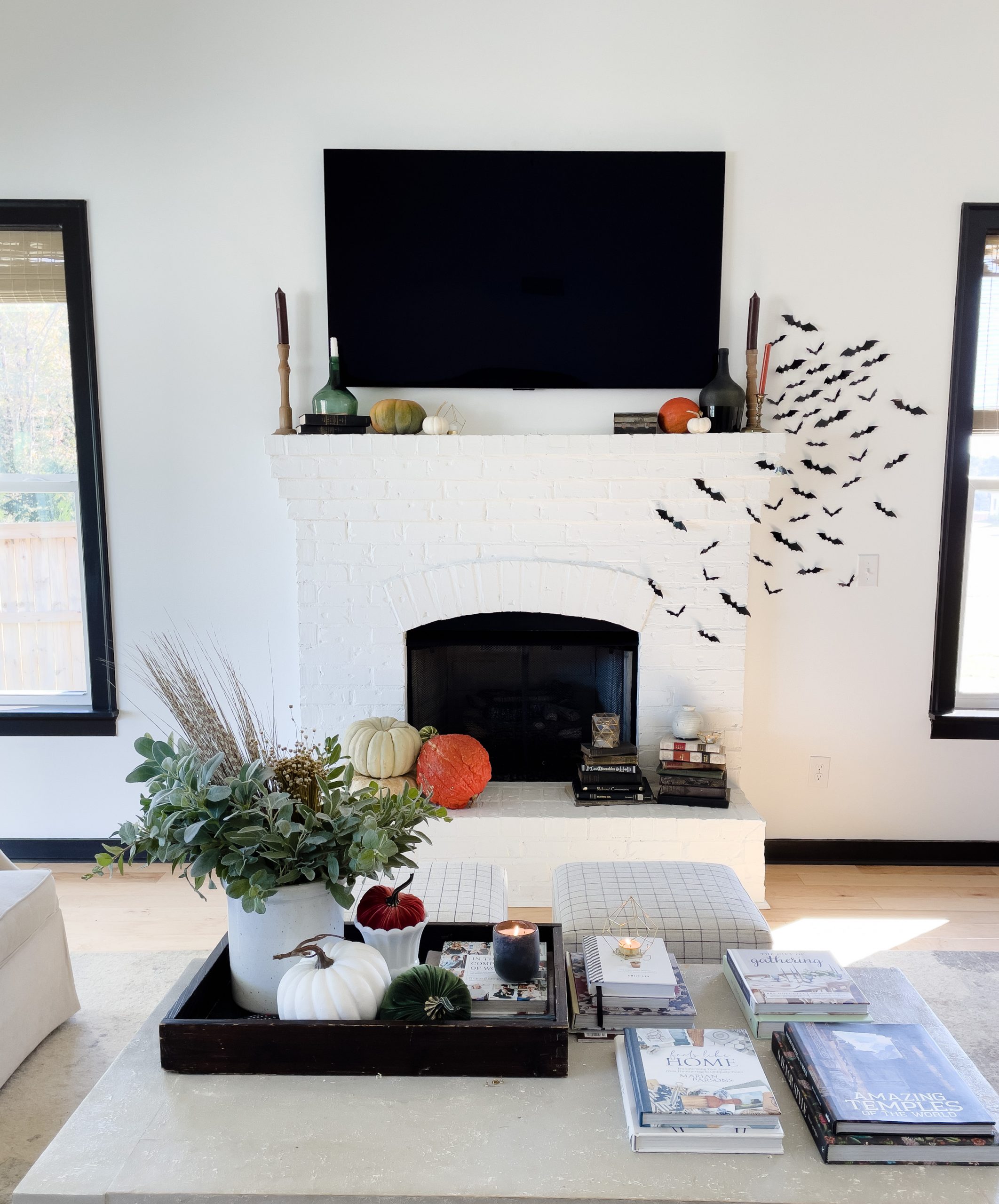 I will say, our simple fall and halloween decor makes me feel at home and every time the kids walk by and flick one of the bats, I giggled to myself.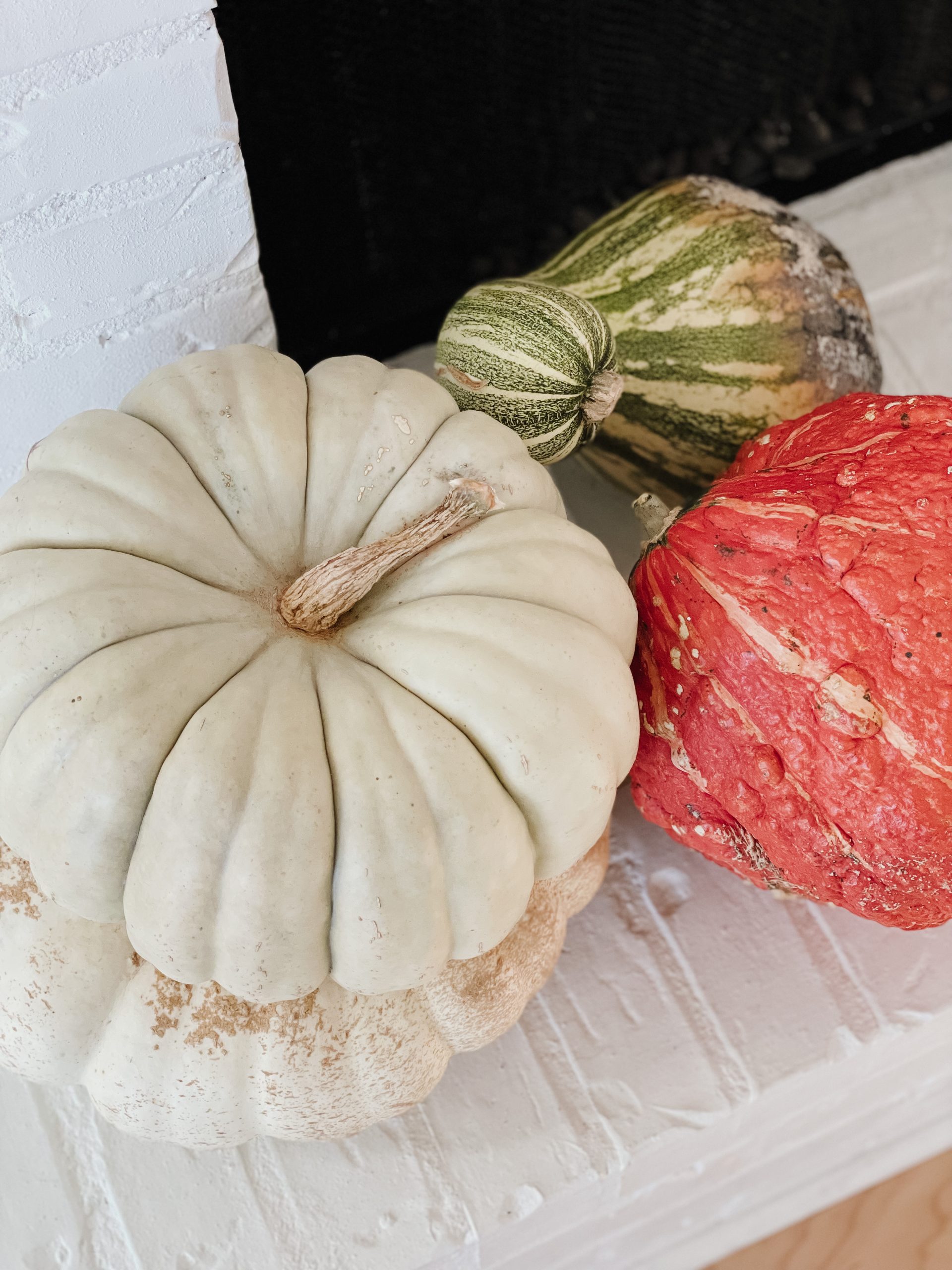 Remember What It is All For
My mom was so great at halloween and all kinds of seasonal moments that I carry with me now, those smiles feel like joy captured, almost like a firefly in a jar.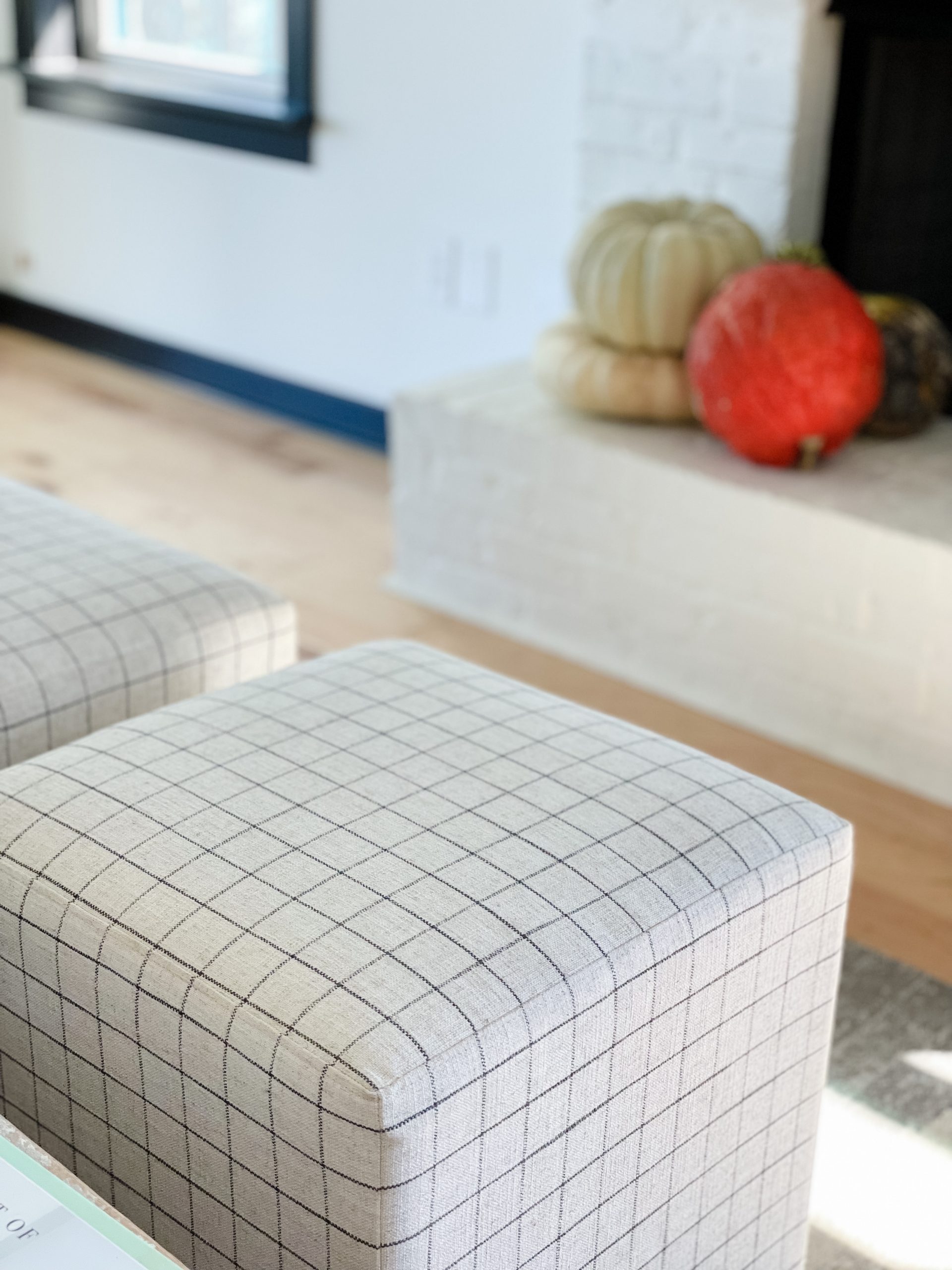 And because I know I'll get some questions about living room resources, these ottomans have saved our lives. We have a nice sized living space, but it's not huge. Our sofa takes up the majority, but our family of six (plus lots of grandparent stays needs the extra seats. They are from the Studio McGee line at Target. Good money spent. Game tables, extra seating, foot props, ice cream shop set-ups…they do it all.
Hope you enjoyed our take on some simple fall and halloween decorating around here. Happy Fall to you and yours!
*****************
Thank you for being online friends with me. I view my blog posts and weekly newsletters as a way to share with you what I'd tell a friend ..things I'm feeling, things I'm working on, and things I'm loving.
Shaunna Parker Studio partners with affiliate platforms where commission may be earned based on clicks and or purchases, and I would love it if you decided to use the links above! Affiliate links help bloggers like me to fund the free content that we provide on our blogs. Not all links are affiliate links, but some may be.