It was the Friday night before Ava's tenth birthday.
Keep in mind we were having a small celebration, nothing fancy, on Saturday, with our family and a few of her close friends.  There would be fun pink snacks and pizza ordered, a little shopping, and a spend the night adventure.
But…sighing and laughing at myself…I agreed to make the birthday cake.
I had grand intentions of it being a naked rainbow cake, 7 layers tall, all perfectly level and STUNNING.
Ahem.  I am not a professional baker.  I bake, yes.  I enjoy it, yes.  I can make a pretty three layer cake like any other Southern woman on the planet, but this is not what I do.
But somewhere, somehow, in my mind, I decided unknowingly the cake would be perfect.
And as I began to stack the somewhat even layers of cake together, it hit me.
I was in way over my head.
This was not only not perfect, but this was a disaster!
"You shouldn't have told her you would do this."  "This isn't good enough."  "You should be embarrassed."
"Is there still time to order another cake???"
And as my little girl looked at me, icing this monstrous cake, I began the negative self talk out loud.  After ten minutes of going on and on about it, I looked up at her.
She looked sad.  She looked like she wanted to make it better.  I could feel her…injured, for me.
She smiled softly, and said, "I love it, mama.  I love that you made it, just for me, and aren't you the one telling me to go for it all the time, anyway??"
Yes, little one, that's me.
And I was reminded to put down my pride, and the perfection of the creation, and to enjoy the creating.  To enjoy that I was able to participate.  To give.  To create.
And so it is with our creativity, and our creative voice.  I had to tell you.  It would be inauthentic to talk about discovering and upholding your creative voice, and forget to mention I still struggle to share mine.  That we all have these fears and voices inside our heads telling us that we're just not quite good enough.
So here's your permission, not that you need mine.  Create something silly.  Something crooked.  Something very imperfect.  And enjoy it.  Take yourself a little less seriously, and remember the grace we give ourselves while creating is a gift not only for us, but for those people around us.
It reminds them.  They get to give themselves grace, too.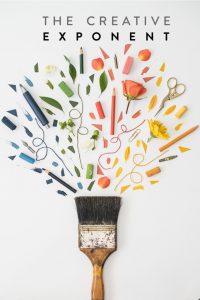 **this post was originally shared at The Creative Exponent, where you can find my friend, Marian, and I sharing everyday about living your creative life and creative business.  Come see us sometime!