I mentioned to you I was working with Marsh Collective in Opelika, and I've been wanting to share more of their event space with you.  The Southerly Warehouse is located in the historic district downtown, and was renovated to house events of all kinds…birthday parties, weddings, sorority formals…you name it.
I'm working on marketing and branding with them for The Southerly & Factory South, among other things.  We'll use the space for photo shoots and design, so that part is so much fun for me…totally my thing.
The empty space is gorgeous by itself though.  Here's the little blurb I wrote about the warehouse for the website…
"We want to be part of your story.  Located in the heart of Opelika's historic district, The Southerly Warehouse is the place to celebrate your stories.  From birthday and sorority parties, to weddings and photography shoots, The Southerly can house them all.  What began as a industrial supply store, now The Southerly Warehouse event space opens as the first installment of the future Hotel Southerly.  Ample natural light, original brick walls, wooden beam ceilings, and stained concrete floors are just an accent to the antique chandeliers, artisan fixtures, and other crafted finishes that fill the space.  The Southerly serves as the perfect setting to create an event suited for your unique story."
Ashley Marsh (friend/boss/business guru) has such an eye for hospitality design…so much of the features of the space are 100% unique.
One of the antique crystal chandeliers busted, so she had her dad make this funky light fixture for one of the seating areas out of all the spare parts.  So talented…it's probably my favorite touch in the warehouse.
The other side is more open and typically this is where the music/party is.  You can rent both sides of the space or one side…you can find all the details on that here.
The copper plumbing is fully functioning and gorgeous, by the way.  How about that sink??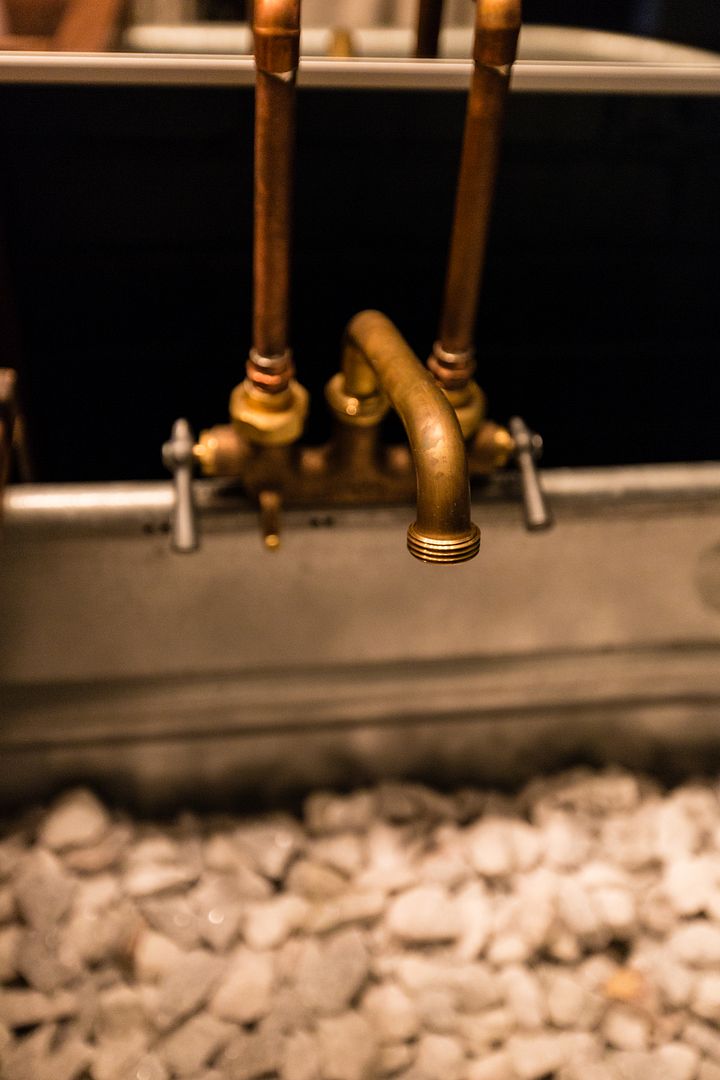 I've loved getting to work in the space for shoots, and to help create the website and branding materials…I'll be sharing some of our work here, but you can also check out The Southerly for the blog and to follow along on social media.
Let us know if you're in the area and needing a space for your next event…you're gonna love it.