Happy Monday morning to you, friends!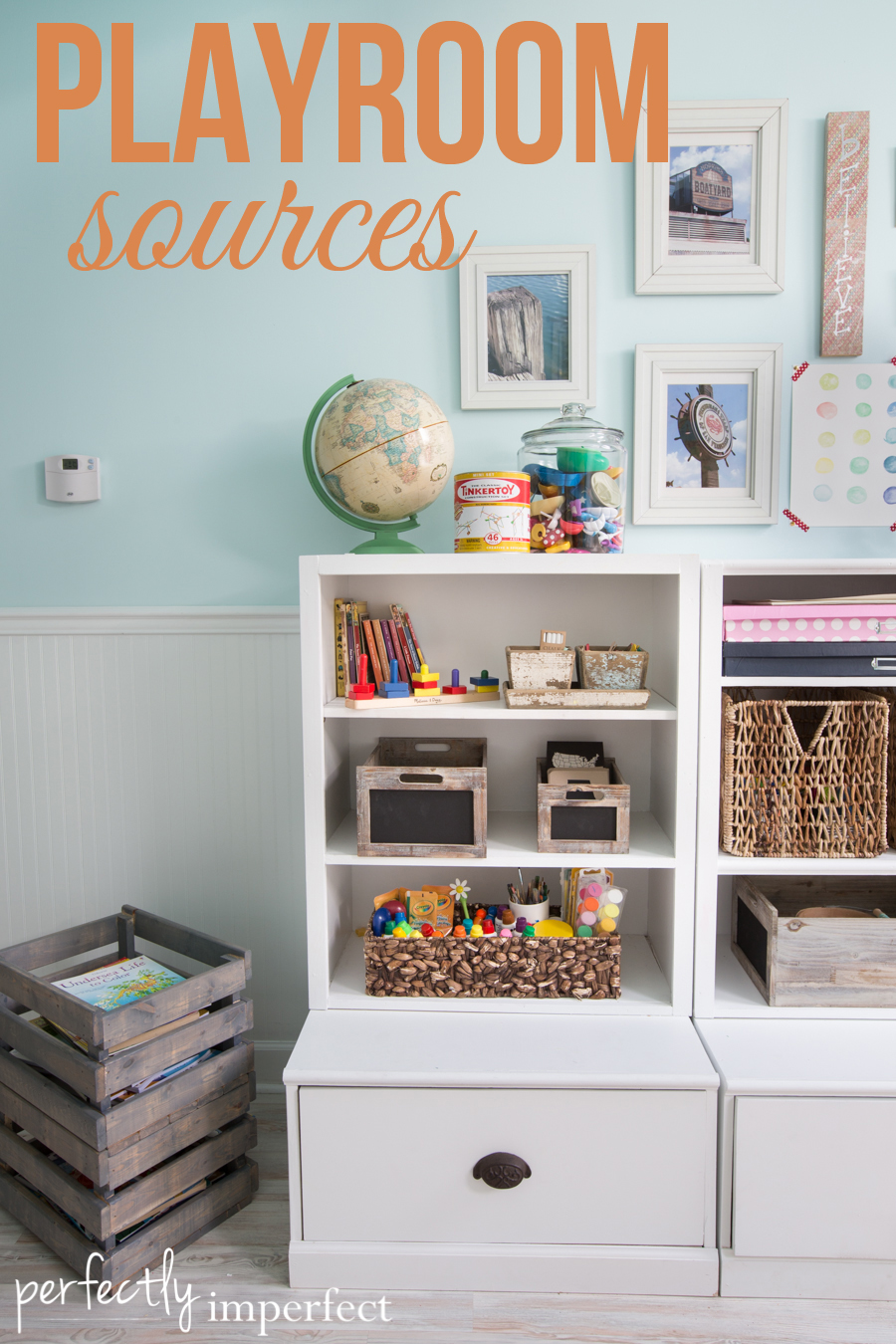 I've been dealing with some internet issues this morning since 6 a.m., so I have to say, I'm less chipper than usual this fine day.  If I get this post out to you, it'll be a good day.  A GOOD day, I tell you.
We're back with a few sources for the playroom reveal; thanks to your kind comments on the makeover.  It was a lot of fun to pull together, and we're definitely enjoying how the room works for us now.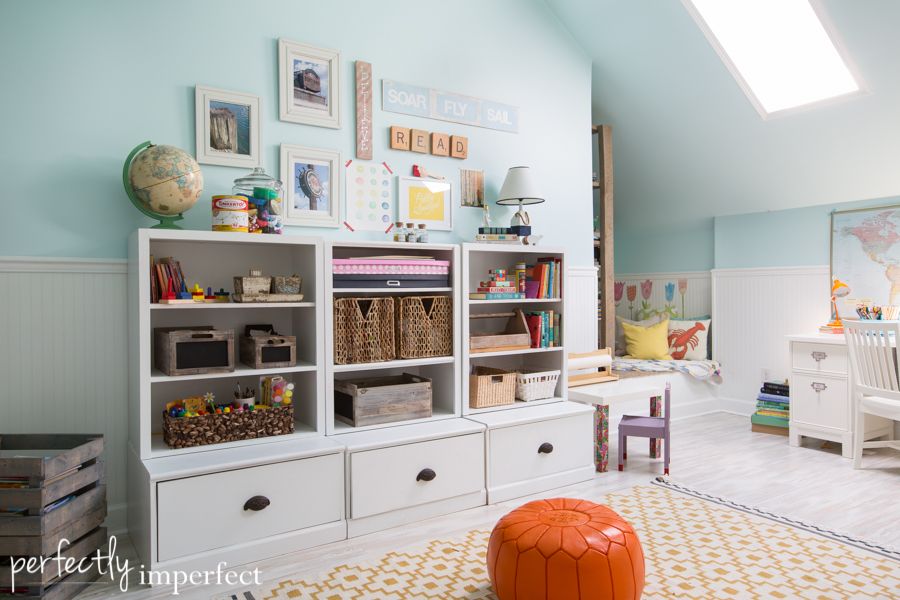 Let's get started with some sources.  This room began (back in 2009) with the wall color.  We went with Valspar Sea Breath for a light, airy aqua that wasn't too in your face but still colorful.  The white paint you see in the room (on the trim, bookcases, & bead board) is Benjamin Moore White Diamond.
The rugs.  The yellow graphic rug came from Ikea, and I love it.  It's no longer available, but Kaitlyn did some research and found some similar styles on West Elm.  The little blue rag rug under Ava's desk came from World Market.
Our metal trash can came from our shop, and I'll have it listed soon online.  Ava's white desk top, drawers, and sawhorse legs came from Ikea.  Side note: Ava loves that cute bouncing bunny over there in the corner.  The oars we've had forever, and I repainted them with Milk Paint (tutorial coming soon).  P.S.  A lot of you guys asked about the flooring–we bought it at a lumber discount center and this style is no longer available.  It's similar to our floor in the shop, though, and that is Dunes Driftwood Bay by Lumber Liquidator's.
The stackable wooden crates (which I love) were a project Matt built for our book.  The chalkboard crates came from our shop and are listed online here.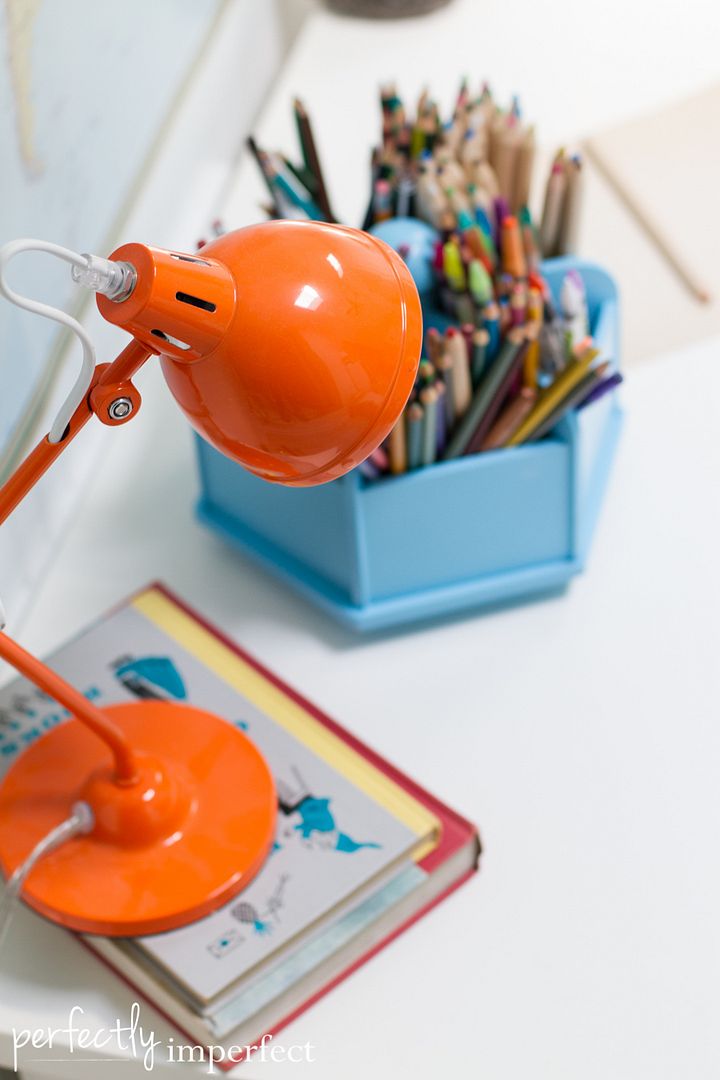 The orange task lamp came from Pottery Barn Kids and so did the craft bin on Gray's desk.
We try to mix in vintage elements and unique pieces to use as storage for everyday items.  These pieces came from various flea markets and antique malls, but please ask if you wonder about something in particular.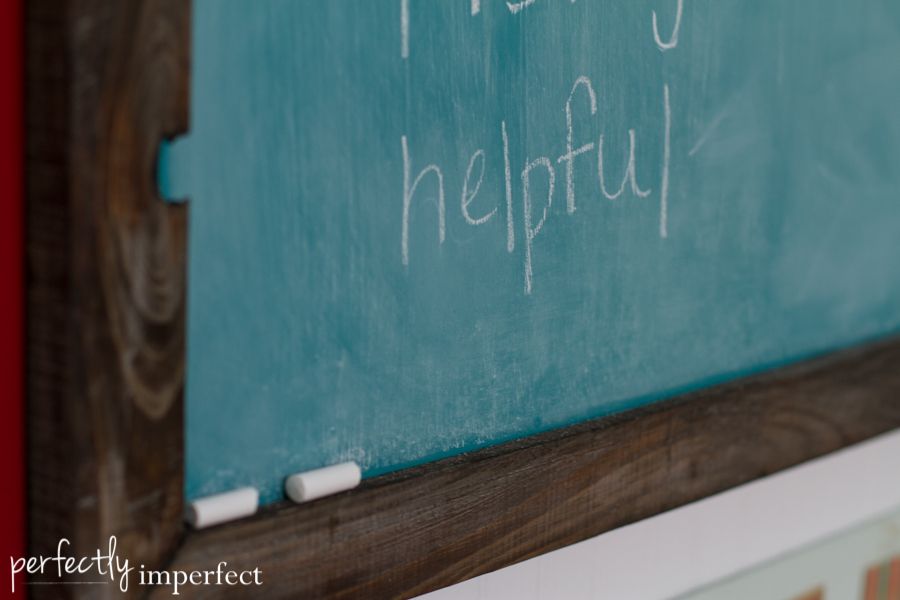 This medium sized chalkboard came from our shop.  This size isn't listed yet, but you can browse our other chalkboards until it's up.  I left one side black, and painted the other side in a custom mix of Chalk Paint® in Florence and Provence to make a sea green surface.
daffodil pillow, linen pillow with neon yellow trim
The quilt was sewn for us by Matt's grandmother…it's such a special piece and it makes its way all over the house.
This is the Lack Side table from Ikea and its funky makeover was done as a book project.  To top it off, Ava helped me paint her funky little chair.  This "desk" serves as an extra art area.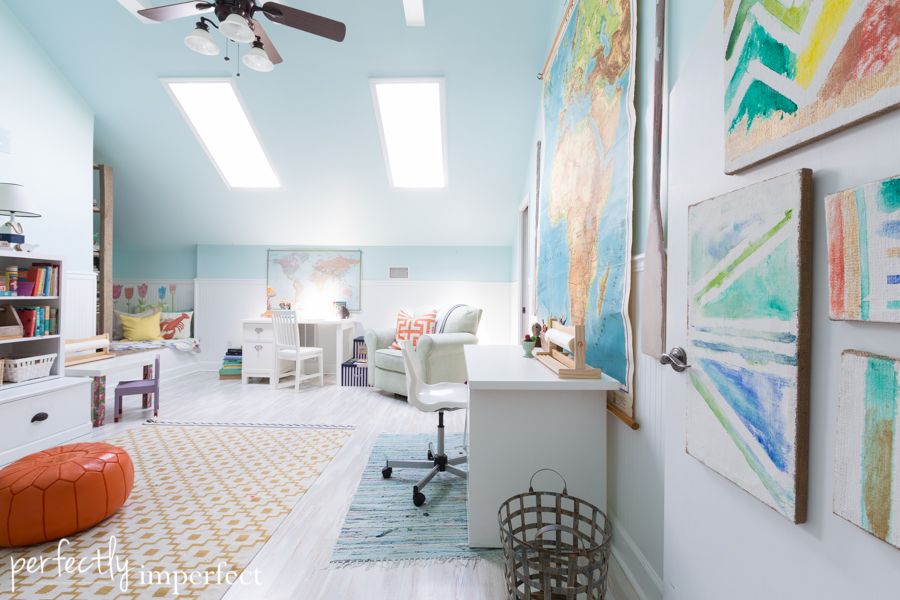 The canvases you see on your right are (yep, that's right) another book project, and the orange graphic pillow can be found here.
The industrial rough cut lumber shelves are painted in Coco, and the Be Brave balsam fir pillow (that i use as a bookend) came from our shop.
mint green painted wire basket
The flower decals are another PB Kids score from years ago.  I started to take these down, but Ava would have none of that.  The flowers stay. 🙂
Push Pin/Rubber Band/Paper Clip Glass Jars- Dollar spot at Target
Lightbulb Storage- Hobby Lobby
READ Scrabble Tiles- Hobby Lobby
Vintage Games (eek!)- Hobby Lobby
Watercolor Art (painted by me in 10 seconds)
Hello Sunshine Print- Perfectly Imperfect
wooden paint brush- we have these for display in our shop, and I snagged one for this makeover
Birch Trees Wall Art- Art Series by The Handmade Home
Amazing, adorable, perfect (multiple roll) Washi Tape Dispenser- Print & Paper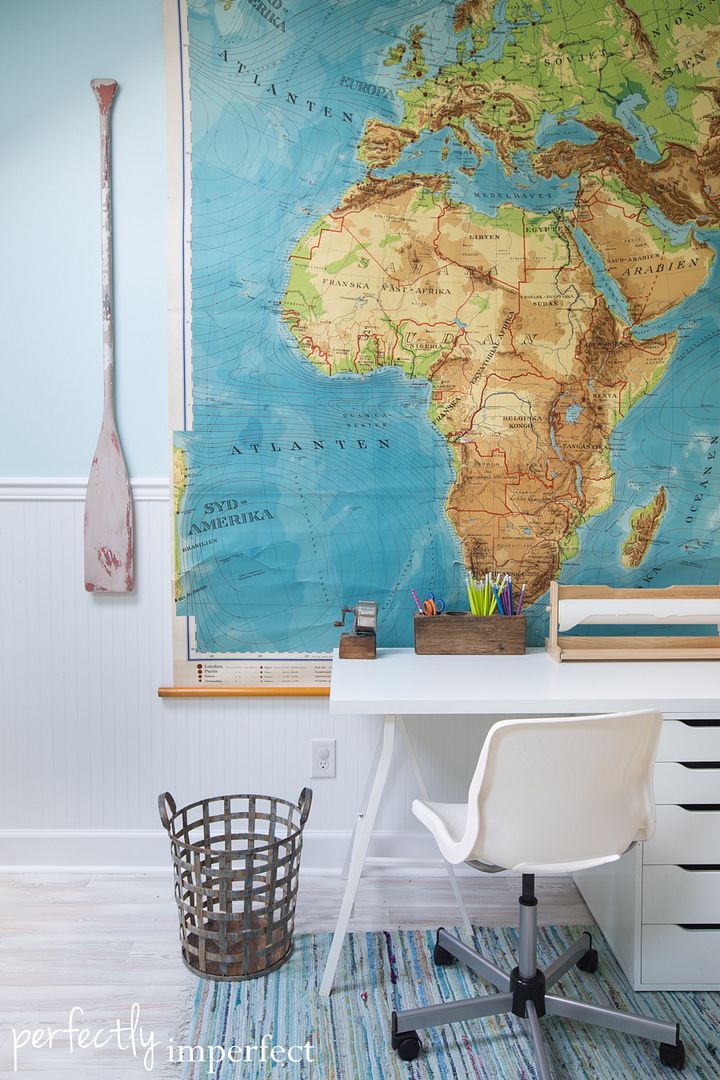 The seagrass baskets are my favorite storage bin ever…from Ikea.
kraft/black state flash cards came from our shop (listing these cuties soon)
We made the cork board & reward chart (more details coming soon) & the orange leather pouf came from a shop in town years ago.
I've also decided that these massive glass jars are wonderful for every room in the house.
I hope that helps you find what you're looking for from the playroom/homeschool room.  If I missed anything, ask me in the comments and I'll get back to you!