When Lindsay of The White Buffalo Styling Co. asked if I'd like to be a part of her Fall Home Tour series, I hesitated.  We've got a lot going this year, and I don't do "fall" very often or very elaborately.  I knew it would be fun, though, and I'm so thankful for the invite and excited to show you a couple of simple fall decorating ideas.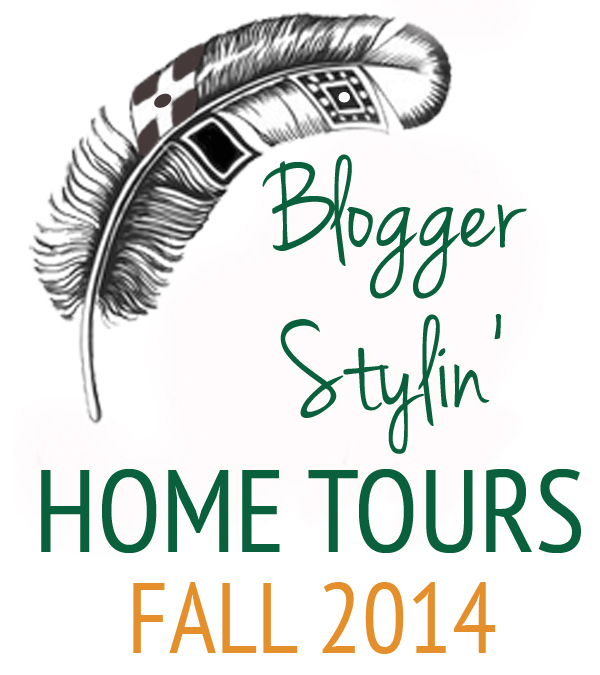 If you're joining us from Bliss at Home, thanks for stopping by and I'm so glad you made it over here today.  If you've never made it around to our corner of the web, I'm Shaunna.  We blog about our home and our family, homeschooling, and our shop/online shop..and creative business, and well, everything in between.  You can head to the Project Gallery to check out tutorials, painted furniture, and you can check out our series, like Writing a Book, too, and if you're interested, you can check out that book I wrote, The $50 Home Makeover.
As previously stated, I don't decorate our house for fall in the full traditional sense of the word.  We focus on time spent with the kids, and it's a busy time of year for us.  We're starting school, soccer, gearing up for the fall/holiday blogging and shop season, etc.  But, I do love to pull out textures and create when I can.  This year, I had to set up a fall tablescape for a shop shoot, and I'll be bringing in little bits of fall around the house as the pumpkins become available here Alabama tropics cool.
I wanted to create something simple, but stunning, full of texture and warmth.  Let me say this as a disclaimer…this tablescape was created for our shop and a photo shoot, so while it would work for a grown-up fall bash, I'd probably save the fuss when serving dinner for our crew.  But even though it looks super fancy, I really just plopped a few things on the table.  When the time came to eat after our shoot, I just put the pumpkins in the center of the table and removed the nests.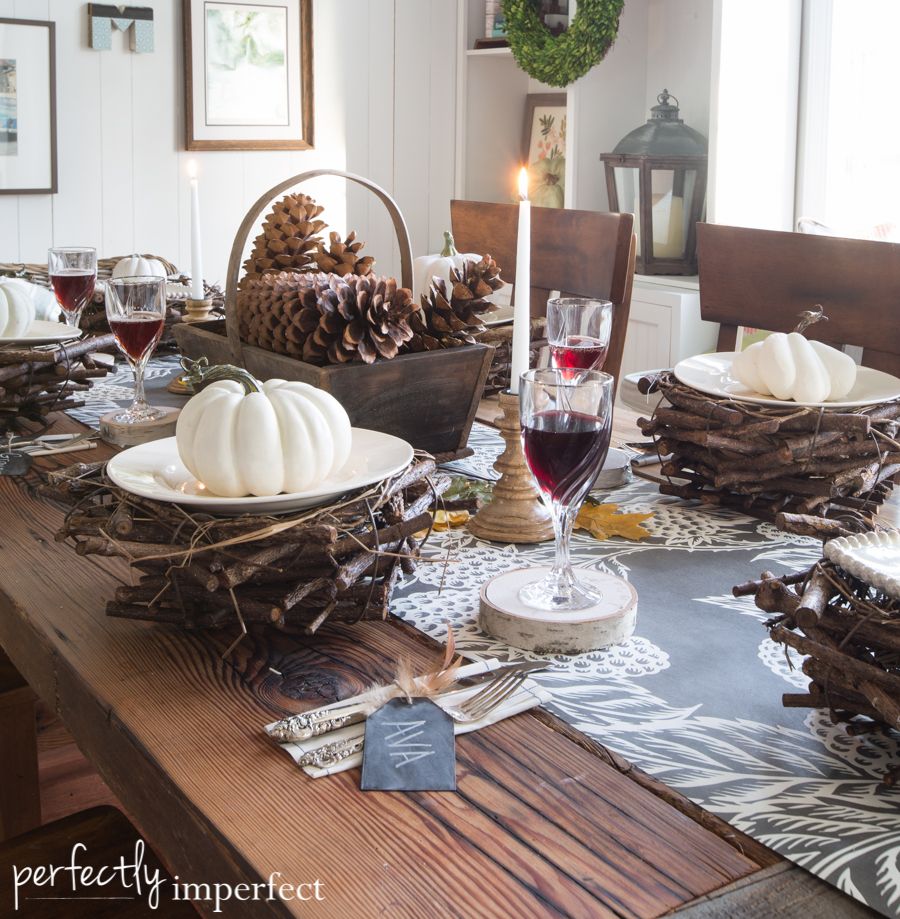 The look started with our nests we carry in the shop.  They are so gorgeous to me, and I keep wanting to use them all over this time of year: on coffee tables, and end tables and now, dining tables.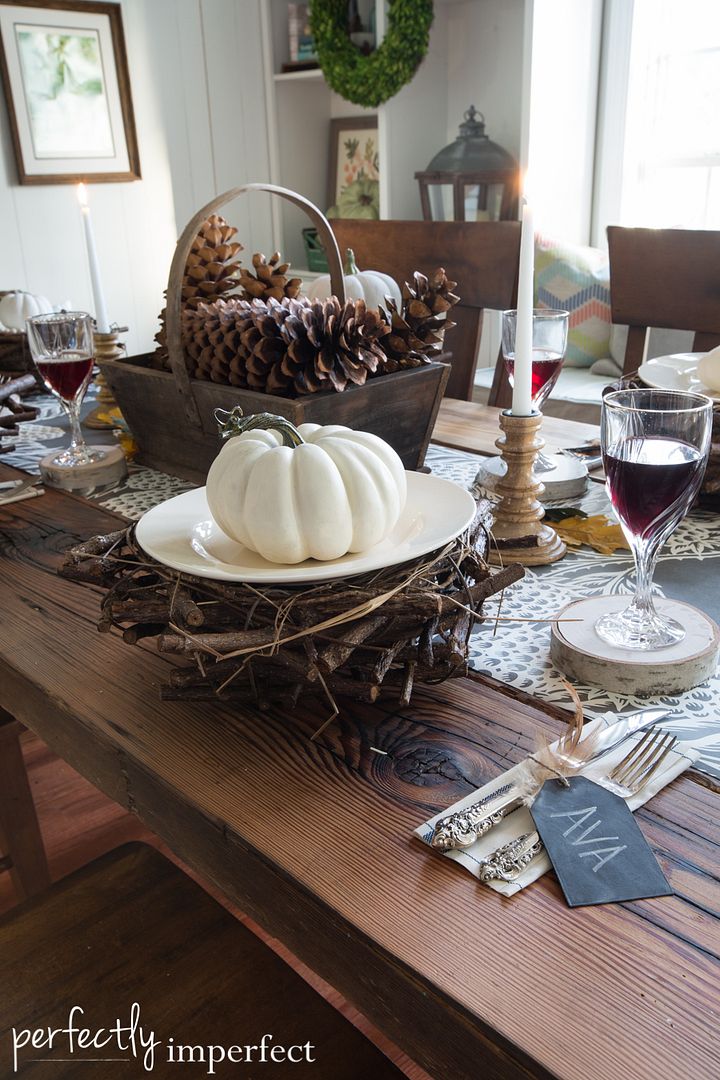 I used the nests as chargers, and anchored the setting with the Blackberry Harvest table runner…I've become pretty obsessed with these runners since I don't invest in fine linens having two little ones.
I kept the rest pretty simple by adding some preserved leaves, a caddy filled with large pinecones, and some candlesticks for the centerpiece.
The wooden candlesticks are Threshold by Target, and the birch slices came from Michael's, and I could not love them more used as coasters.  I'll probably keep a few of them out all year.
I love mixing casual and elegant pieces like chalkboard tags and silver.  Adding in the feathers was just plain fun.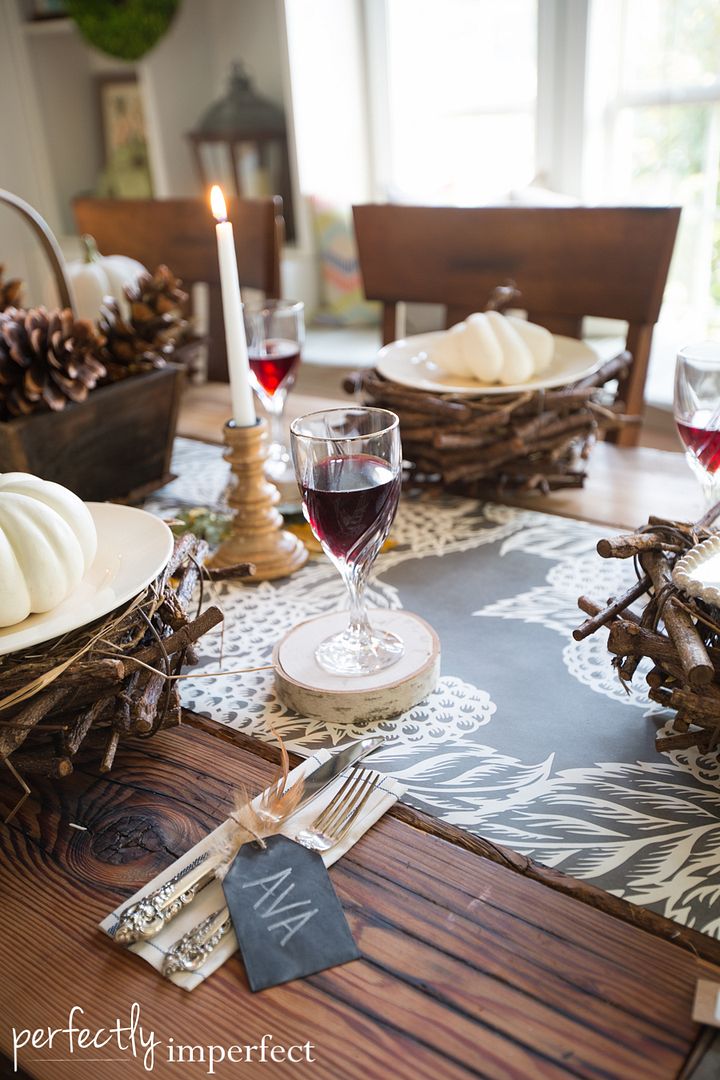 We have some fall sprinkled through other parts of our home, but we kept it pretty simple…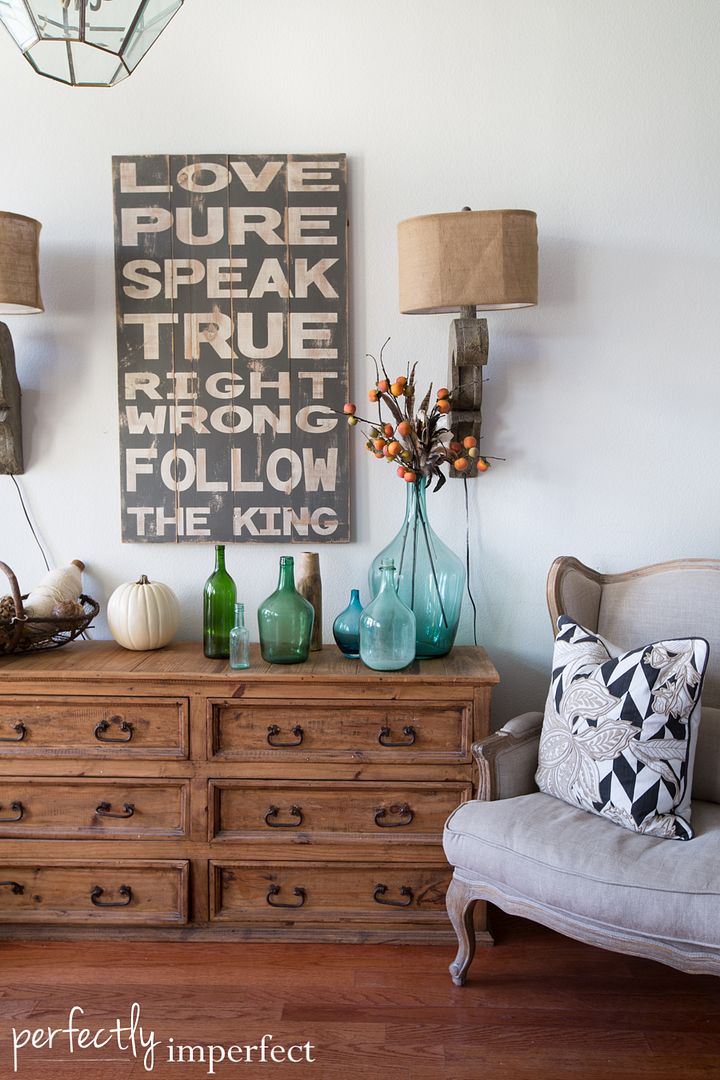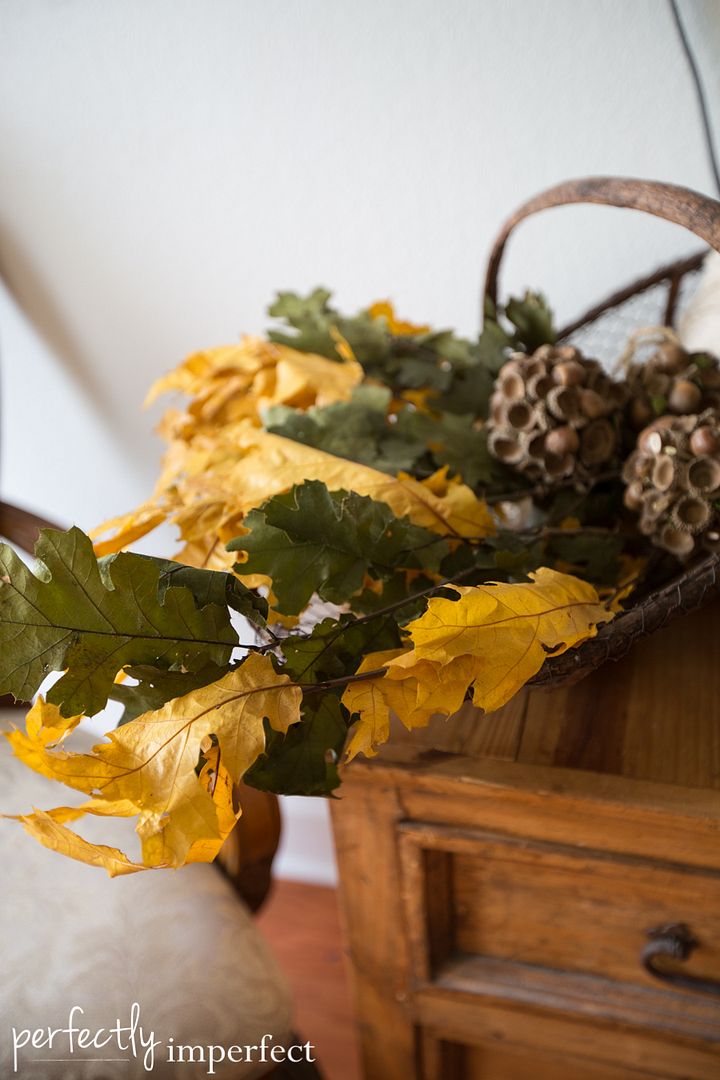 We'll be sharing a little more Fall over the next few weeks as pumpkins actually become available here in Bama, but in the meantime, thanks so much for stopping by today!
Thanks again to Lindsay for asking us to participate in the tour; if you're continuing on, head on over to see Bridget & Casey at DIY Playbook for more inspiration.  Come back tomorrow for some more sources from today's decor.
Have an inspiring day, y'all.  And somebody ship me a pumpkin.