Good morning, lovelies!
I like to craft.
Really, I do.  I ooh and ahh at Jen and Beckie with the best of them.  They are masterfully talented, by the way.
I was telling Matt that the other day–I don't find as much time for crafting lately, because it seems  like we tend to be ripping with a saw or painting something, instead of me wielding my x-acto.
I must find more time for that.  In the meantime, I'll just have to conjure my inner Sandra Lee and craft some semi-handmade loveliness.
Pretty, right?
When Matt surprised me with a visit from my best friend, Lisa, a few weeks ago, she put me into gear.  She got me to go through the house and take things to Troy Antiques to sell, she got me to talk until I couldn't talk anymore, and she reluctantly agreed to be my hand model helped me make this wreath.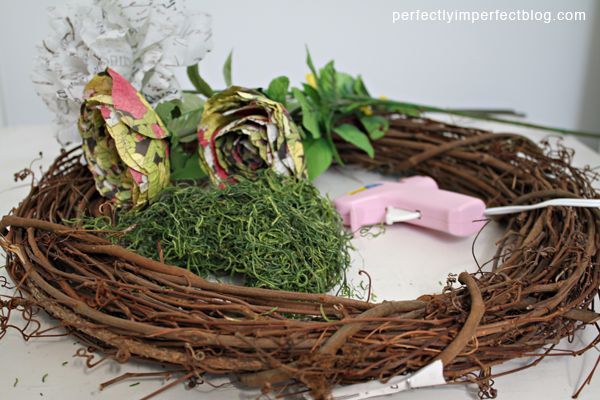 I was going for semi-handmade (a.k.a. it's so easy we finished in 20 minutes), so you'll need only
a grapevine wreath
moss
artificial blooms
glue gun (of course!)
We started with 3 stems I bought at 50% off at Hobby Lobby–$7 total for all 3, I think. I loved their paper/homemade feel–and their already "doneness."  Cut the stem directly at the base…when you realize scissors aren't enough, pull out the big guns.
To make sure your wreath looks almost live (not too tidy), pull apart the moss, and place all over the wreath before you begin glueing.  You'll be able to work much more quickly this way.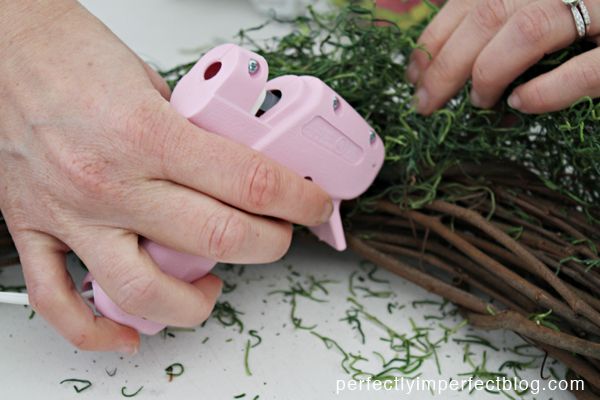 Glue in sections, lifting the moss and lightly pressing back down as you work your way around the wreath.
Tip: we put hot glue on the base of our stems and on the moss/wreath to attach the flowers.
That's that, my dears.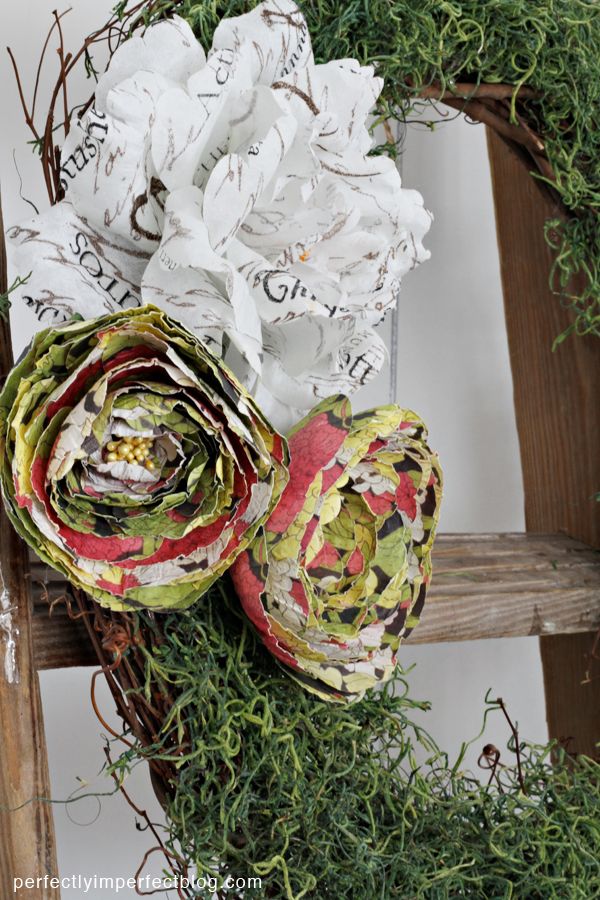 One fun, fresh, SIMPLE, 20 minute, semi-handmade spring wreath.
As a matter of fact, I think it took me longer to write this post than to create this cutie.  And I think it'll be pretty easy to update the flowers each season.
Somewhere out there, Sandra Lee has gotta be proud of me.
I can't wait to see what everyone links up at the Spring Fling linky parties–I'm sharing this over at Kate's place today!