Birthday parties are the best/worst.
Best when I can remember it's about the time with the kids and celebration of them.  Worst when I worry too much about the decor or games or setting.
So a few years ago, I adopted this personal motto for the tiny people celebrations:  Decorate one table/area to the nines and call it a day.  I usually also don't organize a ton of activities for the kids unless there will be loads there.
This year, for Ava's 5th birthday, she requested three things: a Frozen party, a pool party, and silly string.
We combined the two for a simple Frozen pool party with a few sweet friends and family members.  Kaitlyn, Julie, Sara, and I set up party stuff all day at Mom's house (our borrowed pool for the evening), and around 5 Ava stepped outside to see her bit of Frozen magic.  Emphasis on the bit…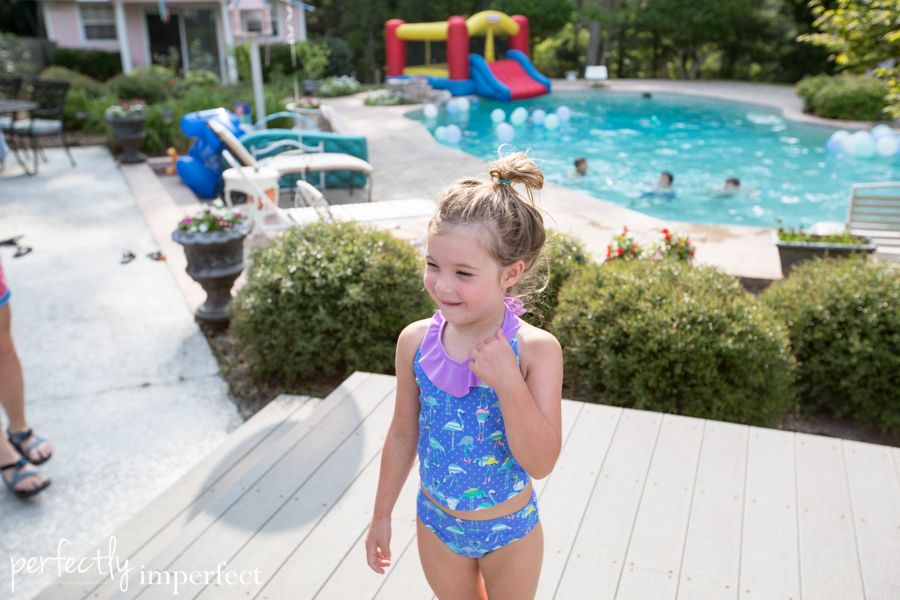 I know she's mine, but Lordy….she is a cutie pie.  She loved it and it just goes to show you that you don't have to go crazy to make the day really special.
On the menu:
We grilled hamburgers and hot dogs for the food, and there was a fun little Frozen bar set up outside by the pool complete with:
Melted Olaf's (ice cream + toppings)
Snow Cap Cake (cake layered with frosting in clear cups)
Snow Pops (marshmallow pops with white chocolate and sprinkles)
Olaf's Noses (carrots)
Frozen Ice Punch (a mix of hawaiian punch, ginger ale, and & pineapple juice)
Plus various turquoise and blue candies and gum balls…fun stuff!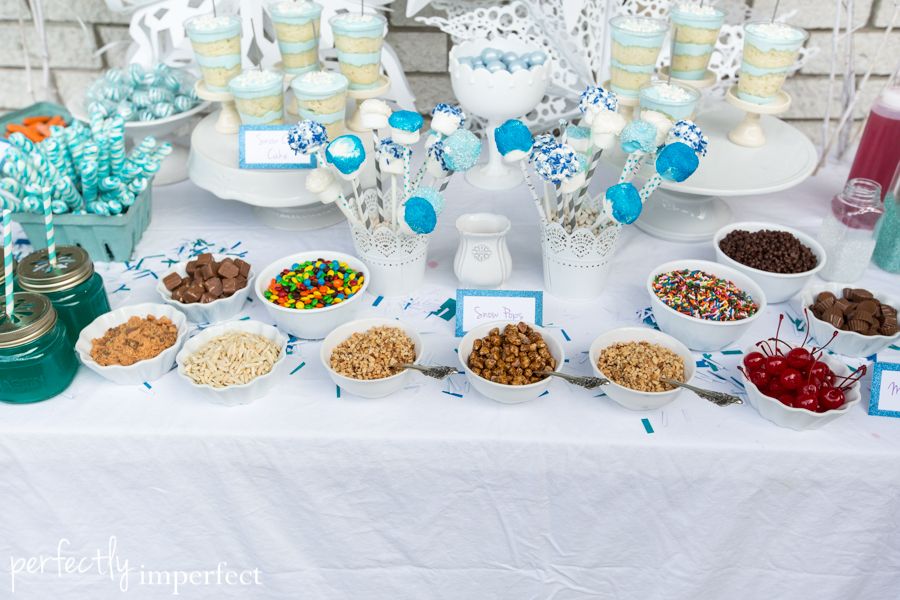 All the toppings looked so pretty…I know that probably sounds silly, but they were so very happy.
I used our favorite little mason jars and and some glittered plastic milk bottles (little tutorial coming soon), and various white dishes we already owned.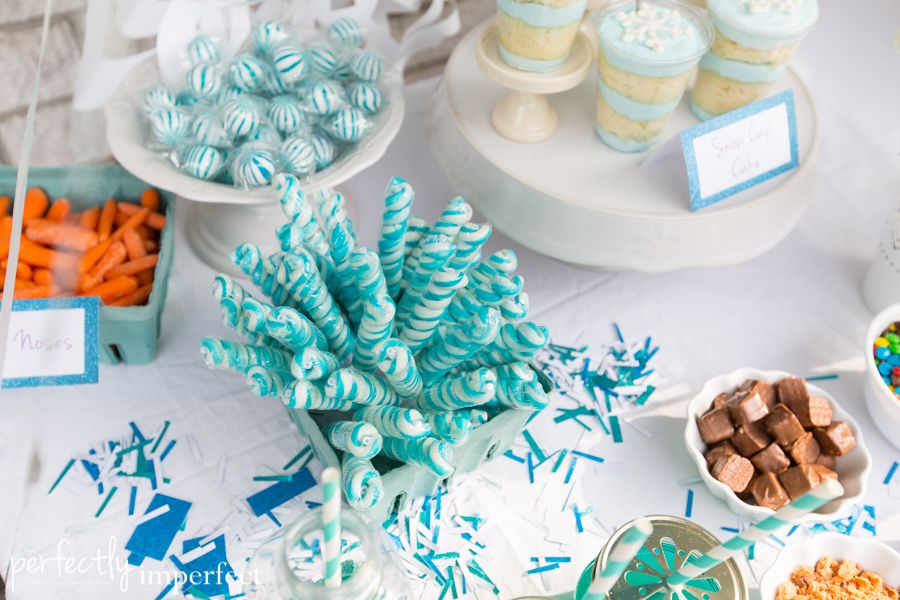 I ordered the blue twisty lollipops here, and we made the confetti by using my fringe scissors on simple glitter paper.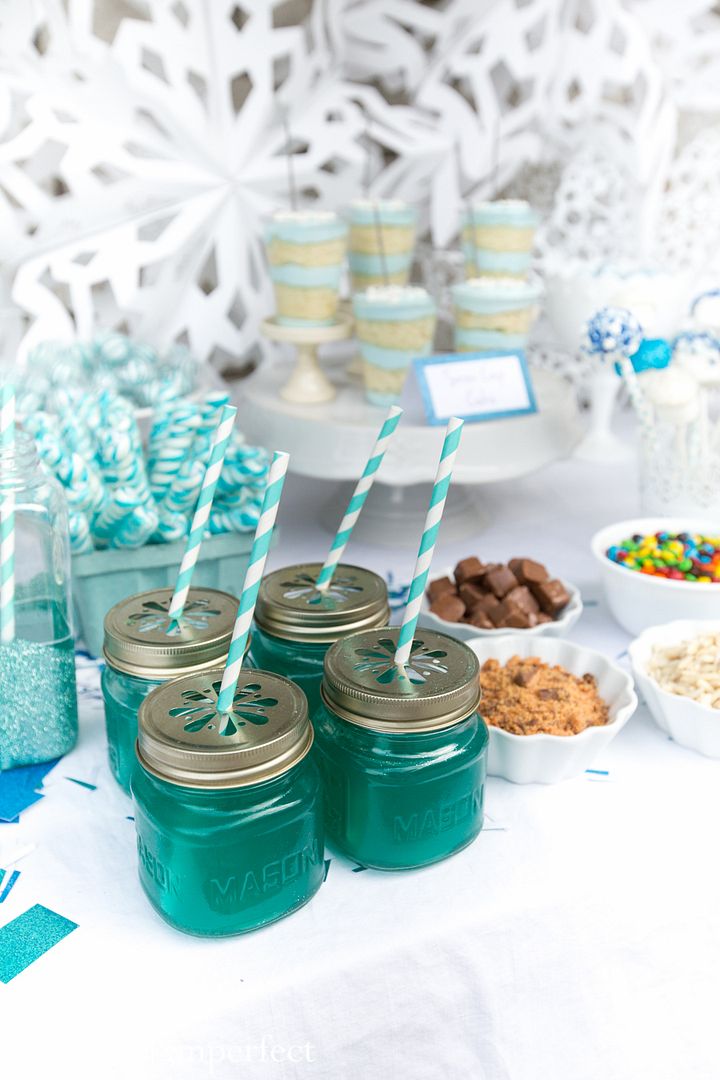 I created the snowy backdrop using white painted branches and big paper snowflakes (truth: hanging with blue duct tape to keep them up in the Alabama heat) from our shop.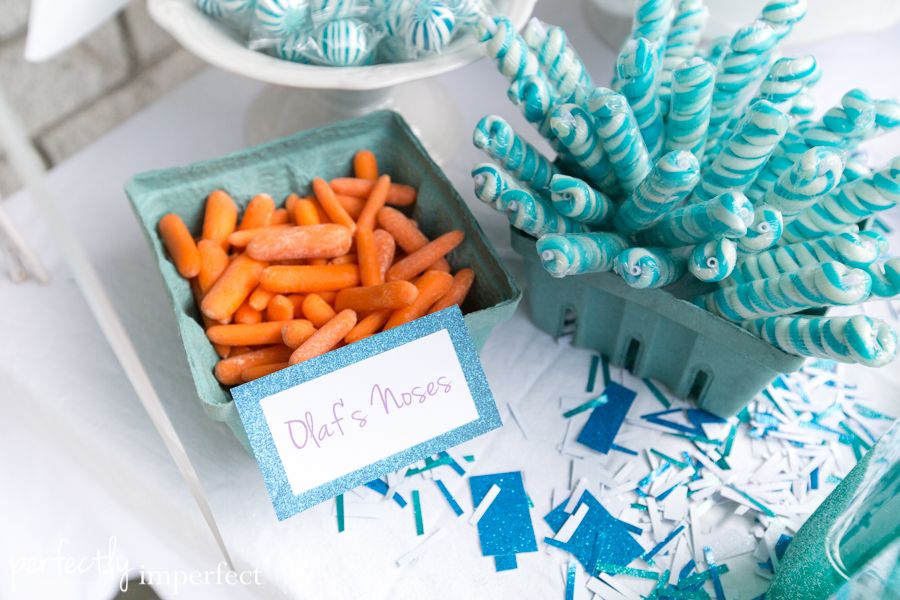 Kaitlyn created some fun party menu cards for us.  Stay tuned for those freebies tomorrow!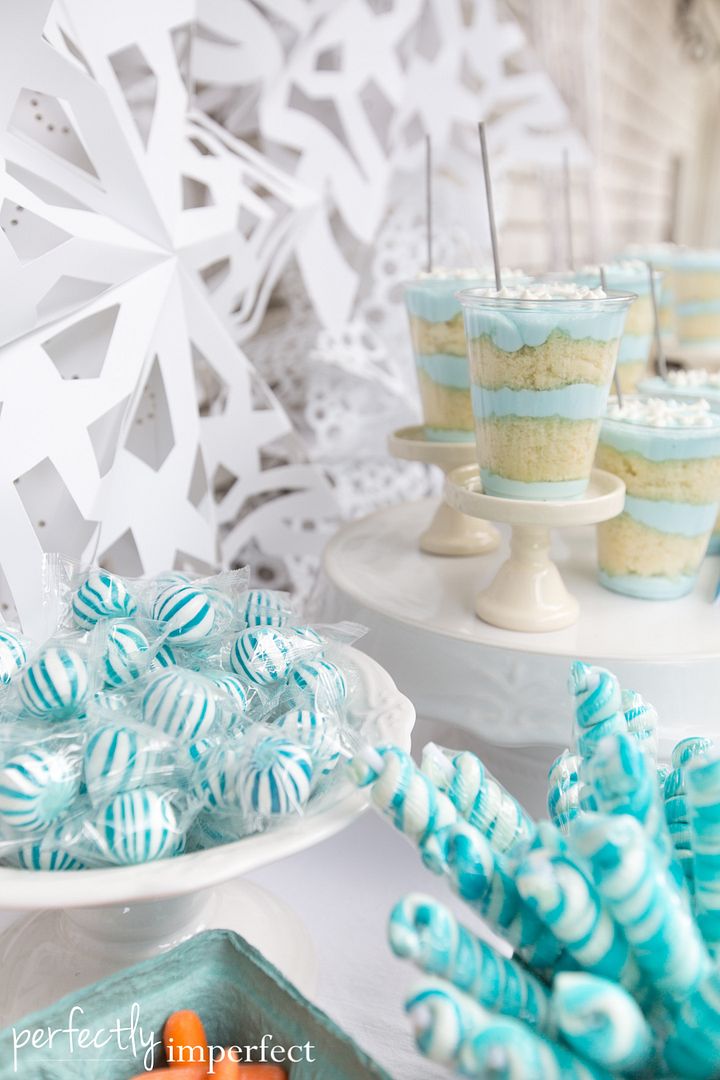 Since a flat table is a boring table, I used dishes and stands in varying heights.  For the little cake cups, I used a white cake stand plus these adorable cupcake stands for even more height difference…I love these, and can't wait to do a fun photo shoot with them.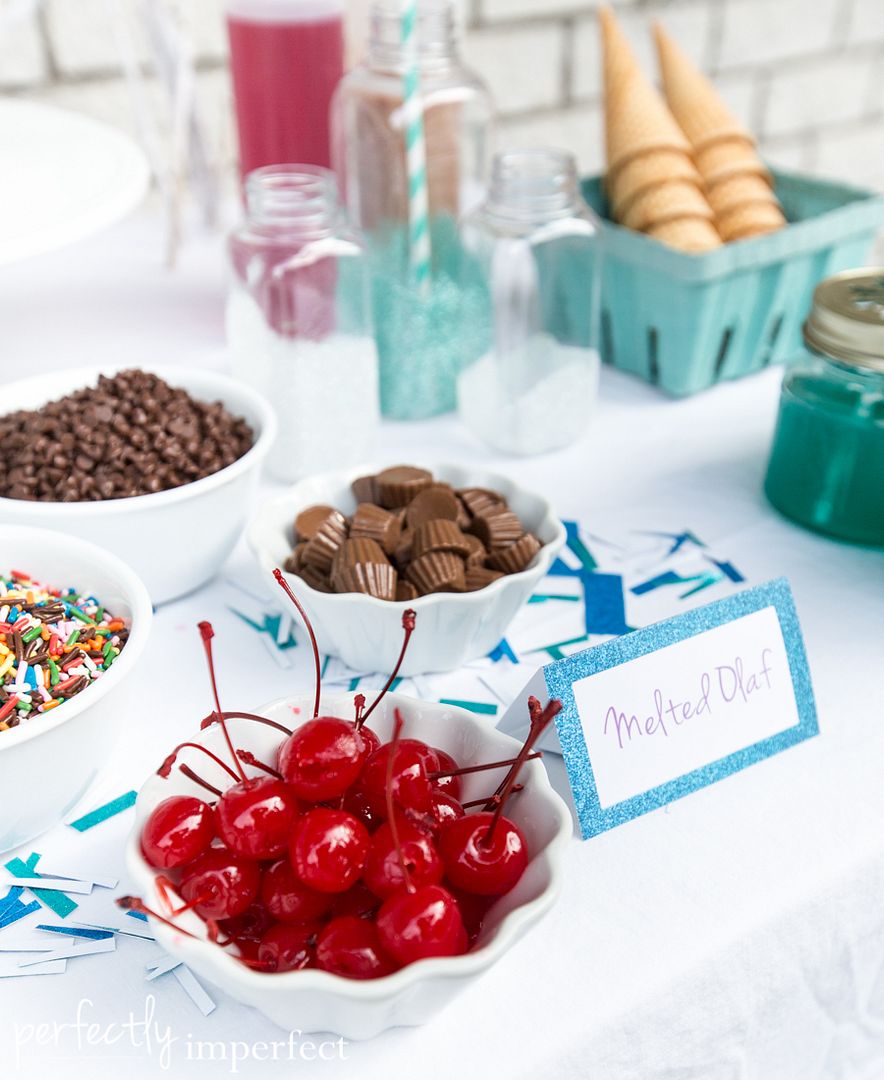 I have to say, I bought those silver sparkler candles, but they did not live up to their name.  Boo, but who cared because the kids never stopped swimming long enough for a happy birthday song.
Marshmallow pops have become a staple at any little people parties because a. they look fancy, b. they're ridiculously easy, and c. no kid alive can resist a marshmallow.  Amen.
Just a few more photos of the table…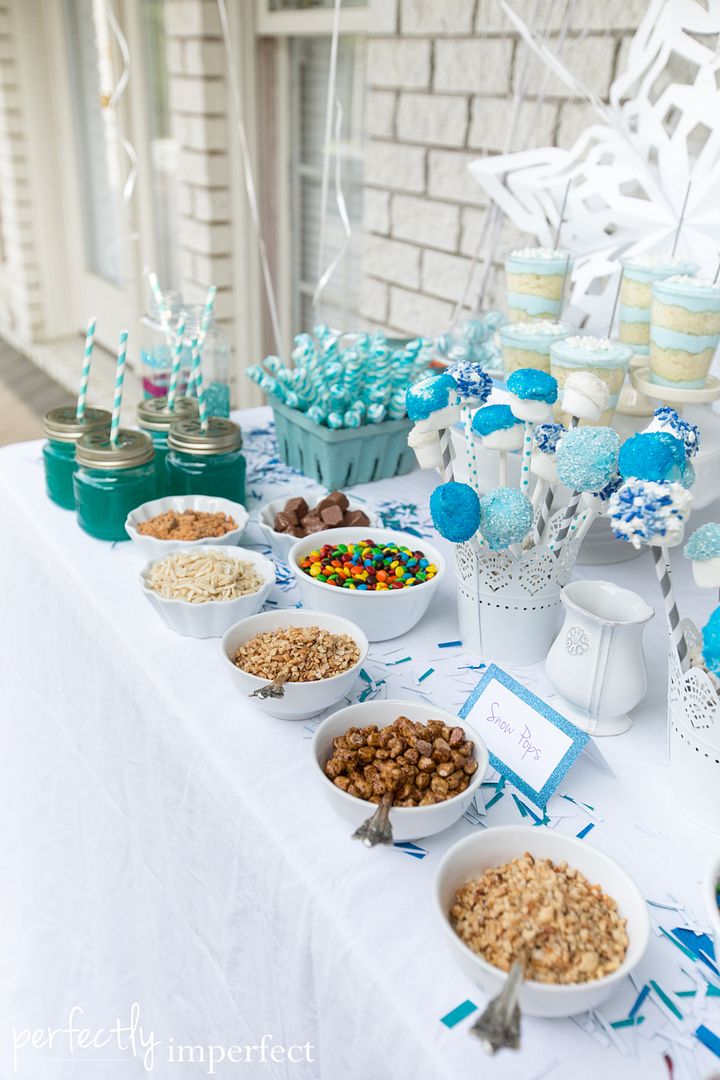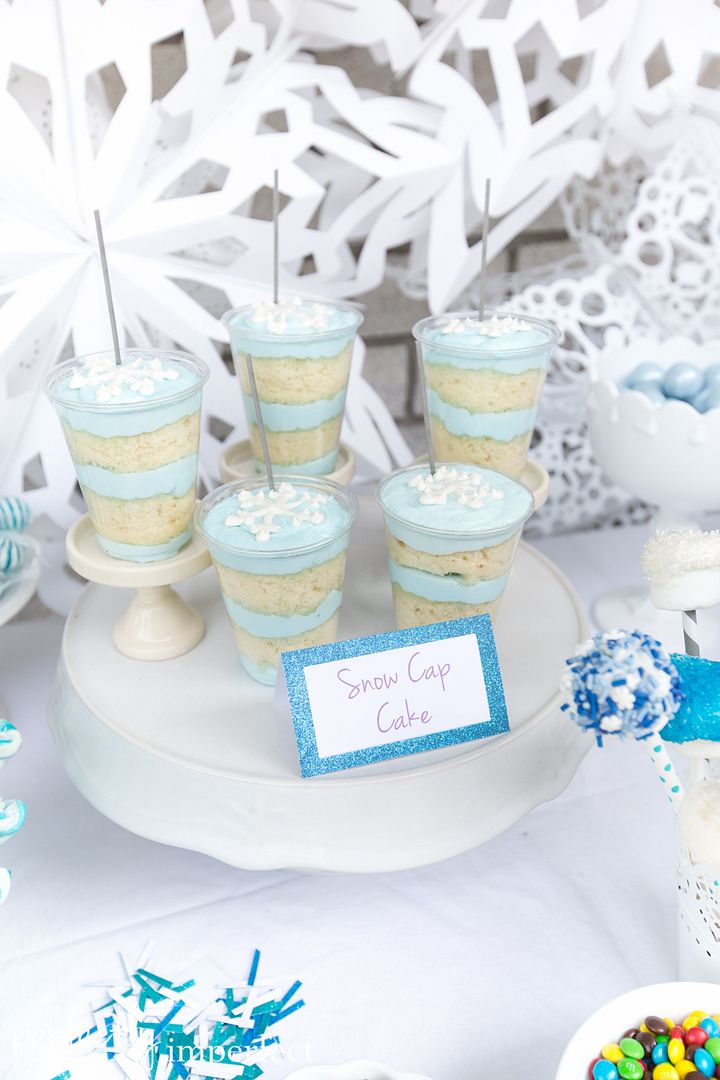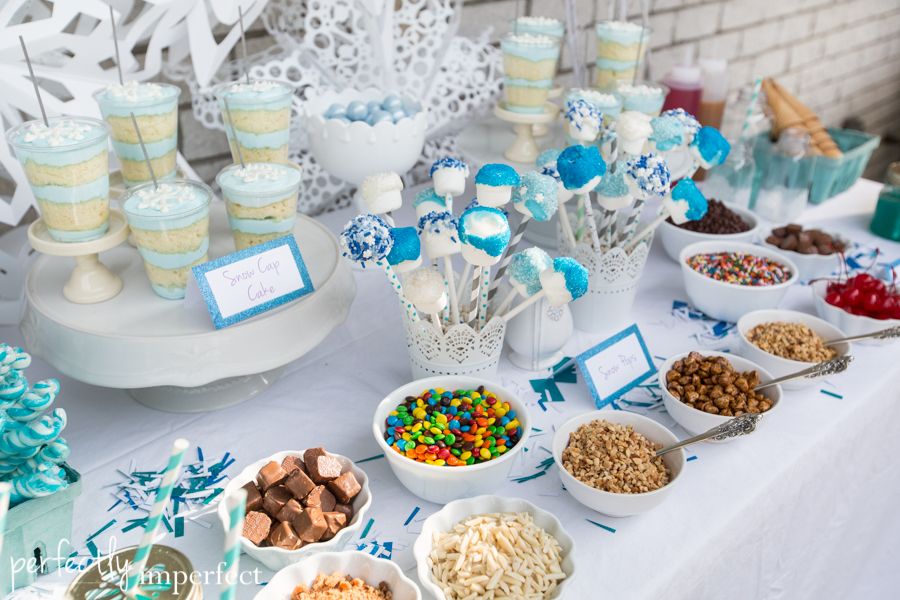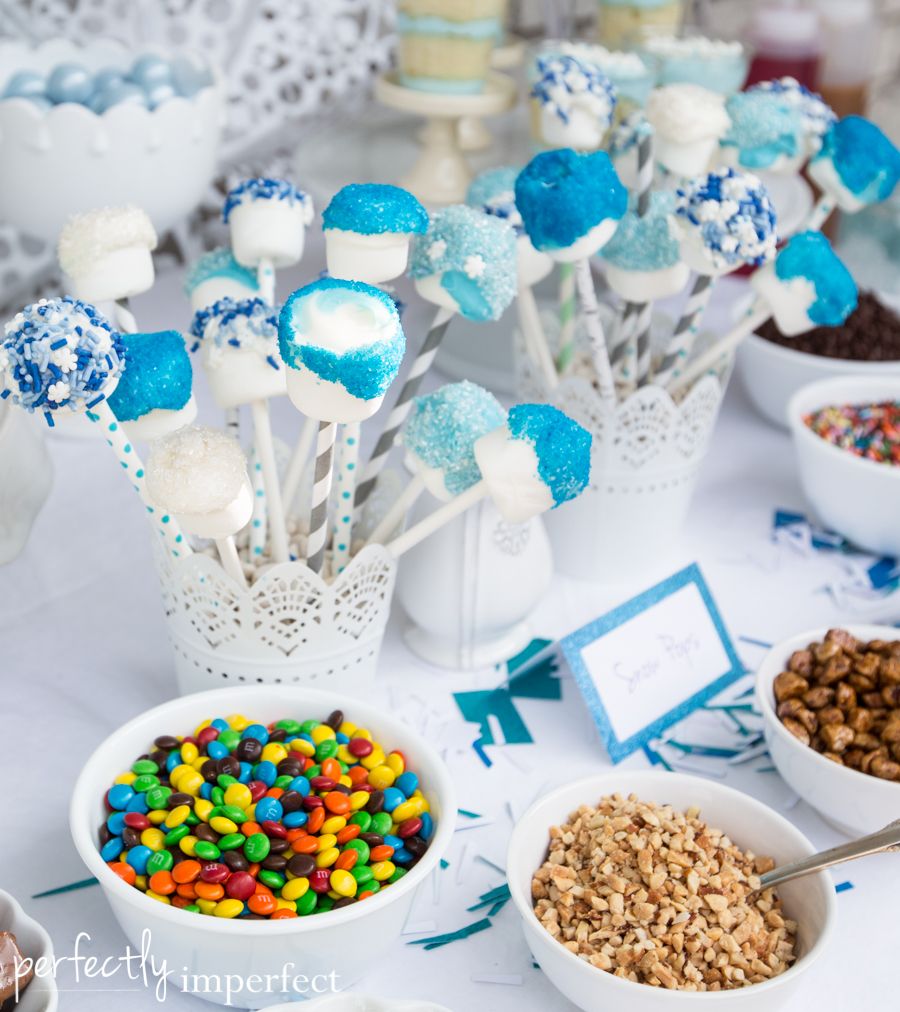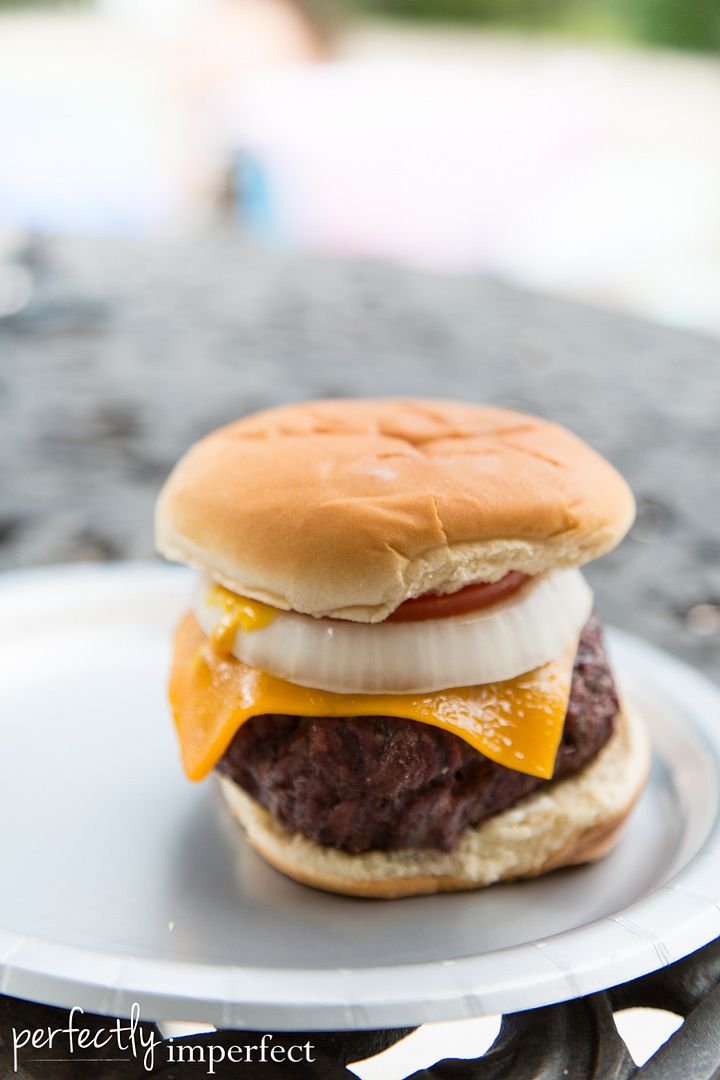 And the birthday girl?
Well, she and her friends had a blast.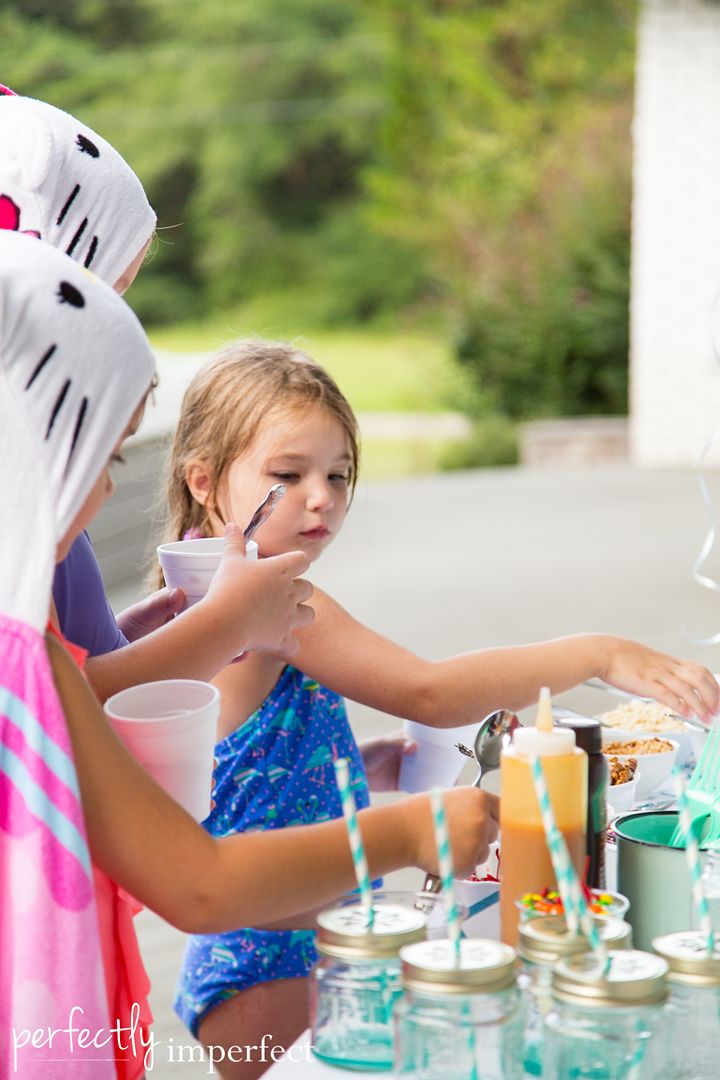 Psst…recognize this little cutie??  Our sweet friends from The Handmade Home came down…I love how our kids play together and it was so special to have all of these little ones here to celebrate with us.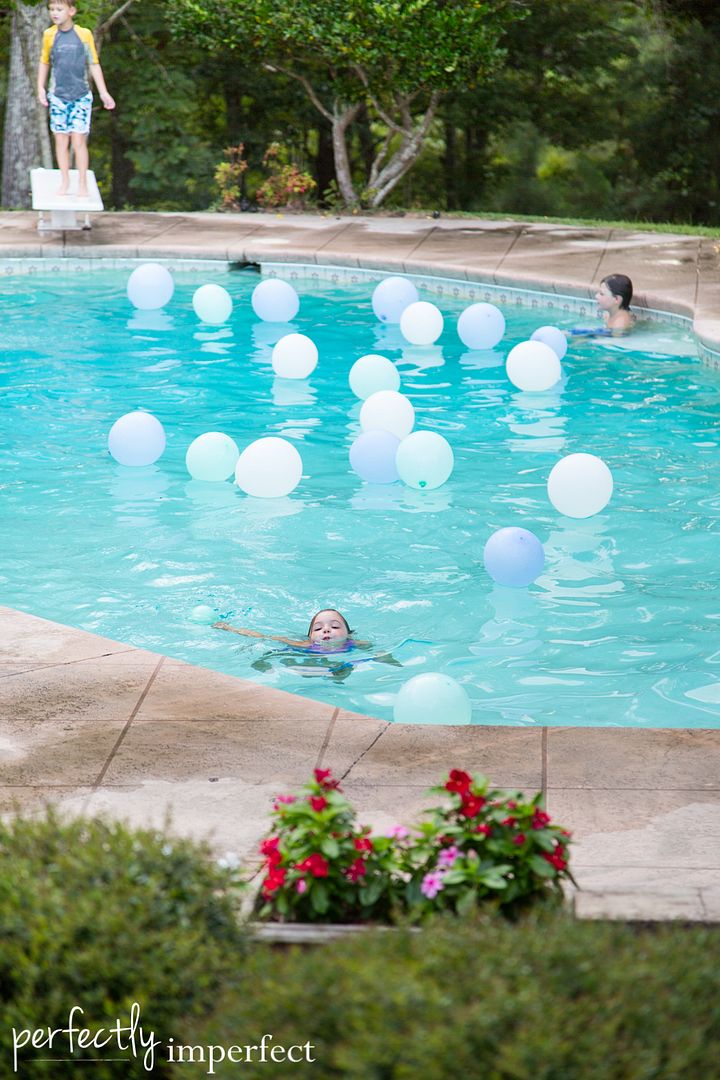 Yes, we threw in a  few balloons into the pool for some fun, and I'm pretty sure they all popped in the crazy heat before the end of the evening.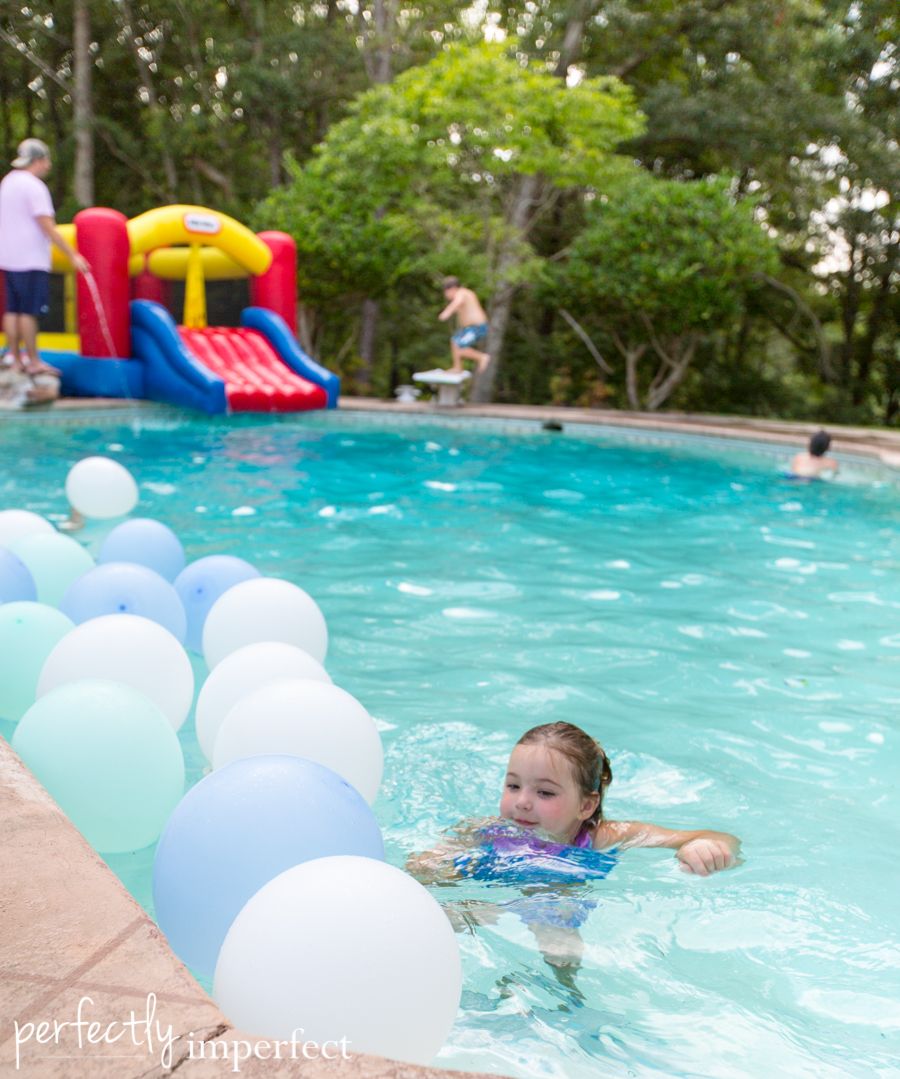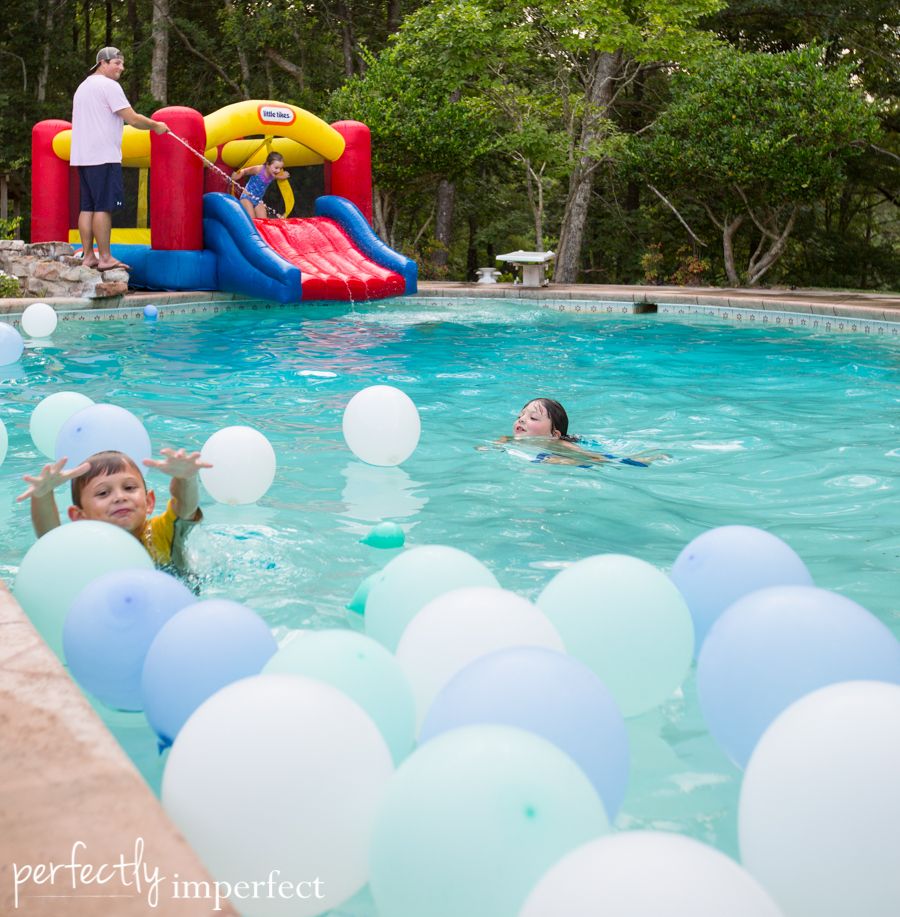 And it wouldn't be a party without a possibly dangerous bouncy house/slide for the deep end.  We did have some adult supervision, though.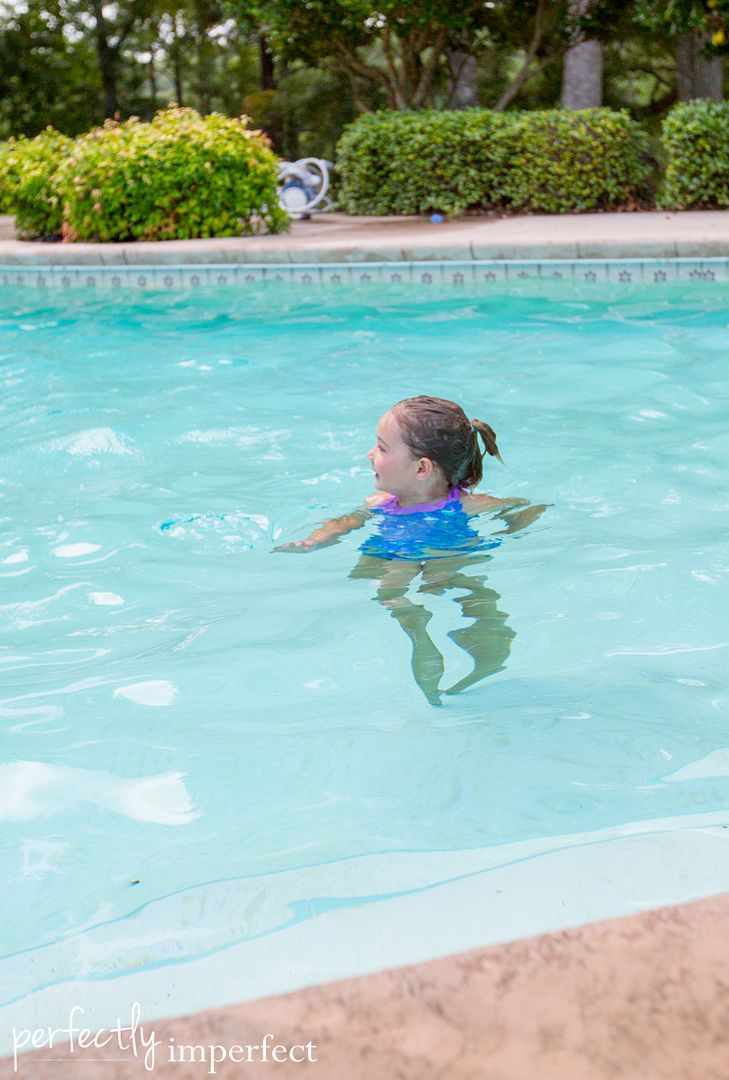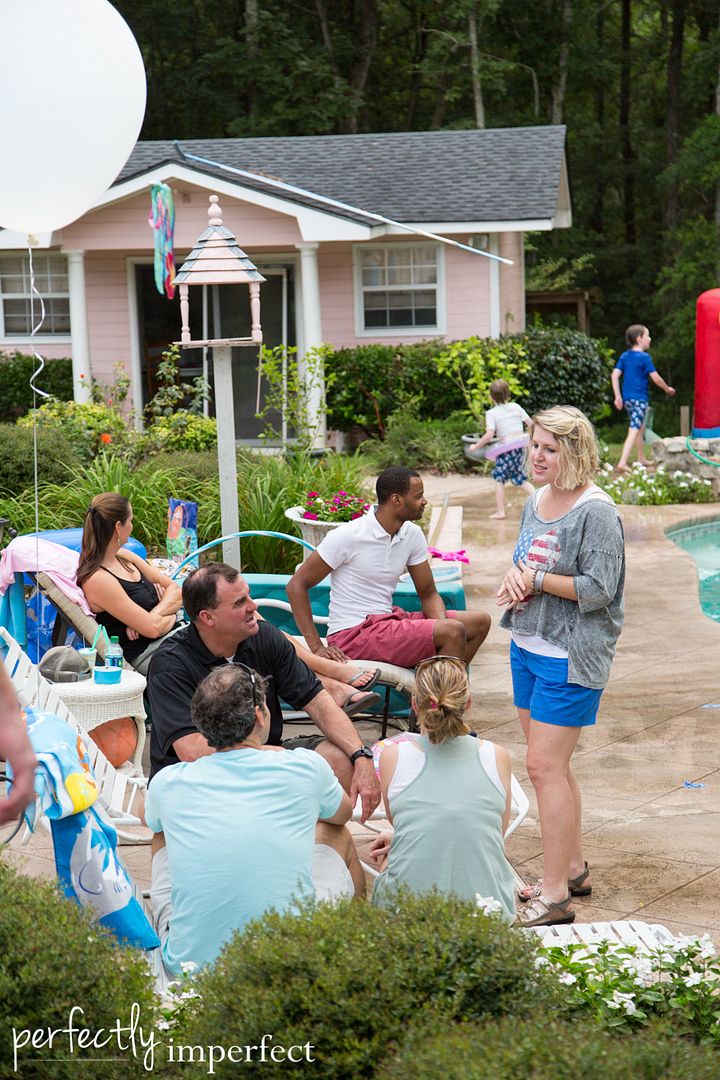 The simplest gatherings are the best, really.  Relaxed and easy enough for us to enjoy one another.  That's the ticket in my book.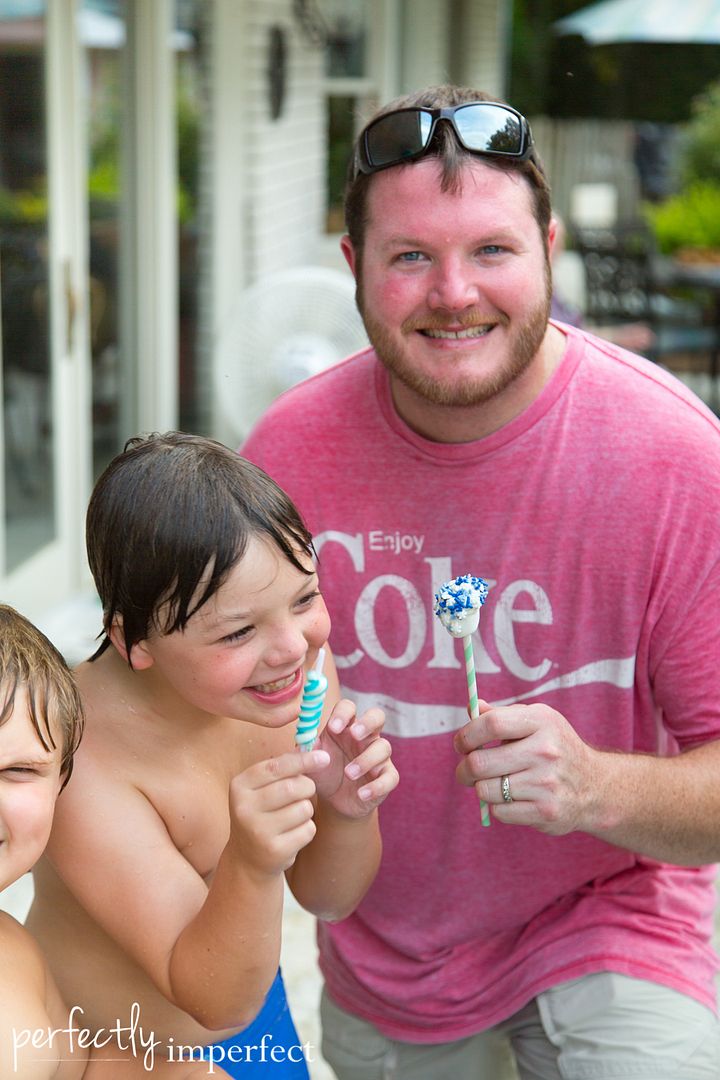 And the birthday girl?
When her eyes were heavy and her yawns got the best of her, she was muttering about the best day she ever had.
And I even forgot the silly string.
Psst. More Frozen party posts:
Free Frozen Menu Card Printables
Simple Glitter Milk Bottles Tutorial