Today is filled with organizing and preparing the playroom for school.  I'll be filing and sorting and tossing old worksheets and getting puzzle pieces reunited. It'll be the best and worst kind of day.  Worst in that I'm sure I'll step on a million lego pieces and become overwhelmed at approximately 10 a.m. before getting myself together to finish the job.
I love what I do.  It's filled with writing this blog, and running the shops, and while I'm not in the retail store every single day, with paperwork, and marketing plans and profitability on that front.  And I hope it's always filled with inspiration and ideas and creativity, especially here.  Hence, this is one of the most fun parts of my job.
A couple of weeks ago, we were spending lots of time at my parents' home, and after getting the blog/paperwork done, I got a little bored, and I started itching for a project to complete.
Enter mom's pool house…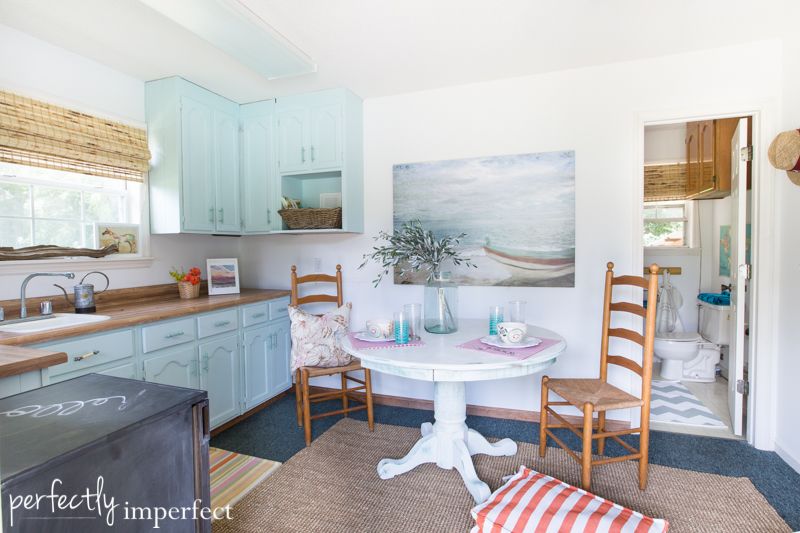 We wanted to give it a budget-friendly update to surprise Mom for her birthday.
It's come a long way, baby…
Not only was the look outdated and worn, the pool house had also gradually become a drop zone for old appliances, paperwork, and storage in general.  Now that there are more little ones hanging around and using the pool, it was time to change that.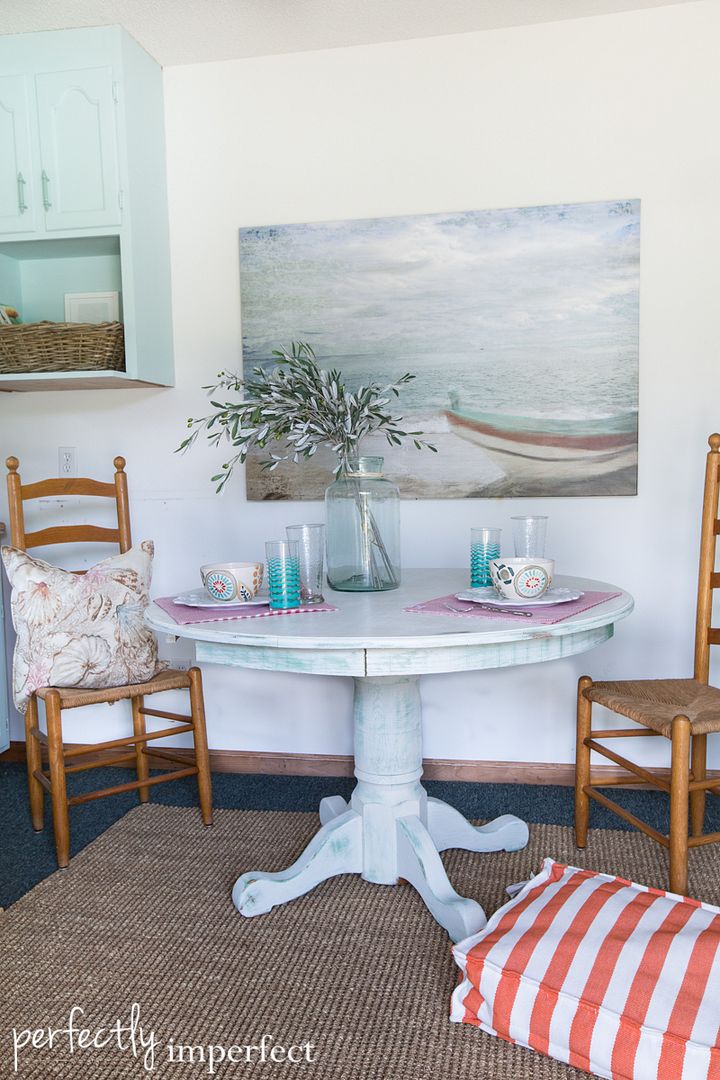 The budget didn't allow for major renovation, so we (Sara and I) focused our attention on the cosmetic updates we could make.  It all started with the white walls.  They were in decent shape, and we chose to bring color and texture in in different ways.
We stuck with natural seagrass rugs for major durability and they nicely cover the indoor/outdoor carpet that we didn't need to replace.
We painted the table in a coat of a mix of Antibes and Greek Blue to make a jadeite green color for the base coat.
I then painted a thin coat of white on top, and distressed heavily with a wet cloth to wipe back the white to the green.  We left the chairs natural to contrast nicely.  I finished the table off with a coat of clear soft wax.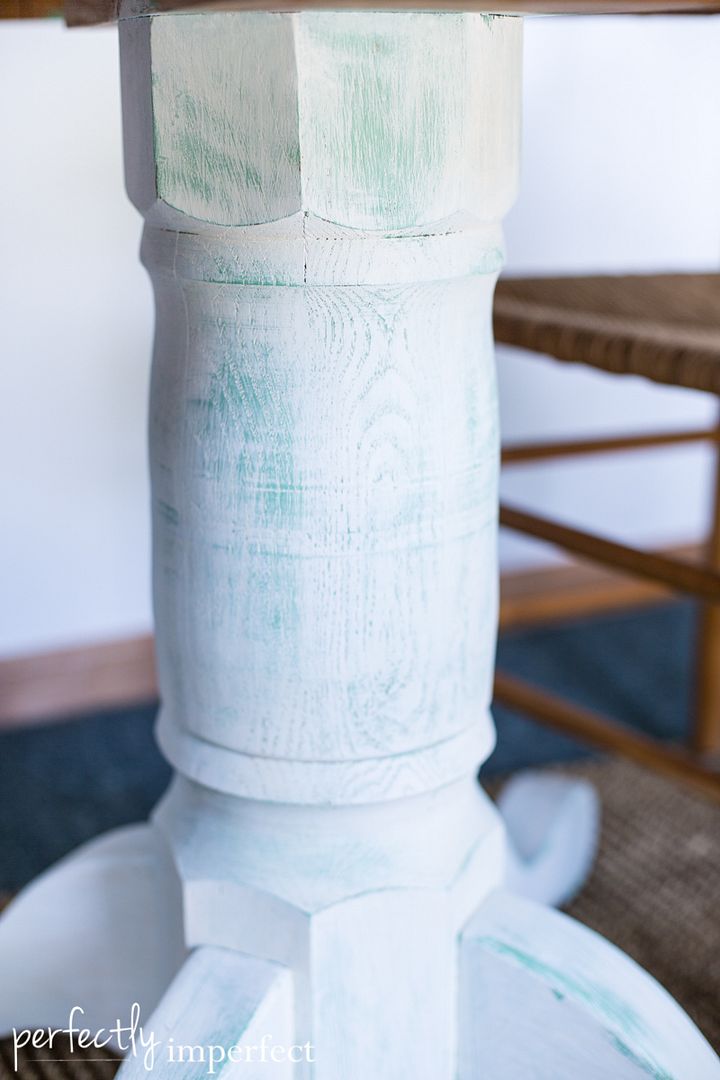 It's a fun, playful finish that works really well in a coastal inspired space…I really do love how it turned out.
We needed to create more function for the space, and that meant adding a place to store towels and dirty laundry.  This space needs to be a changing room, bathroom, and house everything we need to enjoy the pool.  It does just that now.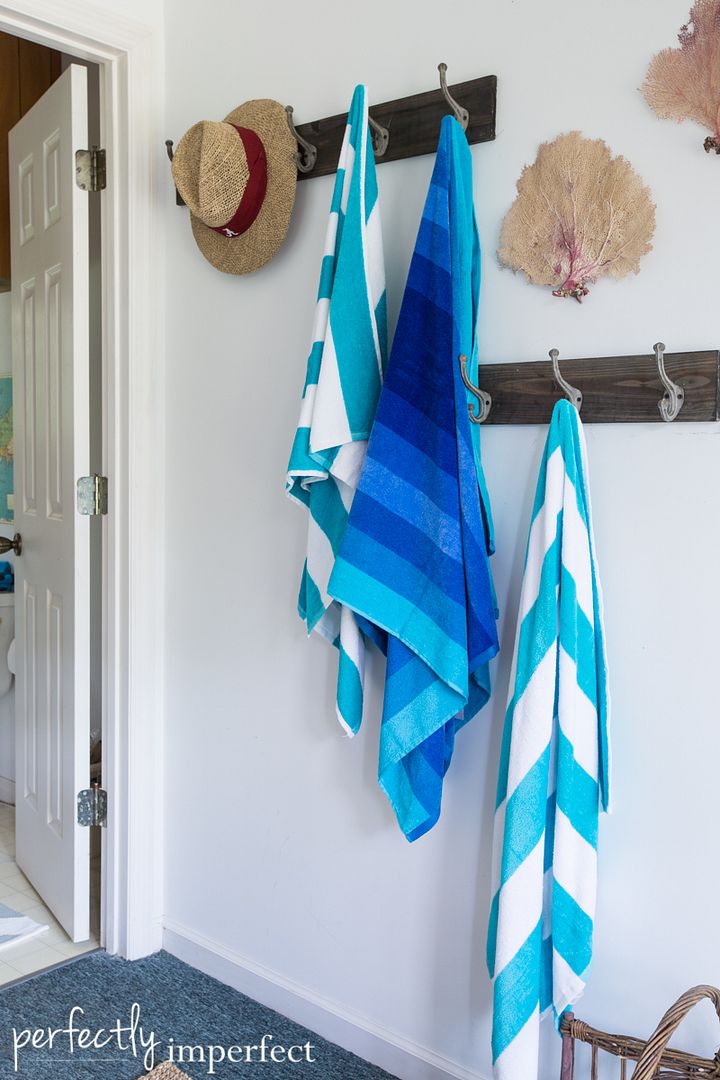 The coat/towel racks came from our shop, and so did the coral fans.  P.S. We went with pretty blue and white towels to bring the outdoors in, and stick to a water inspired palette.  The towels all came from Walmart.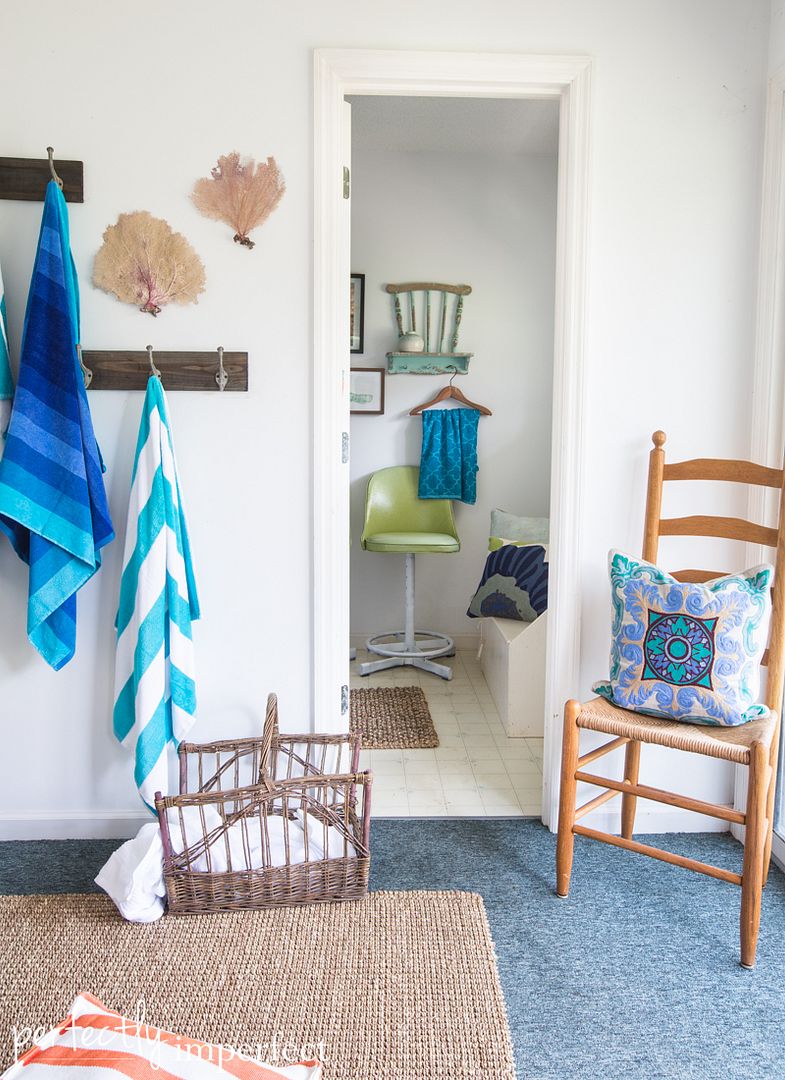 The other side of the room holds the doorway to the dressing room/steam shower.
The space had gotten junked up quite a bit over the years (foosball anyone??).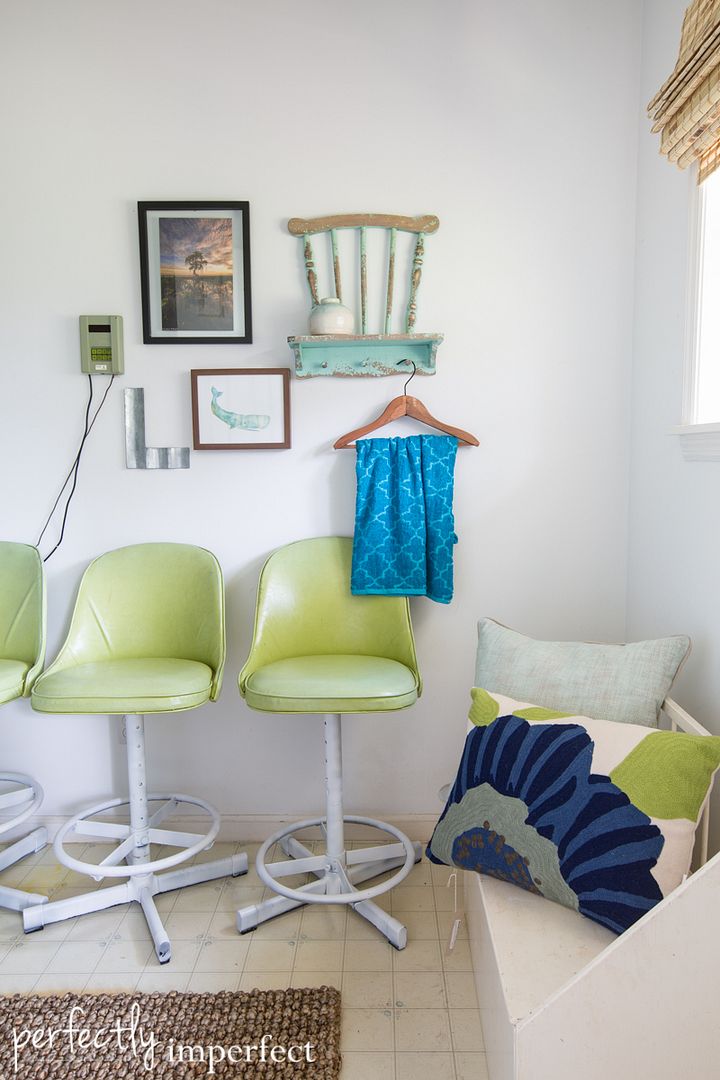 Now it holds mom's already existing barstools for some seating, more hooks for hanging clothes and towels, and toy chest my grandfather built for me holds pool toys.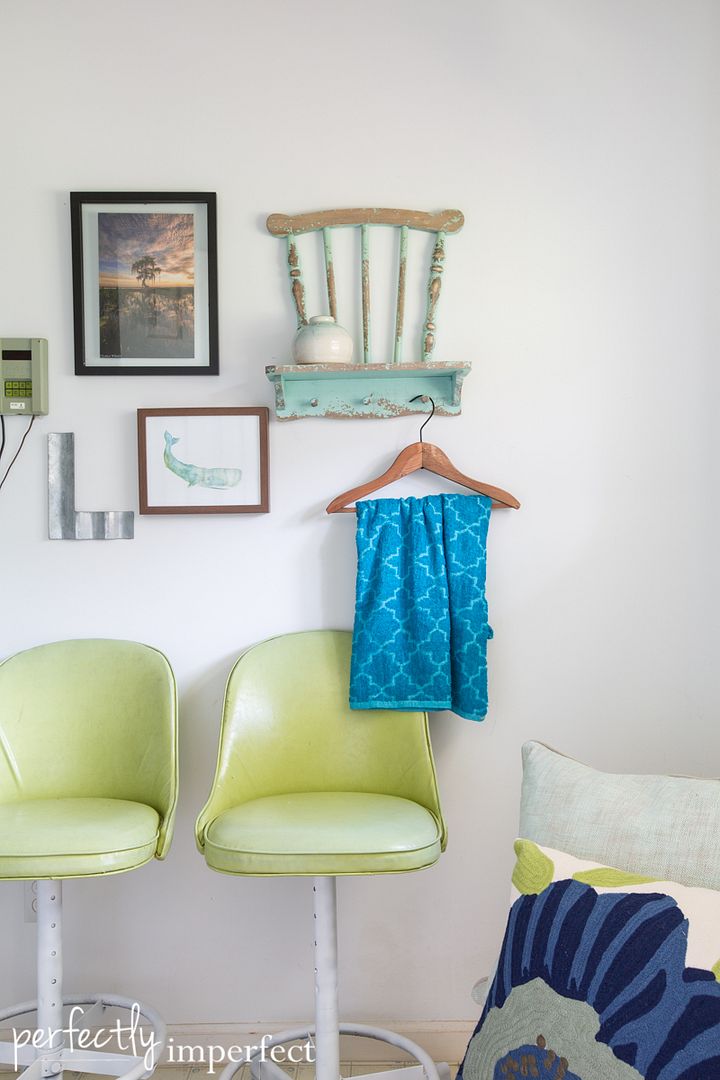 Instead of fighting the large eyesore of a control panel for the steam shower, we just went with it, and created a gallery wall around it.  The highchair wall rack is so fun and whimsical, and while it's vintage-inspired, the paint finish is pretty great.  The focal piece in the gallery is a photo my brother took, and yes, soon they'll be listed online for you to buy…isn't it a gorgeous shot??
We also used tons of Ashley and Jamin's prints from their book series…can't get enough of those!!!  The funky galvanized "L" for Lisa was attached to the wall with a command strip…voila!
In the small bath, we kept it simple by updating the shower curtain, installing some baskets and wall racks, and hanging a pretty map.
The fun yellow wall rack is originally from Pottery Barn, but I bought mine from my cousin at Print and Paper.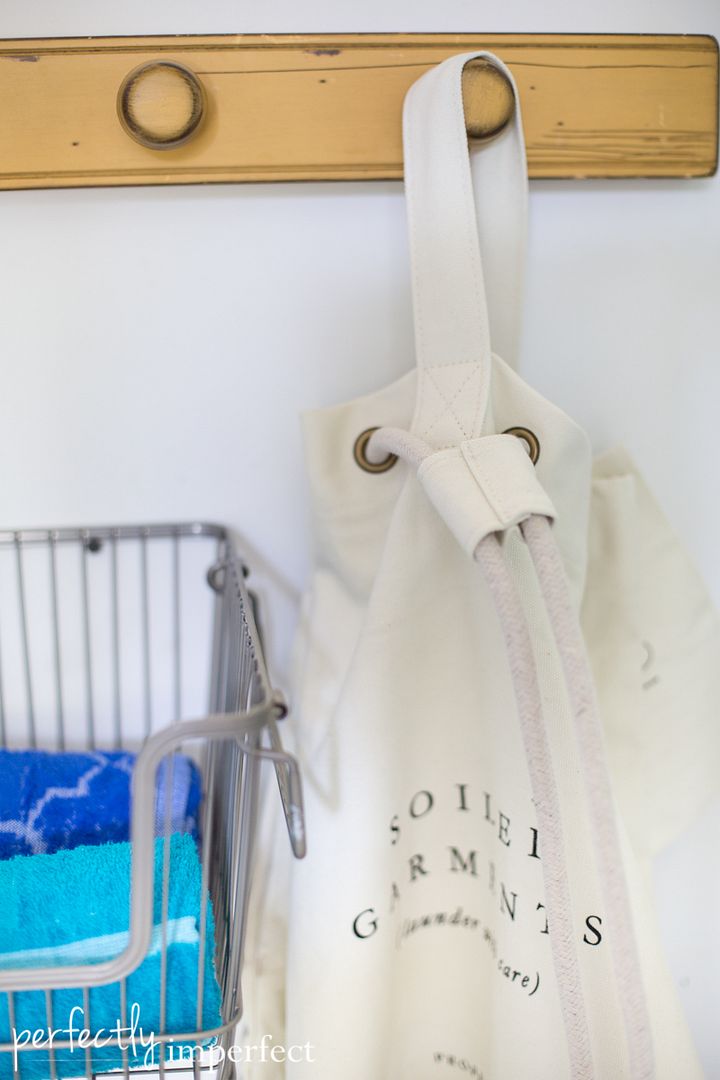 I'm obsessed with our soiled garments bag we carry in the shop (psst…they're 50% off right now & there are only 3 left!).

We left the original faux wood counters, and I really kind of dig them now that the cabinets are painted.  There's a cool retro-beach vibe happening in here now.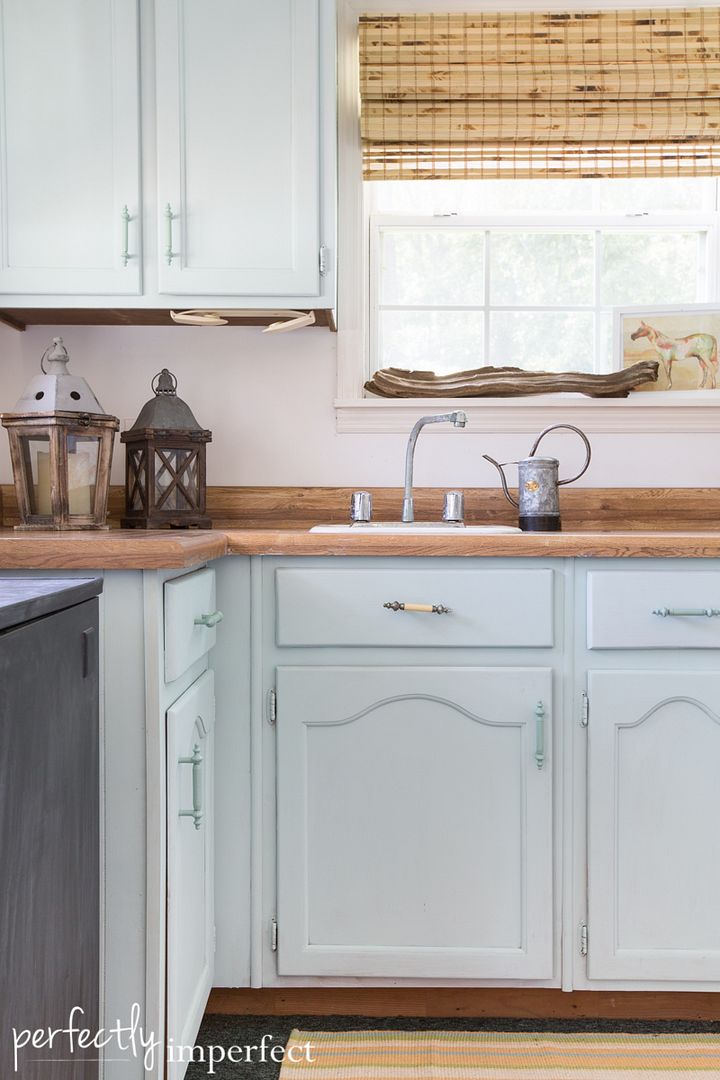 Speaking of the cabinets, we painted them a custom mix of 3 parts Pure White to 1 part Provence…it's a faint, lovely shade of blue/green.  And just keeping it real, we couldn't get that hardware off to spray paint it, so we'll have to touch that up soon.
For just a touch of personality, we added a couple of small lanterns that can be used at night to light a meal or left as is for decor.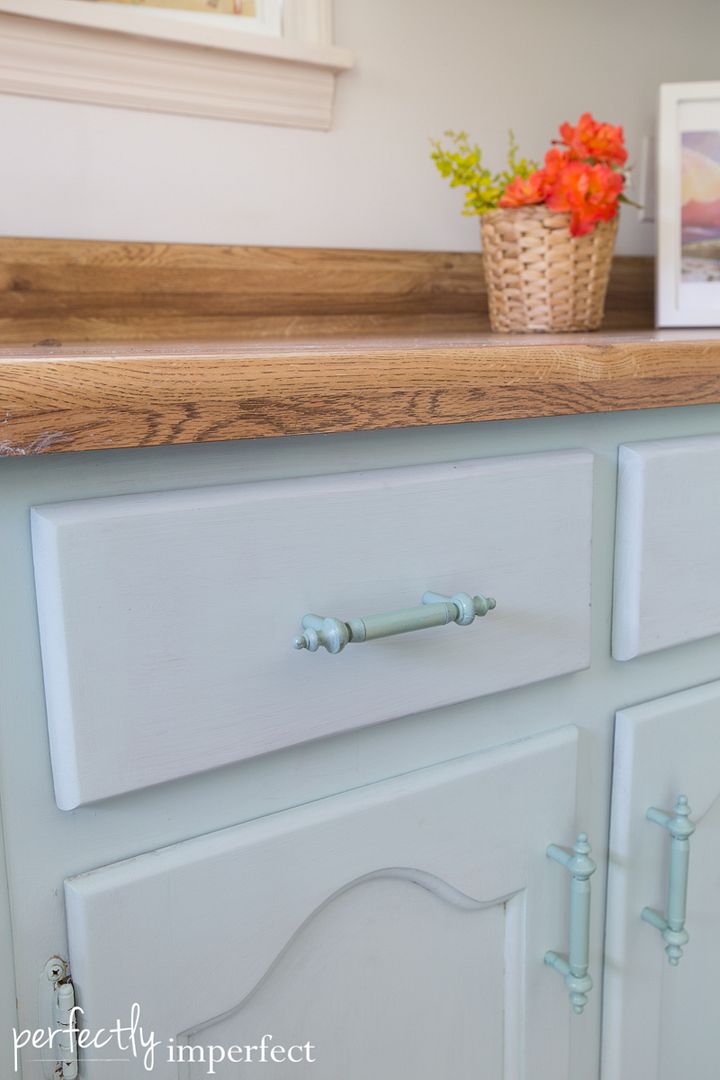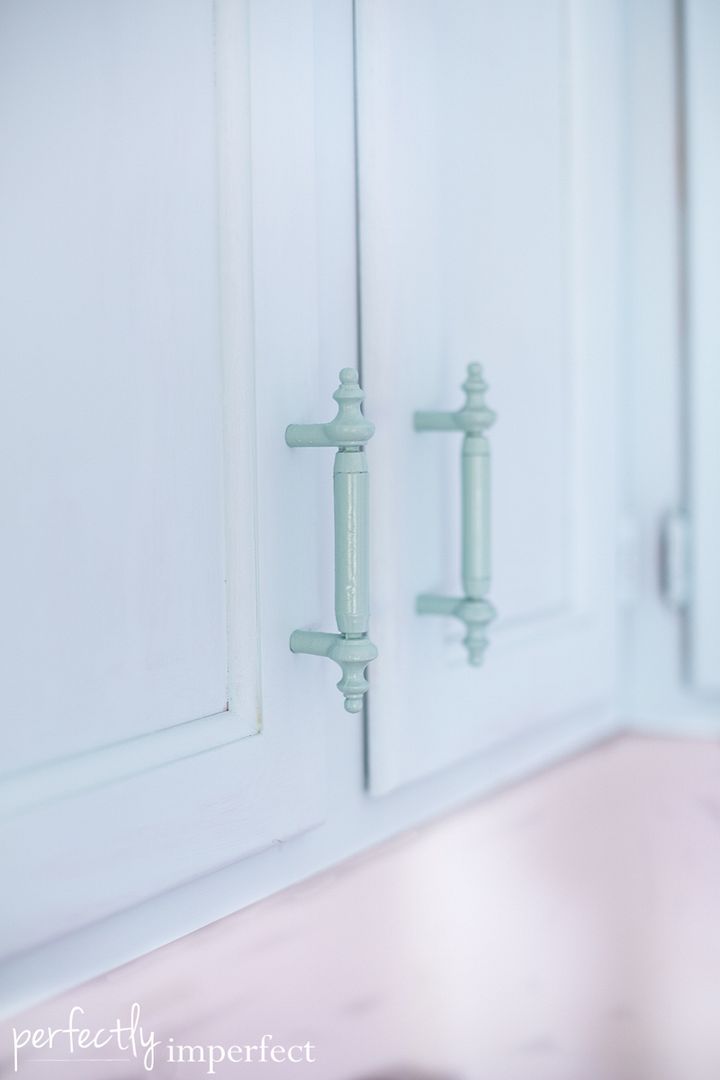 We removed the hardware and spray painted in Catalina Mist by Krylon (love that color), again, saving on the budget.

We threw a few pillows in for texture and color/pattern, and the wall canvas came from our shop as well.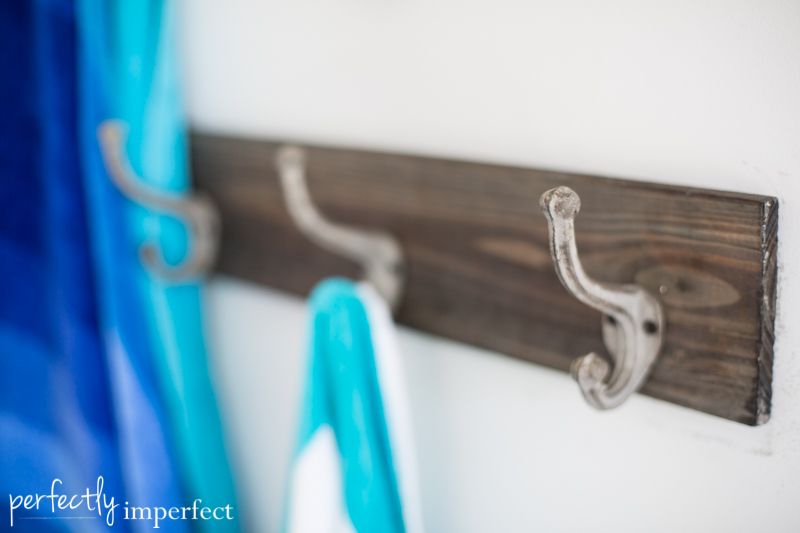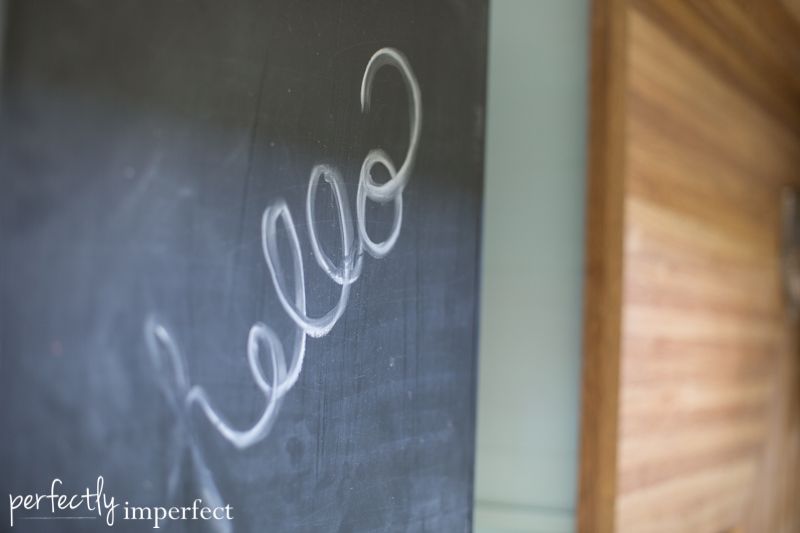 To make the old fridge look a bit less outdated, we coated it in chalkboard paint.  It kind of disappears now, rather than sticks out.
I threw in a piece of Walter Black pottery so mom could have a small bud vase for her roses.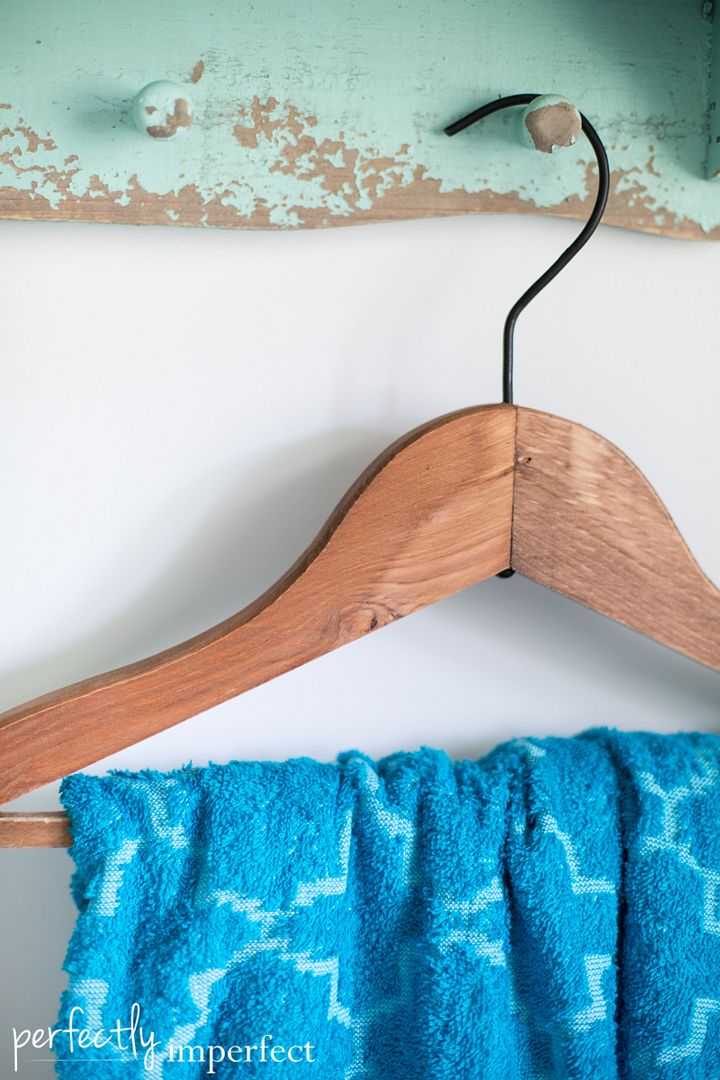 I'm pretty obsessed with the vintage style coat hangers we use in the shop for display…so fun!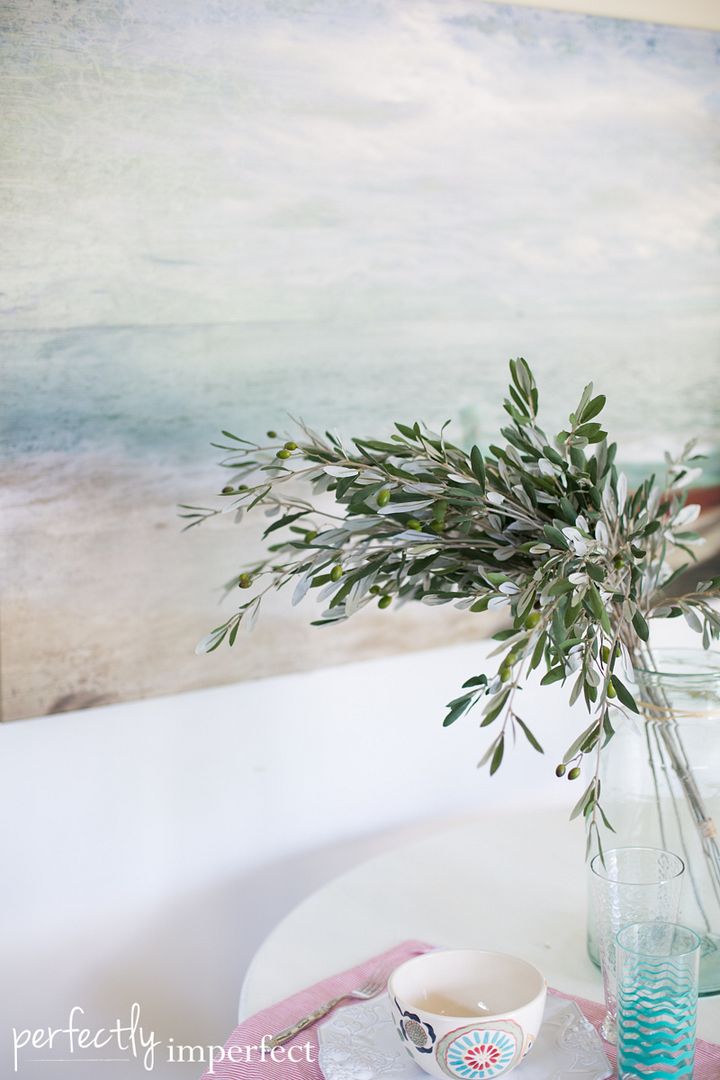 These olive stems are my favorite to style with…they're the perfect balance of casual and elegant.

And they look so real, too!
There you have it.  A happy, simple coastal/cottage update for the pool house.  We're working to finish the kitchen, get prepared for school, and work on things at the shop, so our plate is full, but in the best kind of way.
Happy creating, today, friends.