You know, when I began this blog, you could have never told me what would come of all this.
pre-order your copy now
I was just a young mama who had more red in her home than she wanted, and trying to make this home feel like me, like us, and work for us better.  And I decided to share that process here, even though I had no formal training, and really, any idea what I was doing.
before…
And after…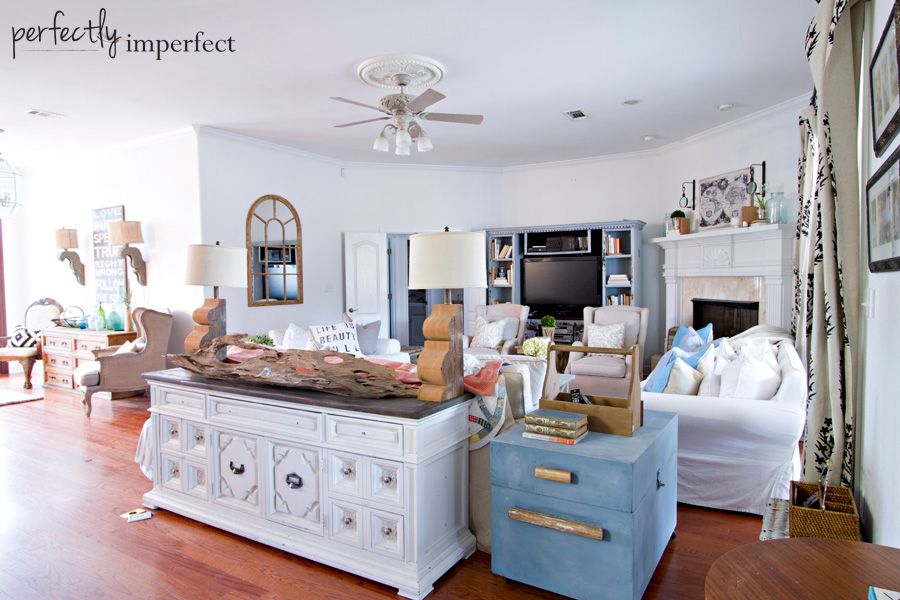 I changed our entire home in the span of a couple of years, and I did so without breaking the bank.  Remember our total overhaul of the dining room that cost about 1,000 bucks, dining table, built ins, rug, decor and all??
I didn't want to change our home because I was unsatisfied.  I wanted to change it because it just wasn't totally me.  I had gone to the big box stores right after we got married, and filled my proverbial cart with lots of dark wood, oversized furniture, and matching sets.
Let me say this: there's nothing wrong with red, or brown, or even matching…but there is something wrong with filling your home with things that don't feel entirely you.
That's why I wrote this book.
This book is filled with 75 projects, all $50 and under, hence…The $50 Home Makeover.
whitewash store bought lamp from The $50 Home Makeover
My friend, Myquilyn, just released her book, The Nesting Place and it's fabulous and real and I love her for writing it.  You should go read that book and then come back to read this one.  Because once you unlock the "why" you should celebrate your home and why you can decorate your home, I hope to help you unlock the how.
inspiration board installation from The $50 Home Makeover
Because let me tell you a secret.
Your home is transformed one itty-bitty, easy, affordable project at a time.  Our home morphed one seemingly insignificant project at a time long before I was ever in the business of decorating to inspire.  Paint a coffee table, paint the walls, slipcover the sofa, and some DIY wall art–and there it was–a new living room.
Antique Door Table from The $50 Home Makeover
The projects are simple, and most were done in under an hour.  Even the builds are for the beginner.  I didn't want to write a glorified Pinterest book…I wanted to write a book filled with simple projects that anyone not only can do, but would want to do.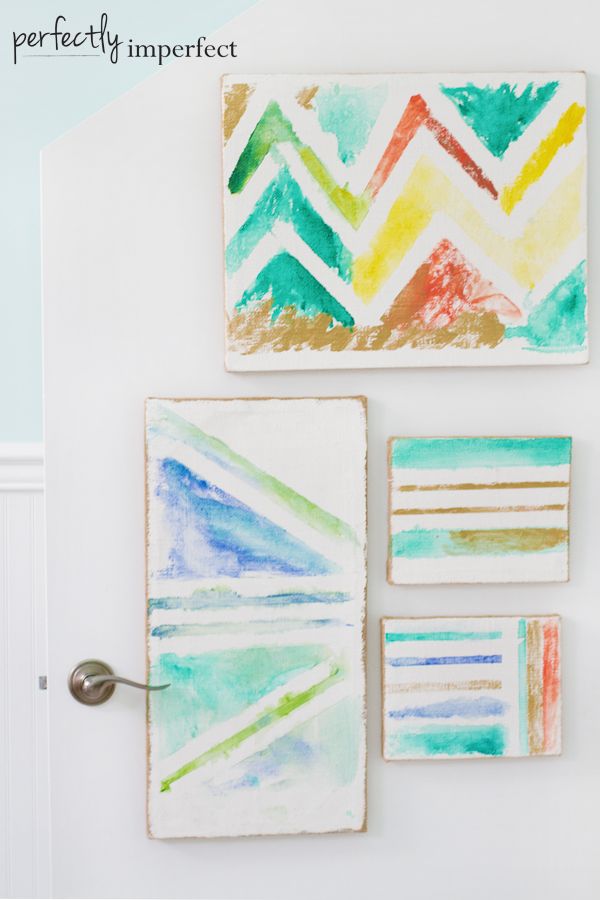 KID Watercolor Wall Art from The $50 Home Makeover
I've been sharing peeks of the 75 projects along the way and will continue to share more–we covered everything from our Removable Plank Wall, to Washi Tape Steps, to Stacked Book Lamps, to Furniture Makeovers, to Coffee Filter Garland.
Who knows how well the book will do.  If this book can help one of you that's all that matters.  I hope my book leaves you energized and excited, inspired, but mostly I hope it leaves you confident.  That you can have the home you want now…today.
Click the button above to pre-order–oh, and P.S.  When you pre-order The $50 Home Makeover before July 1, you'll get a free printable & a $10 Gift Card to Perfectly Imperfect, our online shop.  Email us your confirmation & we'll get you set up and send you a link to the art print.  Just a small thanks from me/us to you.