I think sometimes we make crafting too complicated.
We bloggers come up with cutesy projects and your Pinterest homepage quickly clogs with everything handmade tied/ruffled and feathered under the sun.  There's nothing wrong with cutesy inspiration just-cause-you-want-to projects, but the truth is this:
you craft in your home when a) you need something you can't find or b) you get satisfaction from creating.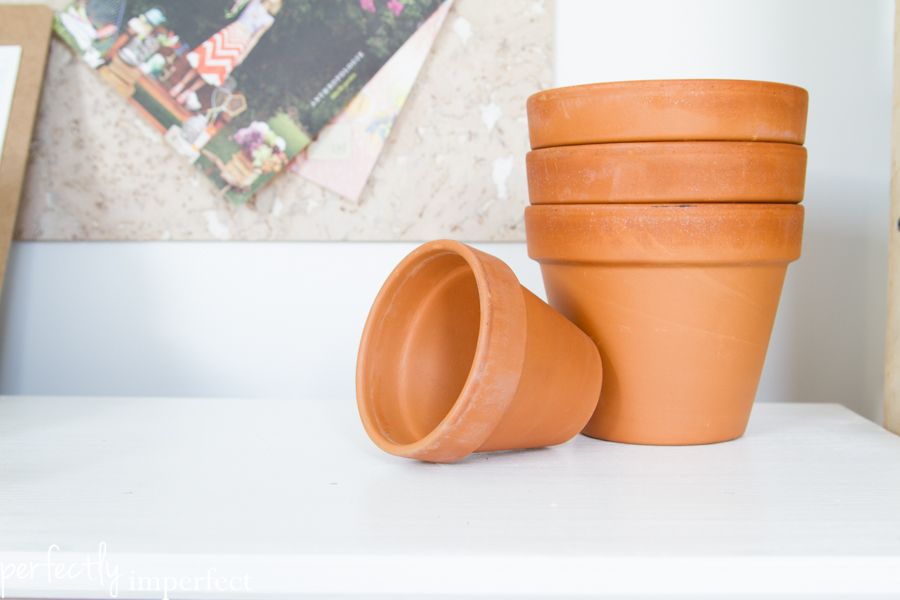 Create with the simple, I say.
Sometimes the over-complicated paralyzes us from creating at all.  We feel like we need to come up with the most original idea or the fluffiest fluff and all of a sudden we're on our way to the nearest department store, fed up with the world of Pinterest and blogs and DIY in general.
We all crave simplicity.
Be sure while creating your home, crave simplicity in the creating, too.  Don't feel like everything has to be overcomplicated or highly difficult or all the way handmade. (p.s.  this concept is why an entire chapter of my book is devoted to the Semi-Handmade.
To celebrate simple creating, a simple project for you today…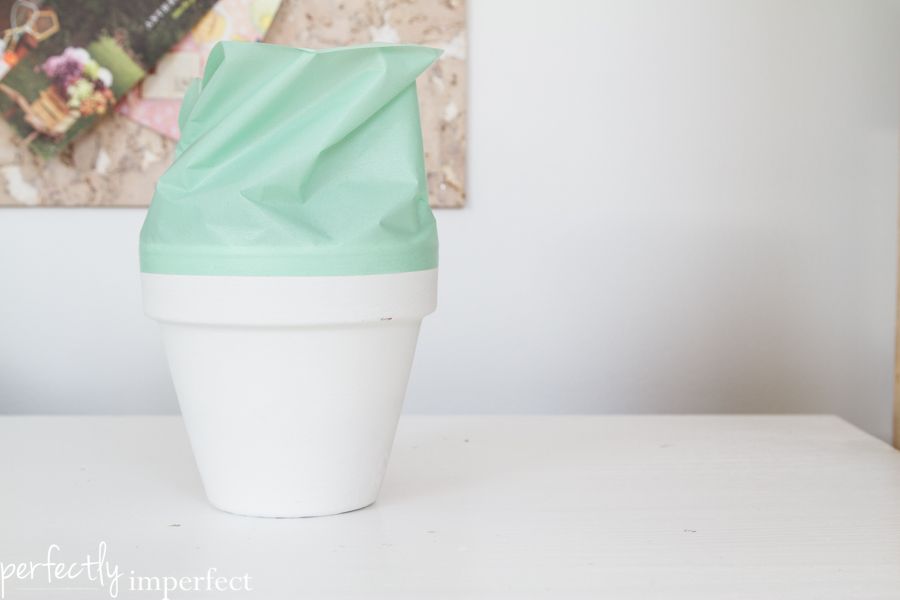 I was sprucing up my yard and my office a couple of weeks ago and needed many pots for planting.  I haven't shopped for many in years, and man, they are expensive.  I marched back over to the clay pots and filled my shopping cart to the brim.
Leave them unpainted for a traditional look, or just slap some paint on them to change them completely.
So a quick tutorial for these gold leafed/painted or washi taped clay pots:
You'll need:
various clay pots

washi tape (I love this wide variety from MT Casa)
paint (acrylic, Chalk, latex, milk paint–whatever works)
gold leaf sheets and sizing (or cheat and use what i did…Martha Stewart crafts liquid brass leaf)
X-acto knife
craft paint brushes or sponges
Frog Tape (painter's tape)
1.  Paint your pot 2 coats of your desired paint colors, allowing dry time in between each coat. I used what I had on hand so it was Chalk Paint® in Pure White, and a mix of half and half of Antibes and Florence (and then a lightened version).
2.  After about 30 minutes after your last coat, wrap washi tape around the edge of your pot.
3.  Trim away any excess.  (P.S. this is where you shouldn't overcomplicate it–try to smooth it out, but there will be lumps and bumps. The plants won't care and neither should you.)
I was a hand model in another life, by the way.
4.  Add painter's tape for painting your gold leaf stripe.  I love this little pot of gold for small projects when I don't want to fool with gold leaf sheets and sizing…it's gorgeous!
5.  Paint one smooth coat with a sponge brush that you can toss when finished.  This stuff is oil-based and washing it out is kind of a pain.
6.  Pull tape off and enjoy!  Pot a succulent (so you can't kill it) or use on your desk for office supplies.
The other pots were simply variations of this.  I painted another a minty spring green plus gold leaf in a triangle pattern, and the other was more of a layered treatment.
For the layered treatment:
1.  Paint a base coat of medium-toned or dark paint.
2.  Paint a top coat of a lighter shade of the same color (just mix white paint with your color if you don't have separate paint colors on hand).  be sure to to dry brush it on, allowing the deeper base color to peek through.
3.  If you want, hit the edges with some white paint to bring out the details a little.
See?  Who cares about those little bumps or imperfect lines.
These make me happy, and they took all of a few minutes to create.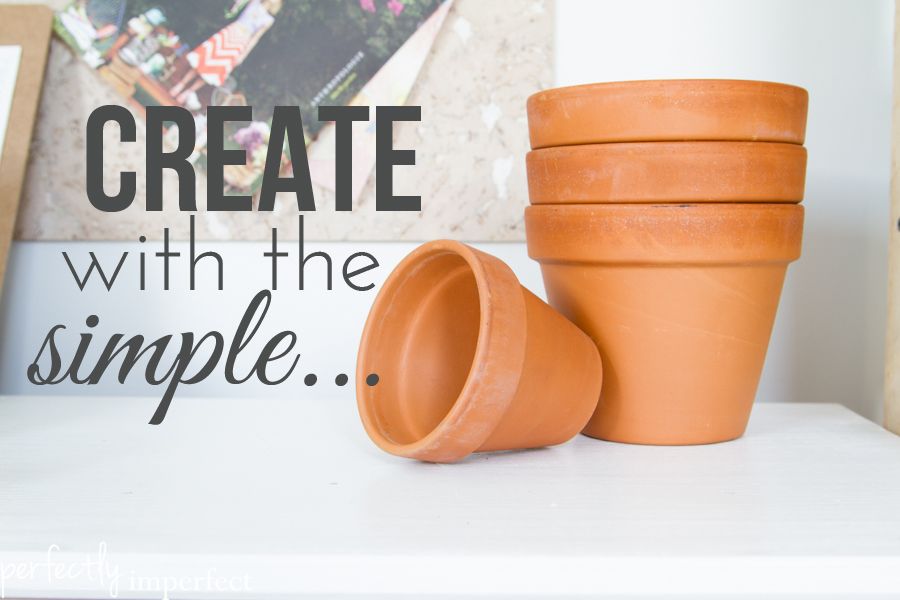 Go ahead.  Give yourself permission.  Create something simple, & don't overcomplicate it.  Paint a clay pot or slap paint on furniture or create something semi-handmade.
Just create.
Click for More Info & To Preorder from Amazon!