If you are new to our blog, you may not have seen the Red Sea that enveloped our living room in the year 2003…
I want to say again there's nothing wrong with red or brown, but even if I'd wanted to do red and brown, maybe I should have thrown a different color in there, or texture, or something.  Plus, it just wasn't me.  I thought, once upon a time, that you simply decorated with dark wood furniture and damask upholstery when you grew up.
After deciding that I was over the red and brown and beige, and lightened up our home on a budget, this was one of the pictures that made its way onto the blog…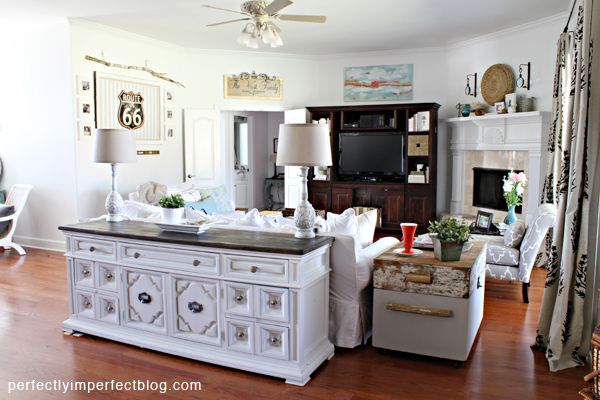 I took it over two years ago, and while so much is the same, so much is different.  The trunk has been painted, the entertainment center has been painted, the gray trellis chair moved to the office, we got a new a couch, new lamps, and a random huge piece of driftwood that I'll never part with.  I paired down accessories and while there's more furniture than walking room right now (we are taking our white couch and chair and a half to the beach), it feels cozy to me and I've only kept what I love.
Here's our living room as of this week…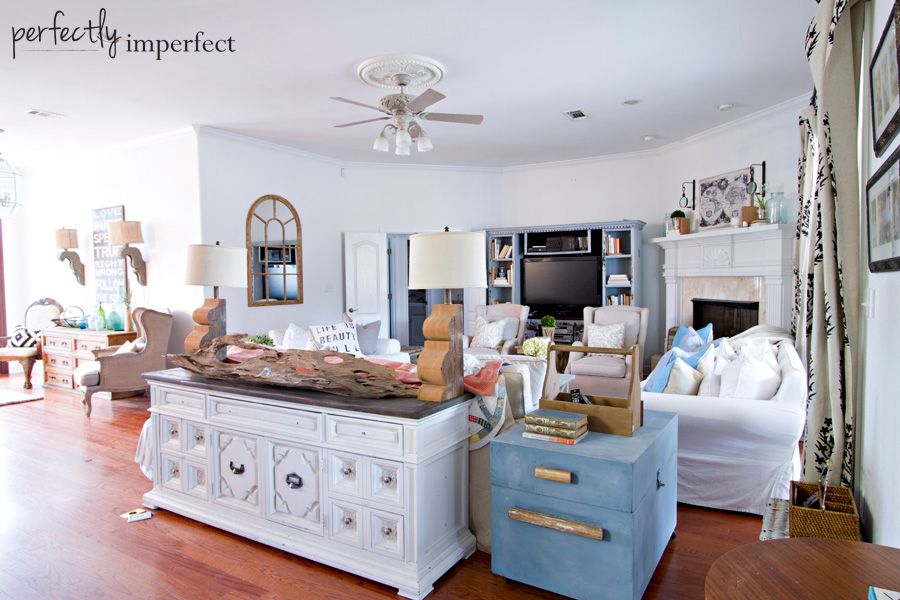 Much brighter, right?  It makes me happy to be in this space, and I love how even our entry (to the left) feels the same but is still eclectic in its own way.
We've talked about the hardware thief before.  I'm just embracing it now.  No knobs remain on the buffet behind the couch.  Things like that sometimes keep me from photographing spaces.  I'm over it.  Behold the glory of the halfway decked buffet.
The whole furniture arrangement will shift when we take the white couch to my parents' condo, and we'll be moving out the massive chair and a half.  It's a great piece, but is pretty worn in, and I'm needing the living room to feel a bit less cluttered.  We'll also be selling the entertainment center Matt built.  We haven't turned on this TV in months, and finally cut the cable.  The kids still watch some netflix in our room, but it doesn't make sense to have this massive TV unit in here when the room isn't used for that.  I do, however, love the overall feel of the space.  It has the right amount of texture and accessories, but the simplistic, livable style I prefer, too.
While this picture wasn't totally in focus, I had to show you these lamps.  They were a splurge for me;  I grabbed them from Lucy at Southern Accents at The Chapel Market.  You might find me clutching to them as a weapon in the event of a zombie apocalypse.  Oh, and my dogs crack me up.  They sleep all. the. live. long. day.
What a life.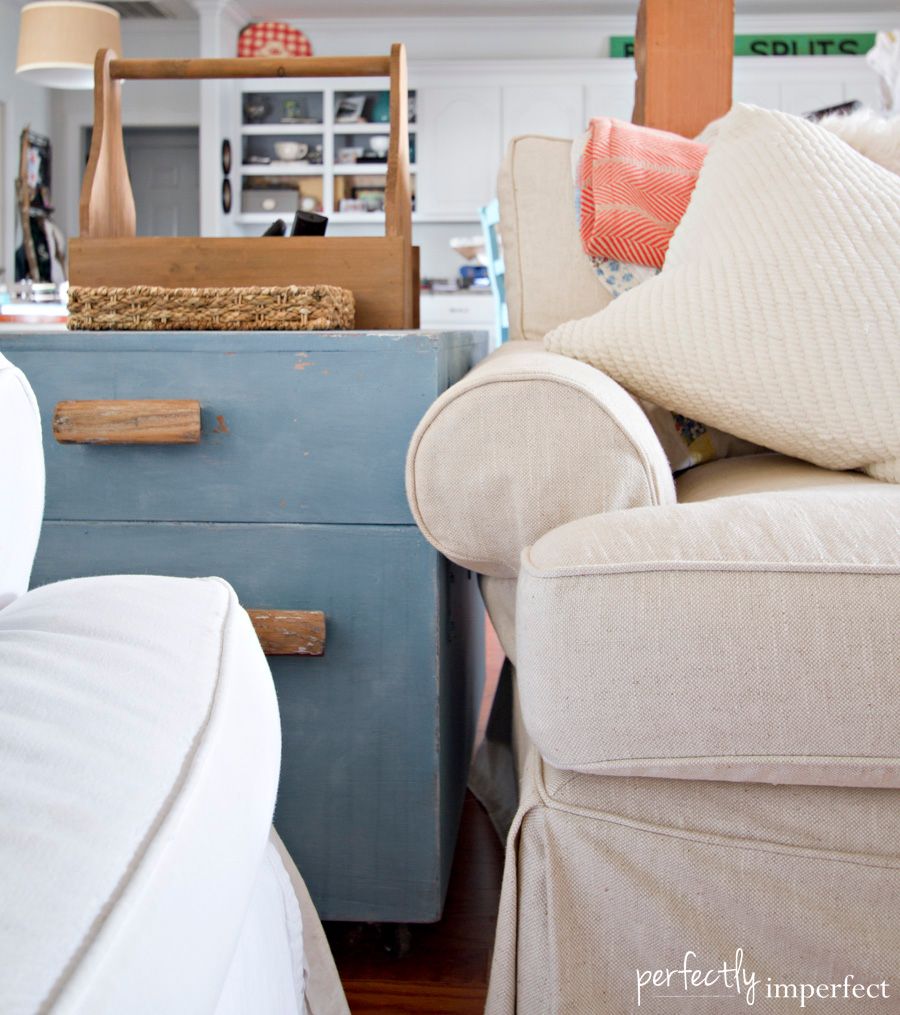 We bought our new couch through our shop (surprise!) because we were over the solid white.  I love the way it photographs and I loved the idea of white, but it just gets dingy with time, and I'm not the kind of person who washes her slipcovers once a week to keep them clean.  We really loved the slipcovers the first 2 years, but after that there was only so much the washing machine could do with chocolate pudding stains.
I'm totally digging the shades of blue and pop of tangerine right now.  But I'm fickle, so that's the reason for all the linen and neutral.  Switching the whole space isn't so crazy or expensive.
Oh, the arched window mirror.  I love old windows.  I have a few throughout our home, but had been looking for just the right size to hang on this wall for the last several years.  I have found some great ones, but they were too dinky or too crumbly, etc.  When I ran across this reproduction at market this year, I ordered it immediately, hoping it would work.  The size is still a little small, but I'm thinking of flanking it with some chippy shutters, and we'll call this rotating wall a wrap.
Until next time, that is.
One of our end tables and the coffee table were both book projects, so those tutorials will release then.  I am still saving for a larger jute rug as this one's way too small and really belongs in our bedroom.  We've already talked about my love for a coffee table filled with books.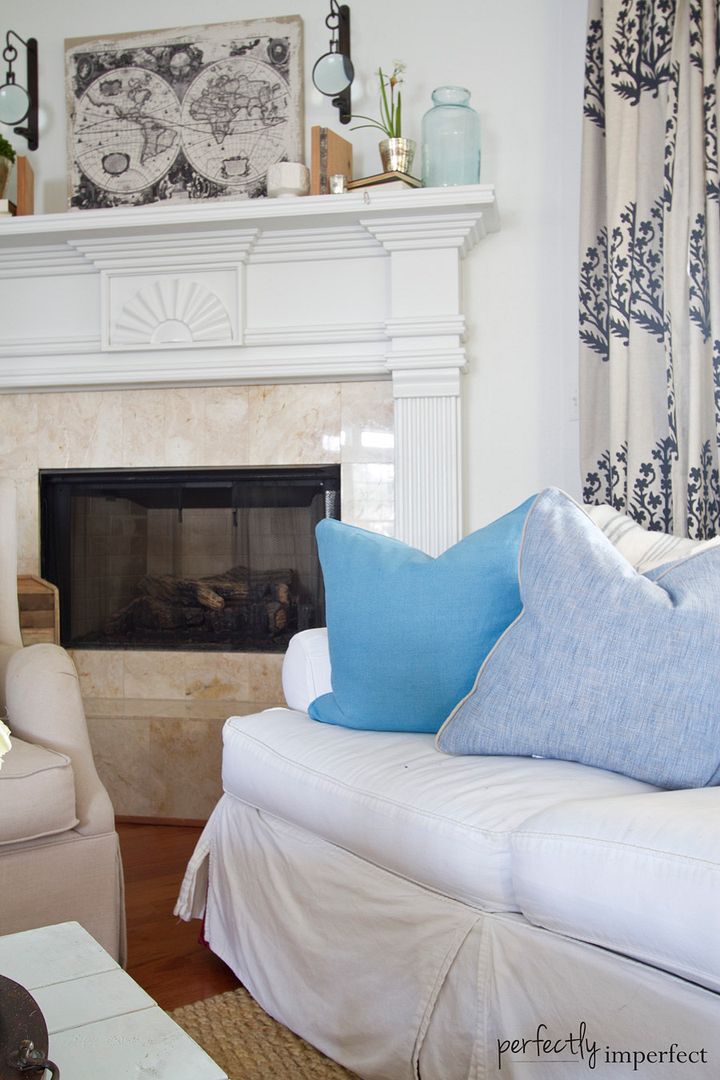 I've been back and forth with what patterns and colors I want to keep in the living room.  I've tried several over the last few years, but I think these may be the overall winner.  The textural blues are bright and happy, elegant and casual at the same time.  Blue is also my true love, so I'm pretty sure these are staying.  I love geometric prints for a short time, but I grow tired of them eventually.  I mixed in some neutral and cream crewel covers, and they're just so pretty.  I see myself craving something simpler later on, but for now, I am loving the pretty print!
P.S. the pillows aren't listed online in our shop yet, but should be soon!
There's just one small styling touch on the coffee table, and thankfully, I can't kill these hydrangeas.  The mantel got a fresh, simple update and I'll try to snap some more pictures.
You may have noticed that I painted the entertainment center–and I am loving it.  It's a half and half mix of Shutter Gray & Grain Sack…and it chipped all over the place.  I was hoping it would, since we don't have a ton of chipping furniture all over the house.  My dad says it looks like I forgot to finish painting it, but I told him to leave the furniture makeovers to me, if he didn't mind.
He happily conceded.
P.S. We're running a 20% off sale all Miss Mustard Seed Milk Paint products in the online store this week!