I'm a bit of a reformed big box store shopper.
Decorating on a budget doesn't always allow for brand new or at least not all at once.  Because of my need to make my home my own, and because I fell in love with creativity and working with my hands, I am a DIY'er at heart.
You guys know, though, my learned philosophy on reaching and resting.  There is a time to DIY and a time to save and buy.
Enter one of my favorite places to look for inspiration and to shop.
I worked with Pottery Barn Kids before on a study space challenge (and thanks to you guys, we won!!), so when Pottery Barn asked if we wanted to participate in another decorating challenge I was completely on board (insert my girlish squeal).
They asked us (and a few of our other great blogger friends) to use the Tanner Nesting Tables in two spots in our home.  To be honest, I was a little stumped.  I absolutely love the tables, but I had to think for a while on where I could use them in our home.
After spending the last few years refining my style and lately committing to simplify, there's usually two reasons I bring something into our home. 1.  I know I'm looking for something specific, and I purchase to place, or 2. I find that piece so I must find a spot in my home for it.  Keeping #2 in mind, I was excited to find spots in our home for the nesting tables and put them to use.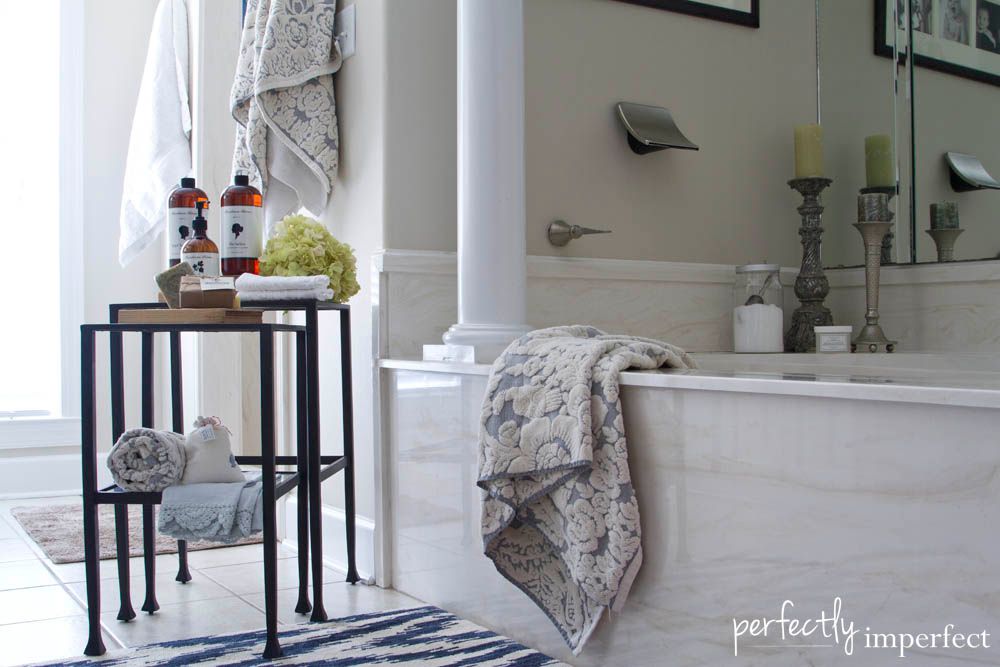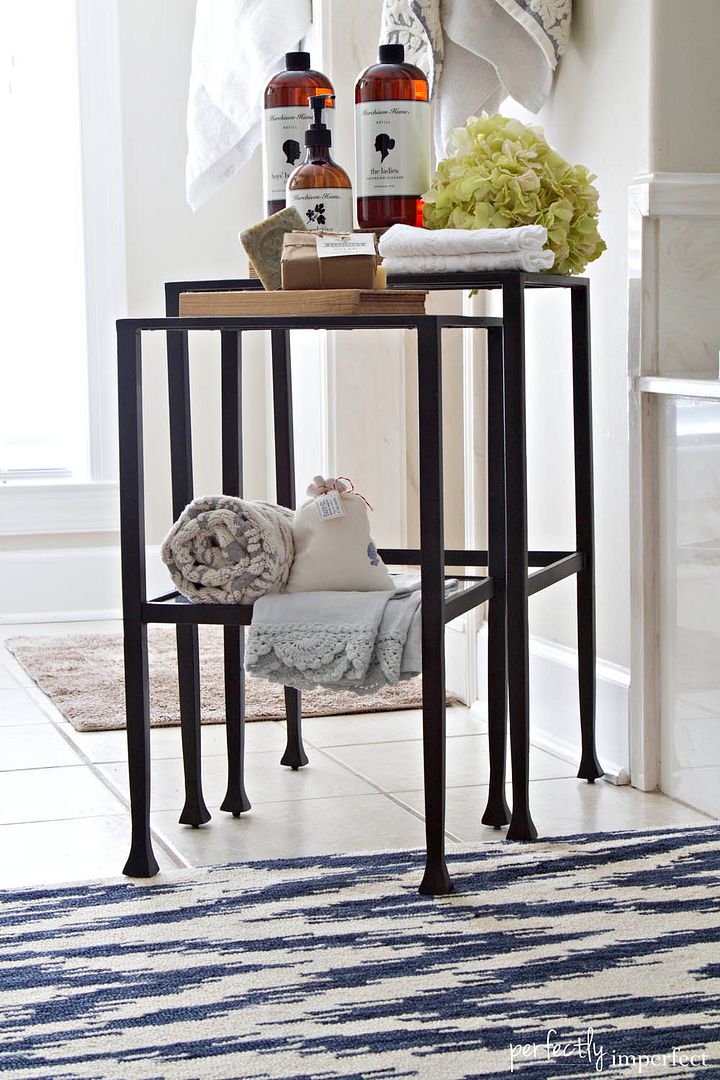 I love a few things about the nesting tables—they are durable and heavy, meaning my kiddos aren't going to knock them around and get hurt, and they boast plenty of surface storage without taking up too much space.  We've been looking for a little table to put in our bathroom for a while to keep towels and soaps near the tub.

I hope it's not too much information, but I'm a soaker.  I love the idea of extra towels, my phone and a book being at arm's length.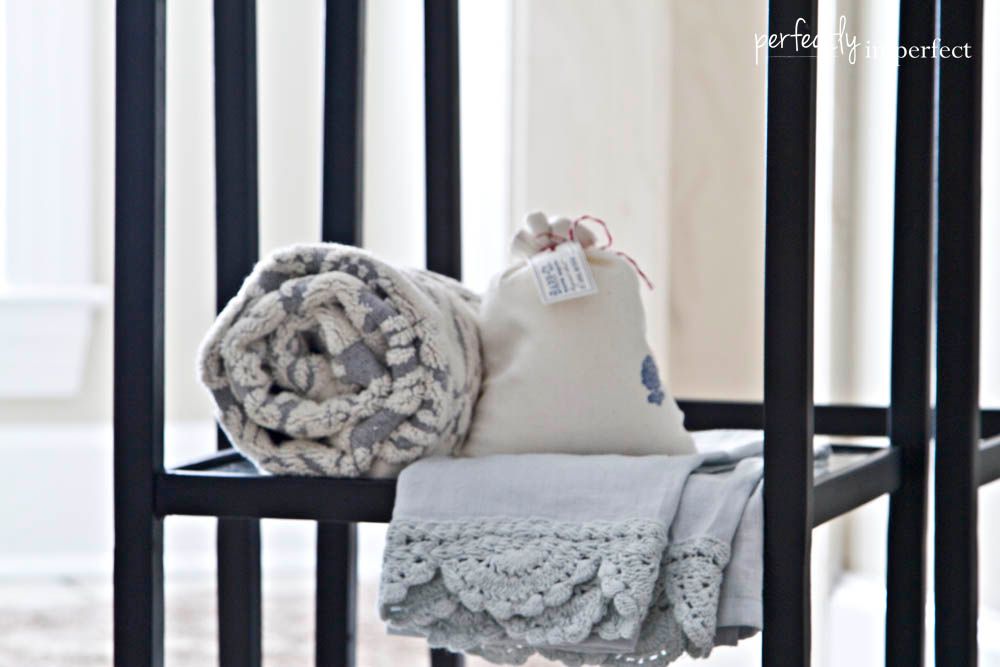 The master bedroom and bathroom are two areas in our home I haven't spent much time styling.  They look just fine, but I haven't put much thought into detail until now.  Bringing in the nesting tables were the perfect way to play with some pretty details. These pretty gray and cream towels came from Anthropologie and the white crewel bath towels came from Pottery Barn.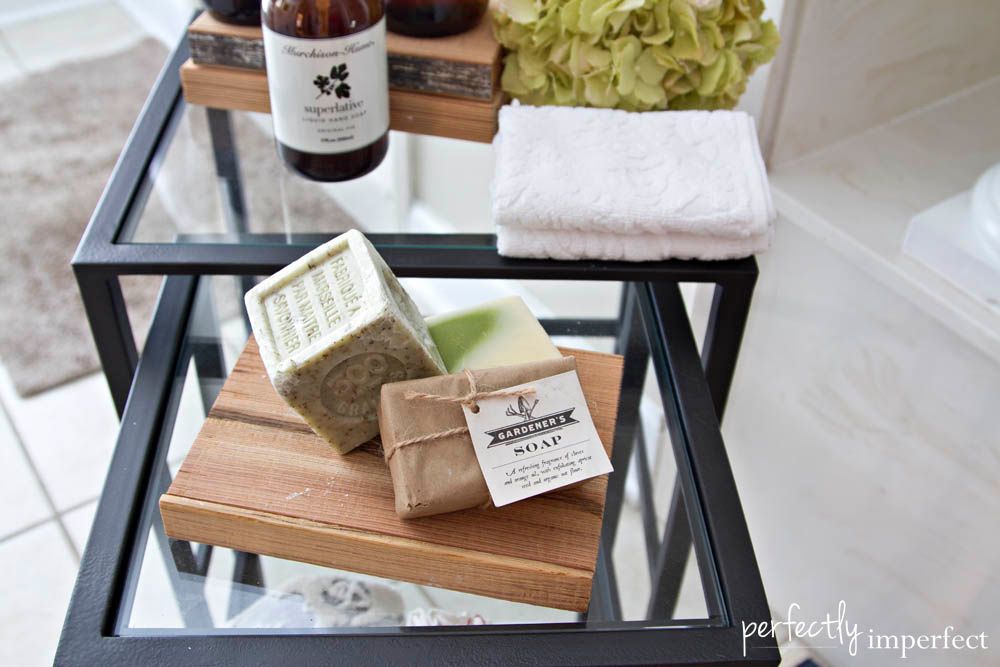 I'm trying to be better about bringing natural elements into our home, and fresh flowers just make me happy.  I brought the hydrangea stem in from our shop, and hey, I can't kill it.
 **********************
I could also totally see us using these nesting tables on our covered back porch.  Matt and I spend almost every evening on it, and our little family loves to enjoy picnics at the table we built.  Matt recently built us a swinging daybed (full reveal coming soon!), and we don't have a ton of room out there for furniture, but need a place to put a drink or book.  I knew these tables would fit perfectly, and I'm so happy with how they fit here.  It's nice to be able to begin decorating this space and making it our own like we have in the rest of our home.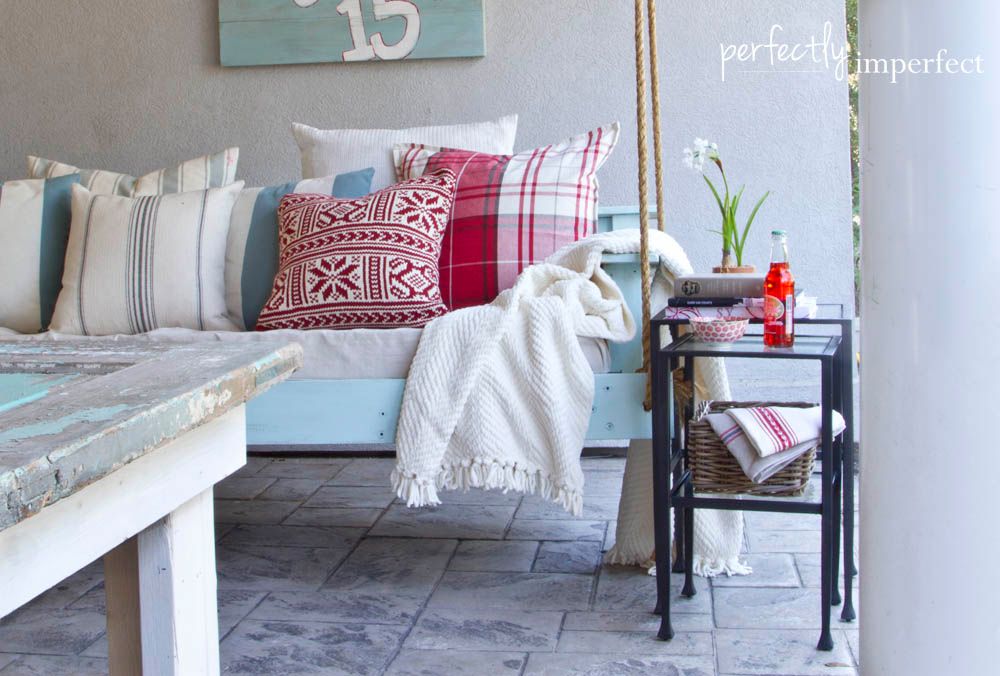 It's coming together—I can't wait to show you the rest!  I love the idea of having a place to entertain out here, and an outdoor extension of our home.

The nesting tables are perfect here because we're lacking on space, so we can keep the tables nested while not in use, and then pull them apart to make two tables when we have folks over.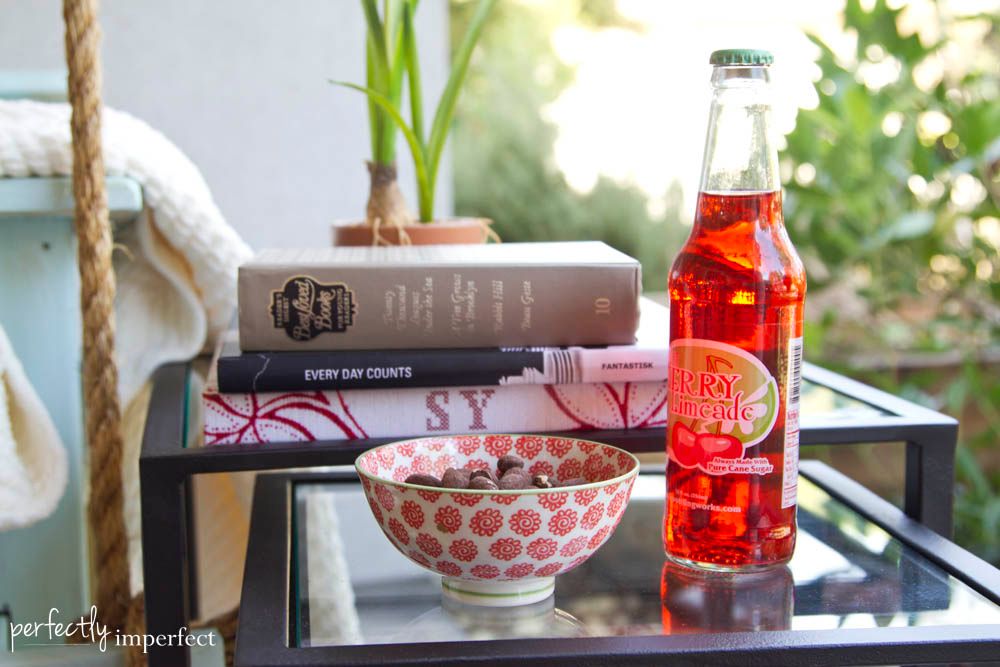 Yes, I still say folks.

I haven't made a slipcover for our cushion yet (ha! I can't sew—maybe I'll talk my mom into it), so for now it's just fabric wrapped and tucked.  The plaid and sweater pillows came from Pottery Barn, and the indoor/outdoor pillows I bought on Ebay a couple of years ago (Pottery Barn, too—I know, I'm a sucker for PB.)
You know how some people are scarf people?  I'm becoming a throw person.  I have several, but I think this one I'll keep just for me.  It is the coziest.

What do you think?  Which space wins your vote for the nesting tables in our house?
Speaking of voting, we are competing to win the challenge on Pottery Barn's Facebook page today—I would love if you guys would go vote for us over there!!!  The contest starts at 1o a.m. PST this morning and lasts until the 22nd.  I couldn't believe it when we won last time—I think you guys are the best.  Truly…winning or not.  P.S.  There will be a SWEET Pottery Barn Prize for you guys if our blog wins.

Be sure to follow along on Pottery Barn's Facebook page for the progress!  Oh, and thank you for voting for us!
**Disclosure:  This was a sponsored post brought to you by Pottery Barn.  I was given product for the challenge, but was not compensated otherwise.  Opinions, designs, and photos are all mine—plus, I love Pottery Barn and their casually elegant style.