Good morning, lovelies!
I'm in official book-crunch mode, and have finished every single one of the 75 book projects (hear me roaring/squealing/beating my chest), and have moved on to writing the rest of the book.
Yes, that's me: writing 40 tutorials in the last couple of days.  My sweet mother-in-law is keeping our kids the next couple of nights so I've been holed up in the house writing and hitting my forehead.  Twelve hours on the computer yesterday nearly sent me over the crazy edge, so when I thought my eyes might cross, I decided to photograph these sweet little ornaments the kids and I made…
We like to celebrate Thanksgiving with purpose, but I'll tell you, I just love Christmas decorating and traditions so much that I usually pull out a few things early.  Plus, if you want to make your own, you need a little time, right?
I'm going with a woodsy/winter wonderland tree this year, and Matt (yes, Matt!) had the idea to create some simple Wood Slice Ornaments.
We started with a tree he cut down (I'm married to the Brawny man), and he cut the slices about 1-1 1/2 inch thick.
If you don't fancy chopping down your own tree, then you could always buy some wood slices like these.
You will need:
miter saw for chopping slices

scissors
hot glue gun
high temp glue sticks
baker's twine
pen
glass glitter (optional)
I buy my german glass glitter online, but this little jar I bought from my sweet friend, Marian, at The Chapel Market.  You can also keep your eye out for her restocking it in her online shop.
I love the shine of the German glass glitter, and I have become pretty hooked for my own glittery crafts.  It and the Martha Stewart Fine Glitter are my favorites.
If you plan on writing on your ornaments (we did this with the kids and it was fun to let them be creative), do that first.
On some, we let them help (be careful that little fingers don't get too close to the glue!) make shapes with hot glue, then I sprinkled the glass glitter on while it was still hot.
When the fronts are all dry and complete, flip the slices over.  Cut a piece of twine and tie a knot to create a loop.
Place a small dab of hot glue on the back and carefully (ouch!) press the twine knot into the glue.
That's it!
There are many variations to this.  You could paint shapes or letters with gold leaf, could stamp designs onto the slice, and use stencils.  We mostly will use these little beauties to get the kids involved and creative, but I'd love to get my hands on just a few.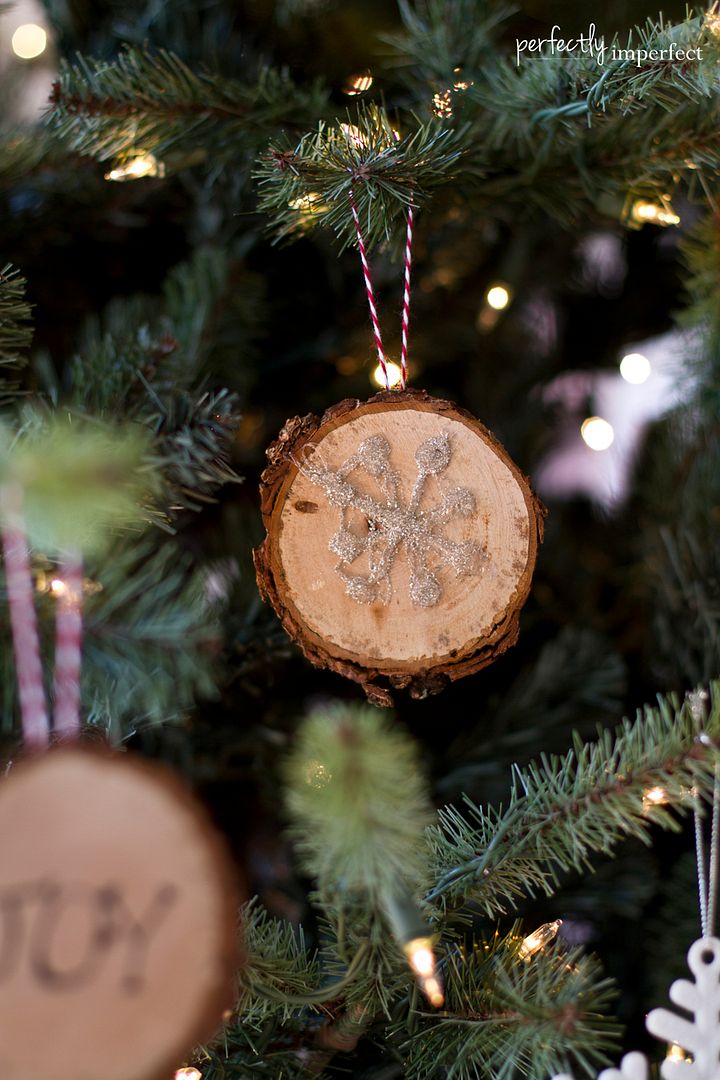 Make shapes and letters with hot glue and brighten them with glitter.
There you go, friends…a simple Christmas ornament craft (the only kind I attempt).  I have a few more tutorials coming for you this season, and will share some past ones, too.
Thanks again for your patience while I finish up this book (last week!), and come back tomorrow for the announcement of our Miss Mustard Seed Milk Paint Contest Winner!