Good Monday morning, to you, friends!
We spent the weekend at the pool & finishing up a lot of work in the guest bathroom.
A few weeks ago, I asked our Instagram friends about tile choices because we loved both so much.
After quite a bit of debate, we went with the marble!  Both the tile and the white porcelain looked great, but I really wanted some personality and pizazz in this small space, so the marble won out.  Plus, hey, it's marble and I'm obsessed.
And we love it!  We went with a medium-gray grout (which here it looks almost white!), and the floor is absolutely stunning.
There's still some touch-ups to do like adding floor trim where the marble meets the cabinets, and putting down the transition pieces in between rooms…fun Matt stuff.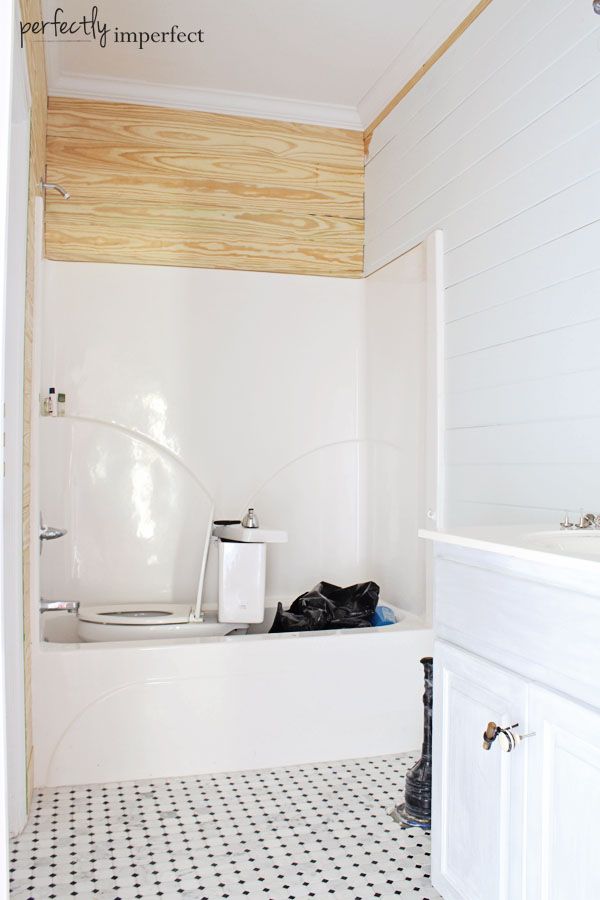 We didn't stop with the marble, though.  We wanted to amp up the cottage charm, too, so we painted the cabinets (more on this soon!) & planked the walls with tongue and groove paneling.  Using the marble with a traditional/regency vibe was a risk for me, but I knew it would pair so beautifully with the elegant cottage style we're going for.
Kind of like this space…
How about that tile??
Matt may have another video up his sleeves on installing the tile, but we chose a mesh-backed marble from Home Depot.  It was so affordable and easy to put down.  Even with our initial hesitation, this project wasn't too bad for first timers & I'm sure we'll try it again sometime.
This weekend, we finished painting the tongue and groove, and Matt is currently putting down trim.
I'm thrilled with the way this room is coming together, and I really can't wait to finish it…one of my very best friends in the world is coming to stay with us in July, and she's clearly going to need the toilet re-installed, and a finished floor to work on.
I can't wait to buy her fresh towels & spoil her rotten.
I have to tell you, finishing this project in a couple of weekends is kind of a record for us.  I mean, we could drag a small bathroom renovation out for months even if our lives depended on it.
Here's to the weekend warriors of the world & cold marble touching our tippy-toes.