Nothing has spurred on my sense of community as owning a shop on our downtown square.
I absolutely love the atmosphere, the restaurants, the shops, our neighbors…the cheerful Mayberry vibe.
Here in Troy, Alabama, we have such amazing local artists and creatives.  Honestly…I'm always blown away by how many artists live and work here.  Troy Fest is a way to celebrate that and bring more folks and beautiful art to our lovely little town.
Before our shop traffic got crazy, I stepped outside to take a walk around the vendor booths…
Birdshacks is owned by Dwight & Barbara Ward, and their birdhouses are somewhat famous around here.  They're beautifully handcrafted and made from treasures they find along the side of the road or antiquing.  P.S.  Coach Ward was totally my coach and teacher all throughout middle and high school, and then I taught alongside him at same said school for 4 years!
Are they not AMAZING?  I mean, y'all–that one has a sparkly chandelier!  By the time I got out there at 10:30, more than half of them were sold out.  I love seeing other creatives just go for it–and succeed!
The food was amazing, of course, and if you could have seen this poor gal's face when I asked if I could snap her picture…
She thinks I'm crazy with a very large C.
But she's a cutie, don't you think?
Oh, and um, I haven't mentioned this on the blog for many reasons (which i guess i'll be sharing in a future post), but I've been eating super clean and working out like a mad woman…and eating the polish sausage may have made me vomit sick.
For days.
There were trains to ride,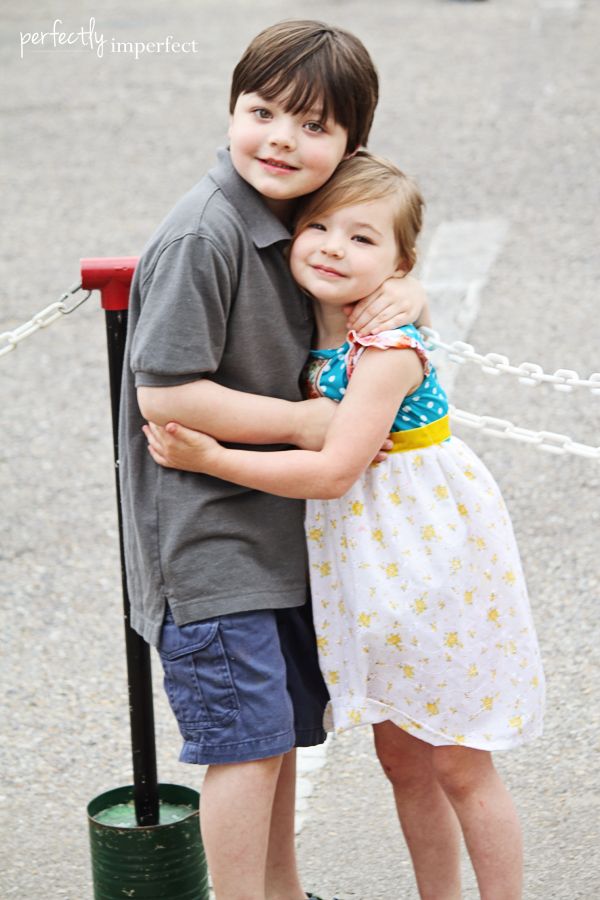 and hugs to share.
And some of us mamas wept when we witnessed such.
Plus, that dress.
It occurs to me that I have rarely shown the outside of our shop since opening.  We had the outside painted (and I promise I'll find out the color because, for the life of me i cannot remember right now. gasp)
Natalie and Lori also painted the bricks with a wash of Pure White…and I LOVE them!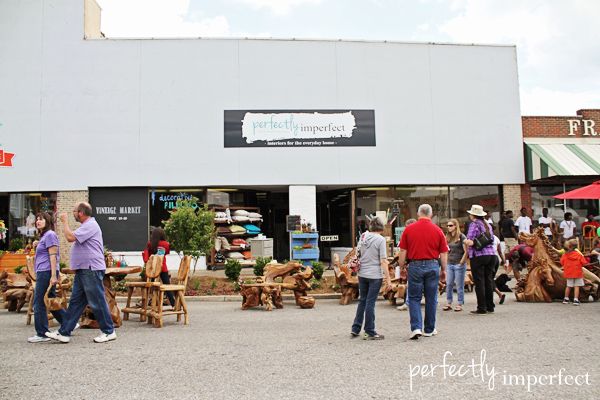 We're still waiting on awnings (stripes, i think), and replacing the very tinted windows, but you get the idea!  The buzz of lots of people right outside our door was electrifying…so much fun!
You've seen our "paint the town lovely" window display if you follow us on Instagram, but I had to share it here, too…I've been so inspired by the very act of mixing paints and colors and getting messy and creative.  This was what translated for our Troy Fest display.
Since we used mostly Chalk Paint for the window display, Natalie created a fun Milk Paint display to roll outside…She did a fabulous job, right?!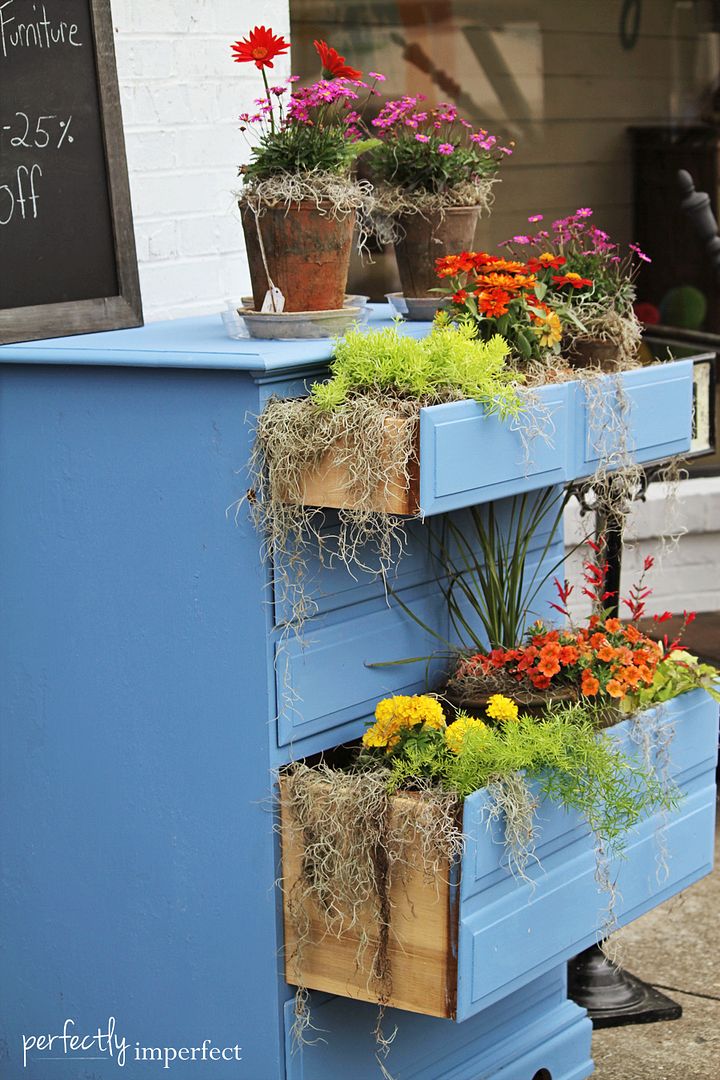 The Greek Blue dresser was a hit, too.  I'm still in love with it.  Although, I think we may already be killing the flowers.
I'm at it again.
I even got to see old friends, like Erika from Erika Holmes Designs…her booth was beautifully done and those itty bitty baby caps…have mercy.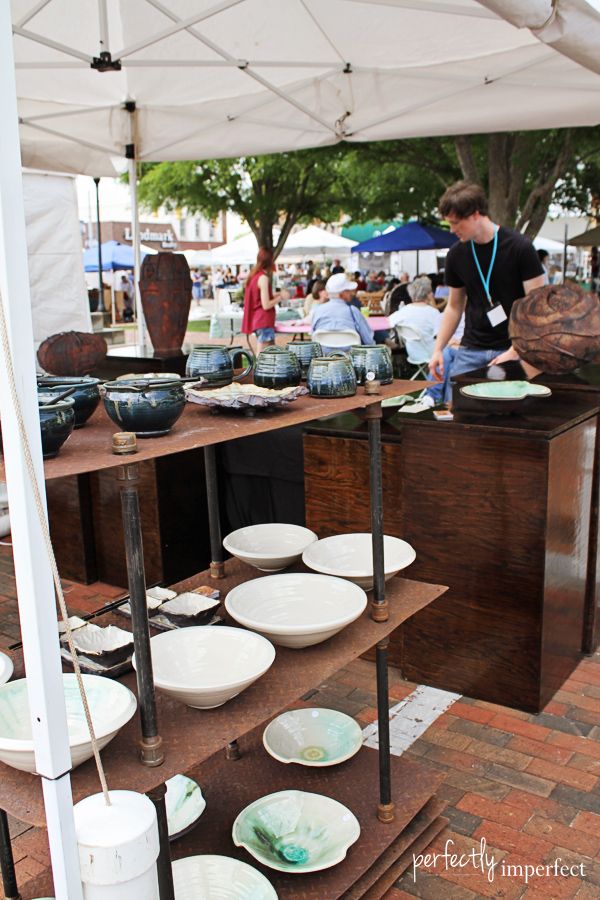 Ahh, and now we've made it to Walter Black.
This dude is a friend of Natalie's and is soon to be working on designs with yours truly for the shop.  This guy is talented.  There he is back there in the background…I'm not sure if he knows how good he is.
He's kinda shy.
If you like his work, will you do me a favor and leave a Walter-loving comment today??
This Walter Black lady is heading home with me….I'm in love.
Sometimes I walk by her and just sigh.
Natalie outdid her OCD self cleaning and spiffing up the shop, and we are SO thankful to have her, then and today.
Oh, and everyone thought she had her shirt rolled up really high.  She got about 20 different comments on her risqué attire.
Hehe, that's the mistake in a flesh colored belt.
I loved your look, Nat.
Not everyone can make a PI tee look so glamorous.
P.S.  I so enjoy living life in a small town, so as I'm inspired I'll be sharing moments from my Small Town Girl life…stay tuned!