We made it.
In a little over 30 days, we took this place from this…
to this.
The weeks leading up to the shop opening literally took the wind out of me.  We were eating fast food at every turn, sleeping little, drinking lots of caffeine and no water, and if I'm honest, washing hair too little.
Whoa.  That was honest.
I managed to snap a few pictures of the whole space Saturday morning around 8:15, so forgive the lack of perfect lighting and composure.  This was survival mode, y'all.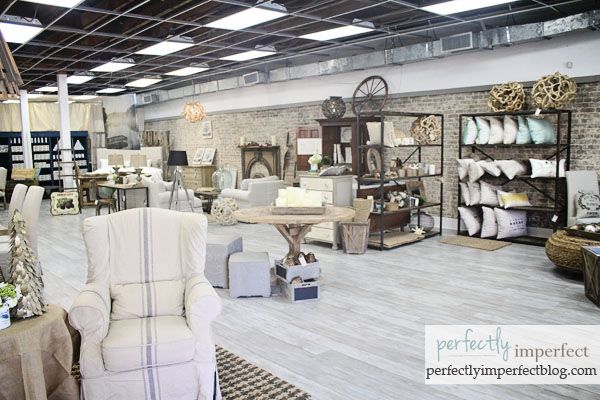 We knew it would be a busy day, because Troy was playing Navy & our sweet little community does some downtown tailgating, which I love, by the way!  We also hoped that we'd get to meet a few blog readers and chat with friends that would drop in.
I ordered giant balloons (because they are the most CHEERFUL thing on the planet), and little miniature cupcakes from Gigi's.  I dragged my Keurig up there, and my sweet mom made homemade apple cider.  It was a beautiful day, sun shining & birds chirping.
We had the doors propped open as we finished up, and our first customers trickled in around 9, an hour before we opened.  I didn't even have time to hang the canvases in the back and some chippy aqua doors above the mantel.
A sweet couple got here from Tallahassee around 9…I was so blown away they'd made the trip.  P.S.  I realize I'm not talking about all the products, but I wanted to fill you in on the happenings of the day, so I'll try to balance the storytelling.
This vintage-inspired library cabinet makes my heart go pitter-pat and I'm not sure that I care if it ever sells.  And I love our large schoolhouse chalkboards….mercy.
We clearly carry our own painted and built furniture, antiques, found vintage items, and new pieces alike, but we also wanted to carry little bits and pieces that are so unique and so our style…things that would make me gasp.
Or, make me squeal, "Ahhhhh…." as I did so many times at market.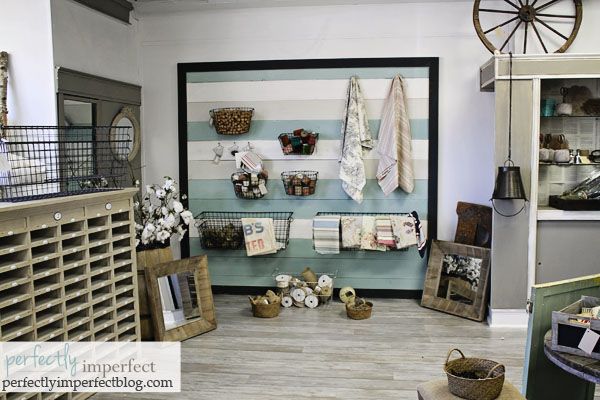 Hence, the mercantile wall.  It's where we are displaying our new Annie Sloan fabrics and little bits and pieces…
And who doesn't love wooden spools of jute and velvet ribbon in fabulous colors?????  Seriously, they are some of my favorite bits in the shop.
Decorating the tree with the pinecones was fabulous and I'm also in love with the reclaimed wood stars….all things Christmas sold like crazy this weekend, and I'm reordering most of it today.
All things chalkboard flew out the door, too, and I must say, I was tickled that so many things were so popular…it was affirming in the best way.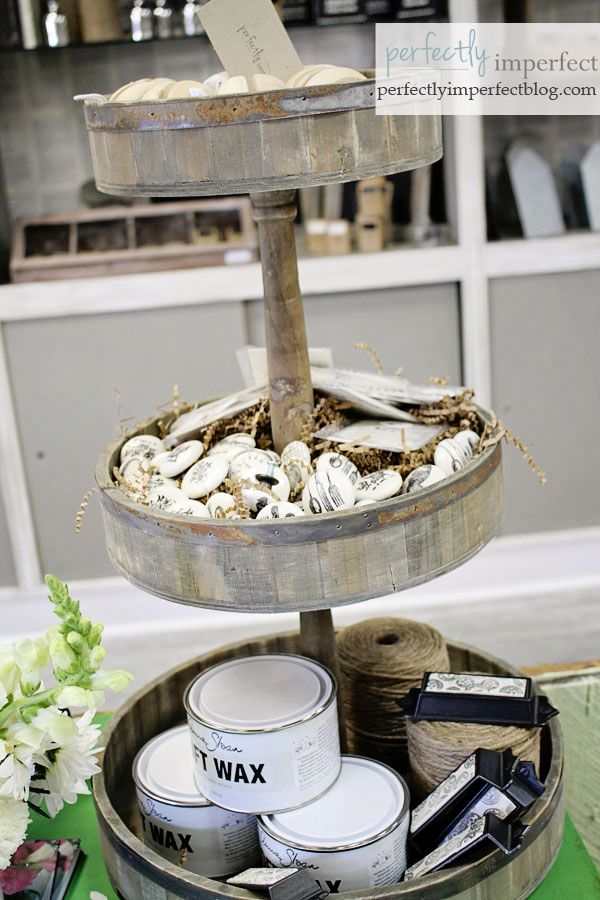 We are happily stocked on all things Chalk Paint and MMS Milk Paint…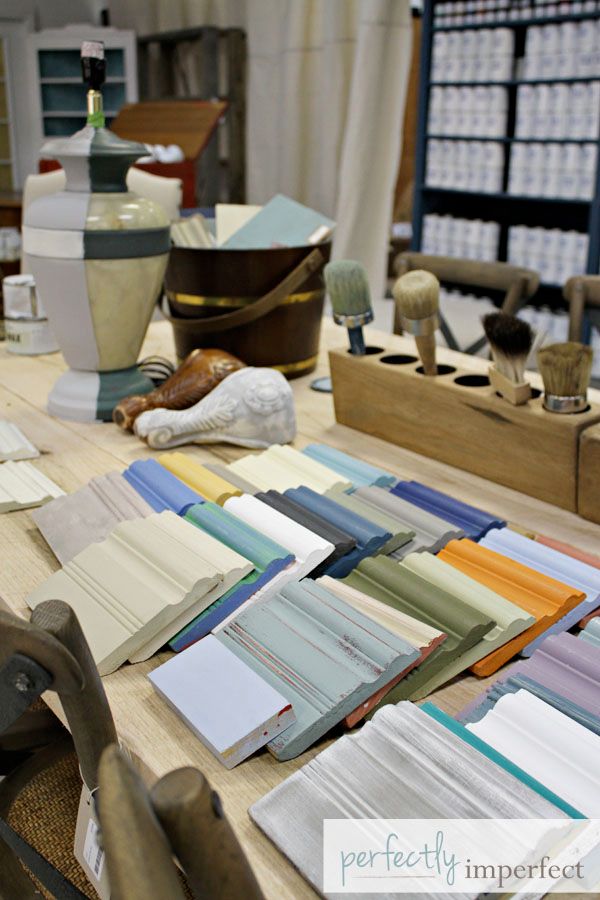 I had fun doing a little demo, too, and helped lots of people with colors and techniques.
I, unfortunately, was so busy by 9:30 that I didn't stop to snap this picture until everything slowed down a bit.  Y'all.  It was so much more than I could have hoped for.  I got to meet so many of you, and to you, I say thank you, thank you.  It was a selfless thing to make the drive, to come support us.  I thoroughly enjoyed each conversation, and feel so blessed to know you all.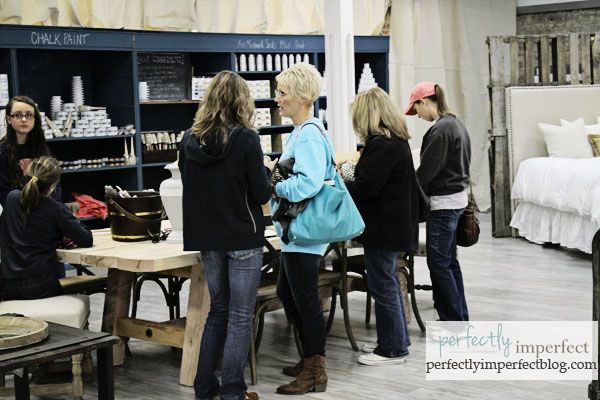 I was on the floor, with Natalie, meeting folks and helping with colors, pricing, and purchases, and literally didn't stop or pause until 2 p.m., and poor Matt didn't stop checking people out for 4 hours!!! And I'm so serious…no exxageration.  That's why I say we weren't ready.
Our pillow shelves are cleared minus 2 designs, and we also sold a couch, 2 upholstered chairs, a huge bench, 2 large art pieces, 4 vintage pieces, and 3 light fixtures….plus all the smalls that went out the door.  We are close to cleaned out.  I could have never, ever, in a million years anticipated that…from a business perspective or from an emotional one.
I was humbled.  My heart was full, thankful.
For people like Sandi (above), June, Dawn, Dawn, Kellie, & Beth, who all came to my first workshop and made the trek to come to our opening…and speak such blessings to us.  To my mom and dad, for their unfailing encouragement and help…always.  To my sweet friends, Jen, Jennifer, & Carol Leah who made the trip to celebrate.  To my sweet cousins, Jennifer and Eden, who did the same and helped in more ways than they know.  To my aunts and uncles for their loving, supportive words, Matt's parents, and the rest of our wonderful, beautiful family…to our friends, Julie, Jenny, Lisa, John, Anna Lauson, and Natalie…for listening to all the idea bouncing, brainstorming, and planning that they didn't have to.  To Transformation Church for praying with us and blessing our shop the night before we opened.  To each of you, for every kind, encouraging, gracious, blessed word you have spoken to me in the last 3 years and this last 30 + days.
To Matt, the love of my life, and very best friend.  I can't even begin to imagine what opening this shop would have been like without his support and love.  To my children, for the sweet hearts…and for their learning to be giving.  For Grayson, and his help stacking paint, throwing away trash, box crushing, and so much more.  For little Ava, who liked to label stickers onto products.
We made it.
What a journey it was.  I'm resting easy knowing it's only just begun.
"Now to Him who is able to do immeasurably more than all we ask or imagine, according to His power that is at work within us, to HIM be the glory in the church and in Christ Jesus throughout all generations, forever and ever! Amen."  –Ephesians 3: 20,21