Well.
To say that we are absolutely blown AWAY by the comments, emails, tweets, Facebook messages, and Instagram shout outs is the understatement of the year.  You guys are amazing & I literally started crying on Sunday watching your responses start popping up throughout the web–unbelievable.  Filming Sweet House Alabama was incredible, and pulling the house together for the Herndon's was so rewarding, but hearing your reactions and watching the actual pilot??
Surreal and unforgettable.
We'll be blogging this week about the house before and after's and a little behind the scenes, but until then I have another makeover for you…and this one's brought to you totally by Matt.
Yep indeed.
Matt went to Tennessee a couple of weekends ago for his dad's birthday, and of course, he came up with a project.  My sister-in-law (hey sexy Lara!) had asked for two daybed swings like ours & she and Matt pulled together the prettiest weekend porch revamp!
You can see the before of her porch before (isn't her home gorgeous??), and here's the after of what they worked on over the weekend…
Didn't they do an amazing job??
Matt built both swings (I hear there may be a video tutorial coming soon), and they were painted in Paris Grey, which is by far our most popular Chalk Paint color.
They wrapped the cushions…found here…in drop cloth for an easy, washable cover. They then filled the swings with pillows from our shop and other stores.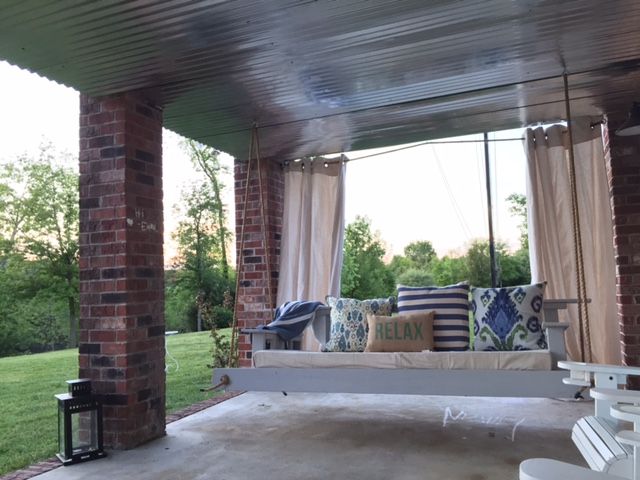 Lara made the drop cloth curtains and added simple grommets to hang them with rope from the new tin ceiling Matt installed.  I love the casual feel the rope and tin add to her elegant home…just shows you what a few simple updates can do to create a welcoming spot.
Lara has already added an area rug to ground the space, and I think Matt's trying to concoct a coffee table for the space.  Maybe we'll get that way and shoot the fully completed space again along with their amazing home.
Just couldn't help but brag on their hard work.  Let us know if you have any questions about specific products in the comments and we'll get right back to you!
Oh, P.S. hope you're digging the cleaner, more simplified version of the website and store!  We're still working out some links, but I'm loving how open and clean the pages are.  Let us know what you think.